N/A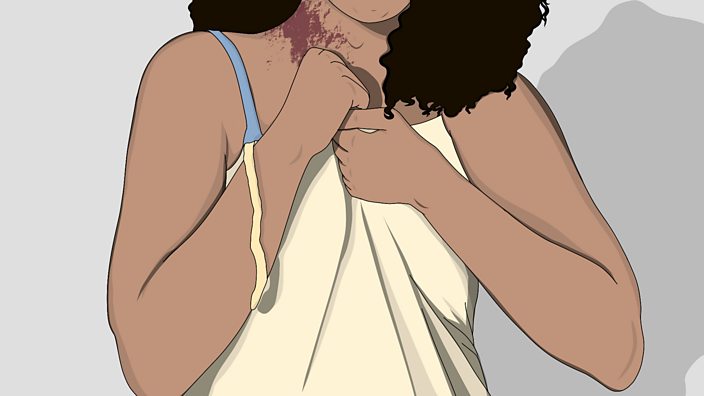 BBC Three / Parys Gardener
'The police said it wasn't rape it was rough sex'
Warning: This article contains details of domestic abuse and sexual violence.
BBC Three has spoken to young women who claim their rape cases never made it to court because of the so-called "rough sex" defence.
The defence, which has been used in court to justify the death or injury of a person by claiming sex "went wrong", is set to be outlawed today in England and Wales.
Now MPs, campaigners and victims are asking for justice.
Victims like 23-year-old Lucy*. Before she arrived at her local police station she says she spent months agonising whether to go through with reporting her abusive ex for rape.
Searching the internet, she read and researched as much as she could to find out what the process would be like as a victim. One search result really affected her, it read: 
The rough sex defence (also known as the 50 Shades defence) is used by some defendants accused of murdering, or violently injuring, a sexual partner, who claim that the death or injuries sustained were part of consensual sex.
Lucy says she told the officer the main thing she was worried about was the "rough sex" defence being used against her in court.
"They said not to worry about it. They gave me so much hope. Before, I was so concerned about raising the case."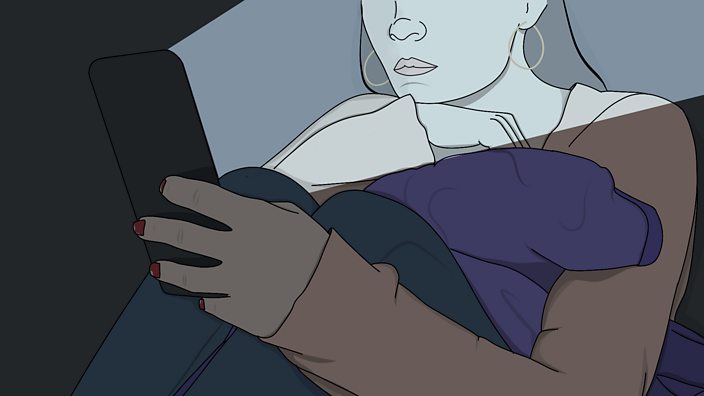 On her phone which she handed to the police, there were videos of her and her ex having sex. Her ex, she says, was "obsessed" with filming them and threatened to break up with her if she refused.
"Before the rape, we'd had an argument because I commented on a guy's Instagram post. He got really like, 'oh, you must not love me if you're thinking about other guys.'
"I tried to apologise and we lay there in silence for ages. Then I tried to leave. But he wouldn't let me. He wanted to have sex for 4 or 5 hours straight, like a punishment.
"In the video from that night. I'm saying, 'I can't do this, I don't want to do this.'
"You can hear him saying, 'you need to do this before I get angry with you, just do it.' I'm literally screaming, I'm crying, I'm pulling away. And then he hits me really hard."
Six months later, Lucy says the police informed her they would be taking no further action in her case and it would not be passed onto the Crown Prosecution Service (CPS) because of the "rough sex" defence.
"The police said that in the other videos on my phone you could see we'd had consensual rough sex before and so my ex wouldn't have known that I didn't want it that time."
Their decision confirmed Lucy's biggest fear, before she got anywhere near a courtroom.
Now, victims like Lucy, campaigners, and MPs are calling for the government to urge the CPS and police forces to review all sexual violence cases that were dropped as a result if the "rough sex" defence.
The amendment outlawing the "rough sex" defence will be added to the Domestic Abuse Bill today, as it enters its Report Stage in the House of Commons. The clause added by the government rules out "consent for sexual gratification" as a defence for causing serious harm, in England and Wales.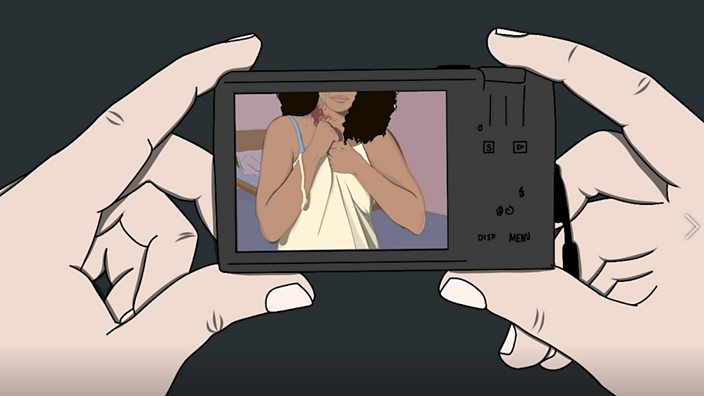 Labour's Harriet Harman, who led calls for the law change, has told the BBC a serious review of cases dropped because of the "rough sex" defence is an "incredibly important" next step for the justice system.
"I'm seeking a meeting with the Director of Public Prosecutions because they'll need to issue new guidance for cases going forward. I think they should look back - there's enough evidence of cases where [the CPS] have taken as read the rough sex gone wrong defence and therefore not prosecuted.
"The whole system is failing victims. Rape is such a serious crime, a violation of a woman both physically and mentally, it is important defendants are brought to justice."
The opportunity to have their cases retrospectively reviewed could result in a new wave of justice for victims whose cases never made it to court.
The campaign group We Can't Consent To This campaigned for the "rough sex" defence to be outlawed. They found that over the last decade, 60 women in the UK had been killed by men who claimed in court the women were "consenting" to the violence. In 45% of these cases, they found the defence led to a lesser charge such as manslaughter or no crime at all.
While the "rough sex" defence has typically been associated with the murder trials of women, like the killing of backpacker Grace Millane, it also includes assaults involving serious harm.
BBC Three has found four cases in 2020 so far where "consent to rough sex" was claimed in court to charges of rape and sexual assault. And 17 cases over the last five years.
We Can't Consent To This thinks the justice system will be unable to tell how many cases have been dropped because of the "rough sex" defence. Moving forward they want the CPS and police to start collecting this data and report any failings. "It can't be left to us", they add.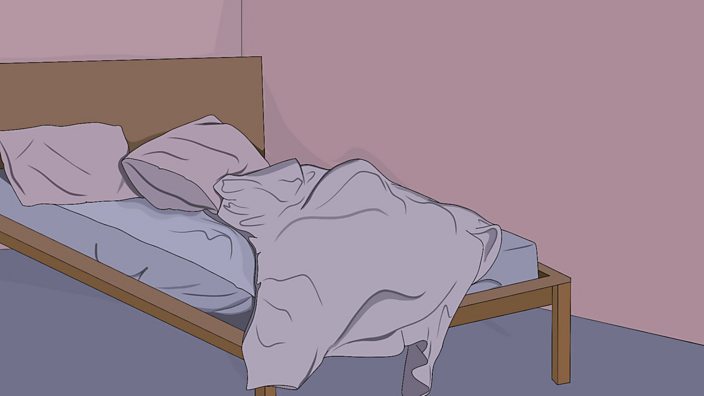 A year before Lucy was told her rape case was being dropped because of the "rough sex" defence, she received a phone call from the police who were concerned about her being in an abusive relationship.
"We're not together anymore", Lucy remembers telling them and detailed how their relationship began.
She explained that early on in their relationship she joked to her ex about faking an orgasm. The next time they had sex she says, "he choked me until I was about to pass out and told me to never lie to him again or he'd do more than that."
Lucy said after that the physical abuse continued - he would use sex to see how far he could push her, doing things without her consent to see how she'd react.
Lucy says she must have known that this behaviour wasn't right because she started saving Snapchat messages from him.
"The police started scrolling through the messages - that's how the conversation of rape came up."
"I'm going to rape you if you're not good to me," one text read.
"I can force your body to do everything I want."
Two days after when Lucy says she was raped, she received a message saying:
"No going back now you've been raped."
Lucy then made a statement with the sexual assault team.
Feeling too vulnerable to go through with a rape report straightaway, she went ahead with a malicious communications charge for the threatening messages. Her ex pled guilty, admitting to sending the abusive messages and rape threats. This gave her the confidence to file the second complaint.
Lucy says that the police's handling of what happened next made her feel violated all over again, "it was such a huge invasion of privacy".
"To say [the "rough sex" defence] was the reason they are 'no further actioning' my rape case, after I've had this male police officer look at that video, and multiple others of me having sex, and then come back with that.
"I haven't had justice", Lucy says.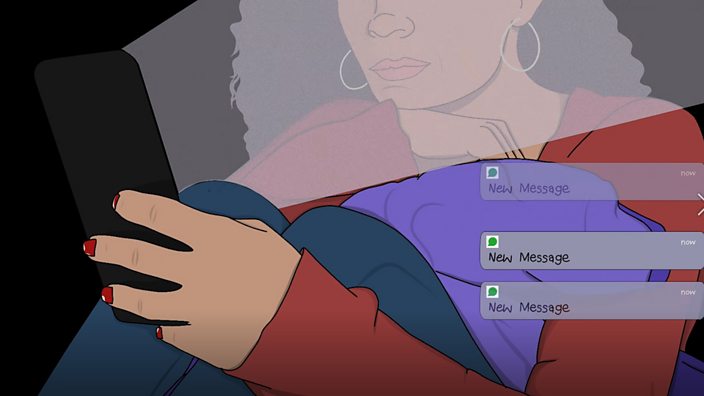 The Centre for Women's Justice, who help women appeal decisions made by the CPS and police, say they have worked on appeals for numerous rape cases that were dropped due to the "rough sex" defence.
Victims have the right to appeal decisions made by the CPS or police via the 'Victims' Right to Review' scheme within three months. However, that timeframe can be extended in "exceptional circumstances".
The Centre for Women's Justice say if the government requested the CPS and police review all sexual violence cases dropped because of the "rough sex defence", this would grant the "exceptional circumstances" needed for victims to appeal their decisions.
Anna Mazzola, a human rights solicitor for the Centre, says "we're increasingly seeing the CPS refusing to bring cases, even when they appear to be strong cases.
"It would be very helpful if the review was ordered - there is certainly mileage in looking at all of the cases where the CPS or police have decided not to prosecute on the basis that the defendant might claim the rough sex defence and working out whether those cases were correct. 
"We're aware of some very concerning decisions, but those are only cases that have come to us, so it's quite possible that lots of these cases are going under the radar."
The CPS said claims a victim had "consented" to an assault does not stop them from prosecuting: "Tackling violence against women and girls has long been a CPS priority, and one we remain strongly committed to."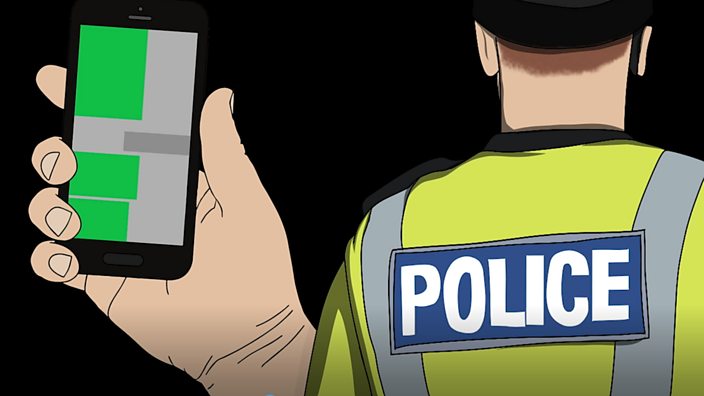 Three years ago Ella* received an email from the police informing her of the CPS' decision regarding her sexual assault report.
"The lawyer is not satisfied that it could be proven beyond reasonable doubt that the suspect did not reasonably believe that you were consenting to the sexual activity."
Ella says that one line hit her straight away.
Unlike Lucy, Ella had never met the alleged perpetrator before that night – they had agreed to meet for a drink after talking on a dating site.
Ella said at first the date was going well, until the London Bridge terror attack happened and all her trains home were cancelled. Her date offered to take her in and she accepted. "I felt stuck", she recalls.
After they started to have consensual sex, Ella says it was like a "switch flipped" and he started to violently assault her.
"He strangled me. I was covered in bruises, all over my neck, my body, my legs.
"Afterwards, I was lying there and I remember thinking something really big has just happened..."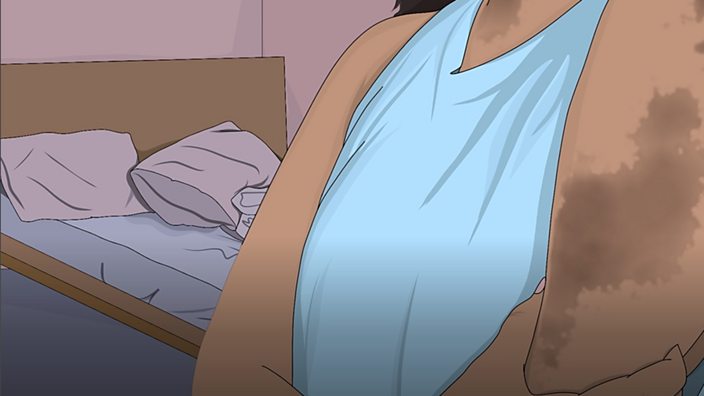 She says when she got back to her flat she completely broke down and told her friends what had happened. Not feeling ready to report it, she was advised to go to her GP so they could photograph and document her extensive bruising and injuries.
Talking about that summer Ella says, "afterwards I wasn't well mentally. I was an absolute wreck, crying all the time, very anxious. So in the end I decided to report it."
A uniformed police officer arrived at her door. She says one of the first things he mentioned was "rough sex", followed by questions on whether she was into BDSM – an acronym used to describe sexual acts such as bondage, discipline and dominance among others.
"It's like saying you don't know the difference between sexual assault and rough sex. It's so demeaning to your feelings and the fact you're really traumatised by what happened", Ella says.
"If he was charged and sentenced there'd be some sort of closure and justice for me. I'll have to live with this for the rest of my life."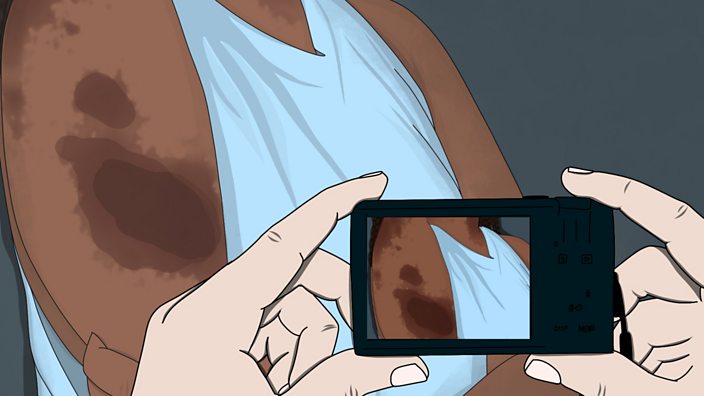 Last year the BBC revealed 37% of UK women under 40 have experienced unwanted slapping, choking, gagging or spitting during consensual sex. Almost two thirds said they had experienced non-consensual strangulation during sex - campaigners who spoke out say the results are alarming and show non-consensual acts of violence during sex are becoming normalised.
Silva Neves, an accredited psychotherapist, says that people frequently enjoy rough sex safely and emphasises the importance of consent in BDSM.
"The common misconception of BDSM is that it is a practice that hurts. Consensual means that all parties involved communicate exactly what they want to do and seek explicit agreement from the others to ensure that all involved are into the same things, and knowing that consent can be changed at any moment if something stops feeling good. 
"If people have significant injury after a sexual act, it means that they did not practice BDSM correctly, or they disguised sexual misconduct under the umbrella of BDSM, which is unacceptable."
Before she met her ex, Lucy says she had never had rough sex or been strangled. "It's not something I like", she adds.
When a restraining order against her ex was turned down, the stress on Lucy was so severe it affected her work life.
"It literally feels like I'm the one that's been investigated. It's impacted me so much, I think about it all the time even now."
In England and Wales, only 1.7% of reported rapes are prosecuted, according to Home Office statistics. Charities warn that the official number of sexual assault reports is only a fraction of the real problem, arguing that rape is still severely under-reported.
Genevieve Reed, Criminal Barrister at Red Lion Chambers, says the change in legislation to the Domestic Abuse Bill could "ensure appropriate charges are brought" but it is "unlikely to change the outcome of trials where defendants maintain this defence. A key issue for the jury to determine is: what was the defendant's intention?"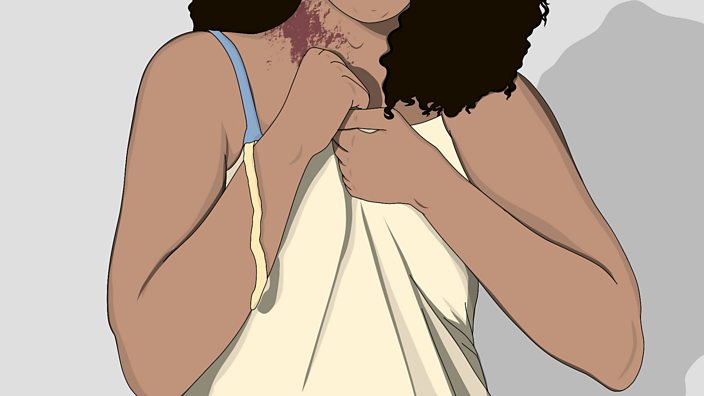 Both Ella and Lucy want the government to ensure their cases, and others like it, are reviewed - with the hope that this time they make it to trial. 
"I just don't understand how the police can look at a video like that and decide that it's not rape", Lucy says.
A statement from the CPS highlighted that there is already provision within the 'Victims' Right to Review' for cases beyond the three months to be considered in exceptional circumstances.
Deputy Chief Constable Sarah Crew, lead for rape and assault sex offences at the National Police Chiefs' Council, said:
"Rape is a horrific crime which leaves a devastating impact on survivors. We are committed to helping them secure justice and make our communities safer. 
"Agreeing to 'rough sex' is not equal to consenting to be raped, nor should it be seen to diminish the character or credibility of a victim. From the outset of every investigation police work hard to identify and challenge such myths and stereotypes. We are currently working with the CPS to deliver refreshed training on this issue to investigators and prosecutors.
"Whilst I hope and expect survivors to see police have done everything we can to build as strong a case as possible, I would encourage them to use the Victims' Right to Review Scheme if they still wish to challenge the decisions of police or the CPS."
The Ministry of Justice did not comment on whether they would be asking the justice system to review cases.
*We've changed Lucy and Ella's names to protect their identity.
Illustrations by Parys Gardener.
If you have been affected by the issues raised in this article, help and advice can be found here.