N/A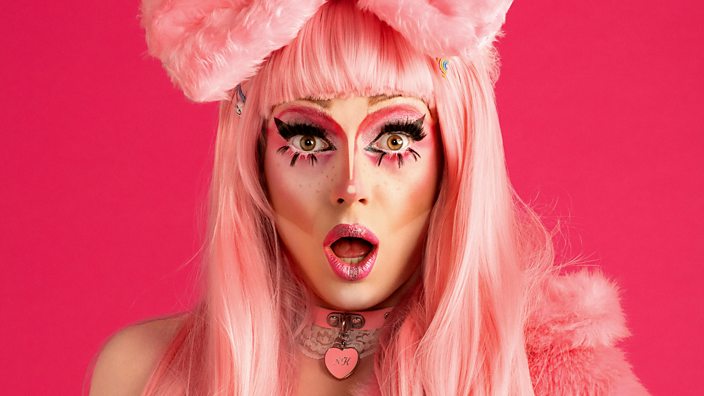 BBC Three
RuPaul's Drag Race: Scaredy Kat was 'terrified' because he's not gay
The young queen says his sexuality is controversial to some, but he has had positive reactions too
*This article contains spoilers for episode two of RuPaul's Drag Race UK, Downton Draggy*
A contestant on RuPaul's Drag Race UK has said he was worried he wouldn't be accepted by the other competitors because he isn't gay.
Scaredy Kat - the drag name of 20-year-old Sandy - has told BBC Three he was "completely terrified" going into the drag queen competition reality show - but was relieved by the positive reception he got.
"I literally thought I was going to get bullied the whole time. I thought the girls would hate me," Scaredy says.
The art student, who's originally from Wiltshire, revealed he isn't gay and has a girlfriend in the first episode last week, and says he was "in shock" when he was accepted by the other queens.
"I thought to myself, 'I'm here and they're OK with it - and it's fine."
He says he now hears from straight, bisexual and female fans who say he has inspired them to try drag.
Scaredy yesterday became the second queen voted off the drag reality show, which primarily features gay male contestants. He talked more about his sexuality during his final appearance in the second episode of RuPaul's Drag Race UK.
"Scaredy, does your family know you're bisexual?" fellow contestant Vinegar Strokes, 35, asked. "Have you come out to them?"
"Not really," he replied. "I think they just presume that I'm a little bit different. I wouldn't really call it bi. I just go out with anyone I fall in love with really. But honestly. My sexuality is my girlfriend. I wouldn't want to be with anyone else."
And Scaredy credits his girlfriend Bear, 20 - who also performs in drag as Pussy Kat - with some of the inspiration behind his performance. "We are a duo. We do everything together. We're both artists and she's a lot like me - but without the attention-seeker inside of her," he jokes.
Scaredy, who isn't quite comfortable with the labels bisexual or pansexual and instead says he could be attracted to anyone, adds that his parents now fully embrace his drag.
"They love it. When I was preparing to tell them that I was going on the show I said, 'I've got something to tell you but you have to be sensitive and prepare yourself.'
"And after I told them about Drag Race they said, 'Oh my god we thought your girlfriend was pregnant! But Drag Race is fine. That's great. Whatever! No babies? It's all good'."
What do pansexual  and non-binary mean? 
• Bisexual - a person who is attracted to more than one gender.
• Pansexual - a person whose sexual attraction is not based on gender. Although she didn't explicitly identify as pansexual, earlier this year, Game of Thrones actress Sophie Turner said she falls in love with people because of their "soul" not their "gender".
• Non-binary - a person who doesn't identify as either male or female and often uses the pronouns "they" or "them" instead of "he" or "she". Sam Smith came out as non-binary earlier this year saying they feel "like a woman sometimes".
How strangers have reacted to Scaredy Kat: The good and bad
Scaredy Kat hasn't had an entirely smooth journey though, and has faced some criticism from some viewers of the show.
"Some people find my sexuality really controversial and struggle with the idea that I do drag - bless them.
"Pussy will look at the comments online and she finds that there are whole Reddit threads about who I actually am and how I'm actually straight. Can you imagine?
"And I've been stopped a couple of times in the street, which is crazy, and people will say, 'Oh, my friends just call you the straight one.' It's weird having a bunch of other people decide who you are."
But Scaredy, who was hoping to perform as comedian Russell Brand on the Snatch Game episode of Drag Race, also hopes that his time on the show can be a message to others that drag can be for anyone.
"I've been getting messages from people saying, 'I didn't know I could do drag because I'm straight, because I'm bi, because I'm a woman.' And I said, 'Are you crazy? Of course you can!'
"So if I can be a little pioneer showing that anyone can do those things then oh my god, I'll take that label any day."
Recently, in fact, RuPaul said in an interview that he wouldn't rule out women taking part in the show - though none so far have made the cut - and the casting process for RuPaul's Drag Race UK was open to all. 
Female drag performer Amber Cadaverous - otherwise known as Amber Jade, 22 - isn't sure if she would apply for the programme but says: "I'd never say never. A platform like that would let me speak up for women and show off what I do best and who I am."
Amber, who's been doing drag since she was 17, hopes that there can be even more room for diversity in drag in the future. "I want to see more women, trans, non binary, disabled and performers of colour involved in the big money drag tours," she says.
And Joe Parslow, a university lecturer who is completing a PhD on drag performance at the Royal Central School of Speech and Drama, agrees about the need for diversity.
"It's important to include other identities in drag performance because the presence of female, trans and/or non-binary performers in drag is not a new thing: it has a rich and vibrant history," he says.
Drag Race UK contestant Divina De Campo, for example, recently talked on Twitter about being non-binary. "It just means the terms male/female don't fit for me," she said. "I'm just a person. You can use he, she, they, them. It doesn't bother me."
Joe Parslow adds: "Having a wider and more diverse range of identities and bodies in a drag show makes the show better. More diversity in drag performance, in form and identity, produces a more nuanced, more interesting and more creative scene.
"Female, trans and/or non-binary performers in drag make drag better."
If you or someone you know is struggling with issues raised by this story, find support through the BBC Action Line.