N/A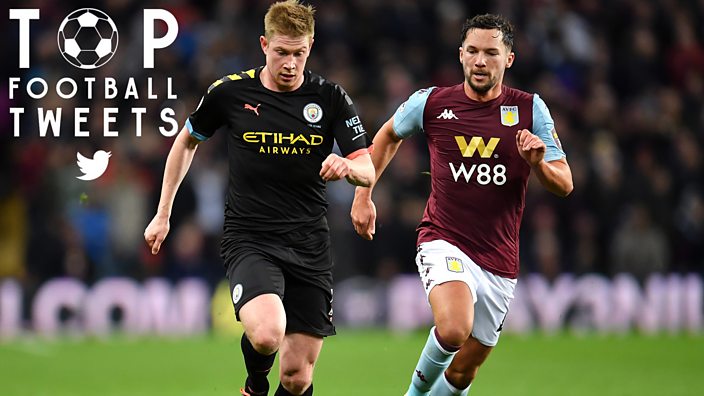 gettyimages
Danny Drinkwater has a terrible record against Manchester City
Elsewhere, a Swindon fan has gone the extra mile to support his club
Another week gone and we're starting to get an idea of how the various league tables will look by the end of the season.
Liverpool are running away with things in the Premier League, but there's still plenty of other drama to keep us occupied as the days start to get longer. 
Let's take a look at what people have been saying this week. 
Fair play to Swindon fan Ivo Graham, who took his support to a whole new level by becoming the official sponsor of the Robins' third-choice goalkeeper over the weekend. 
Look, we know you're sick of hearing it but Liverpool are having an absolutely ridiculous season.
After years and years of missing out on the Premier League title, the Reds have snapped and turned in a performance for the ages - taking 61 out of a possible 63 points so far this season. 
3) Can you play us every week?
Danny Drinkwater has struggled to find any sort of momentum since leaving Leicester in 2017, failing to establish himself at Chelsea before moving around on loan at Burnley and then Aston Villa this season.
It almost feels like the 28-year-old has been stuck in footballing purgatory, doomed to relive the same game over and over.
You might think that playing against the same opponent that many times might provide Drinkwater with some insight on how to beat them but the debutant had a bit of a nightmare, contributing directly to a handful of City goals.
4) That don't impress me much...
Speaking of history-makers, Sergio Aguero bagged some records of his own on Sunday as he became the highest-scoring non-Englishman in the history of the Premier League with 177 goals thanks to his record-breaking 12th hat-trick in the competition.
But even on his big day, the City striker will always be reminded of that other Argentine forward.
Stevenage boss Graham Westley probably thought things couldn't get much worse with his team sitting rock bottom of League Two with just a pair of wins from 25 games in the league.
And then he got caught in traffic on his way to Saturday's clash with Port Vale. 
Who knew the Greek gods had so much influence over the organisation of the Scottish Lowland League? 
For those not familiar with their Greek deities, Poseidon was the god of sea, earthquakes, storms and horses. We don't think the Glasgow side's game was called off for anything to do with horses though.
Mikel Arteta's influence is already being felt at Arsenal as club captain Pierre-Emerick Aubameyang recreated one of the Spaniard's most memorable performances over the weekend. 
Things have been interesting for Romford since being bought by Glenn Tamplin in November. 
The Essex businessman made a name for himself as the former owner/manager of Billericay Town and he is up to his old tricks now at Romford.
The Wizards remain bottom of the Isthmian League North Division after losing to Cambridge City at the weekend, thanks to an assist from the Lilywhites' PA system.
Sometimes the universe just gives you a sign of what needs to be done. 
Is there anything more "magic of the cup" than a 38-year-old scoring a 93rd-minute winner from the halfway line in the FA Trophy?
Take a bow, Michael Doyle.
We don't know what technology Raith Rovers have used to build their matchday app, but we're just wondering if it has said anything about this week's lotto numbers...
While English football fans still debate whether or not the Community Shield counts as a competitive fixture, things are done a little bit differently in Spain...