N/A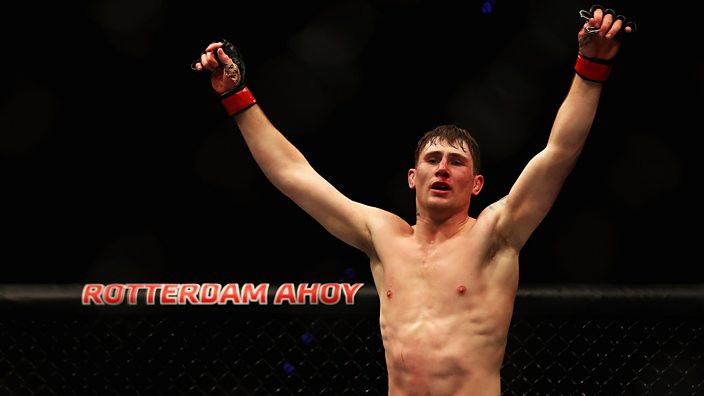 Getty Images
Darren Till: 'I'm destined to become the greatest fighter the world has known'
The Liverpudlian has got his title shot at UFC 228 and he's feeling pretty confident about his chances against Tyron Woodley
Darren Till believes being crowned the UK's second UFC champion is simply the first destination on his journey to becoming the greatest mixed martial artist ever.
In his first interview since the announcement, Till told the BBC's MMA Podcast that he's expecting nothing short of a sensational and dramatic finish when he challenges for UFC gold on 8 September in Dallas, Texas. "Winning this belt in September is just the start. I'm just scratching the surface of my potential. I'm only 25 and look at what I'm doing already," says 'The Gorilla', who is 18 fights unbeaten in his MMA career.
The only time you will see me content is when everyone is calling me the greatest fighter of all time.

Darren Till
"This is all part of my plan, and I guarantee I will deliver. But getting this belt won't make me content. Winning the middleweight belt after this one won't make me content. The only time you will see me content is when everyone is calling me the greatest fighter of all time."
He adds: "Right now, I'm not content with the wins; not content with the unbeaten record. After I beat Woodley I'll sit back for a week and then I'll be back in the gym. Winning the belt will be fun. But it won't make me happy. I'm destined to become the greatest fighter the world has known. If I didn't truly believe that I would go and teach or do something else."
Till climbed into contention with a defining points victory over former number one contender Stephen Thompson at the Echo Arena in May. But the fact the 25-year-old tipped the scales 3lb over the welterweight limit that night has brought criticism regarding his title chance.
Till offers a typical response when asked about that. "What do the fans who don't like it want me to do, turn it down?" he says. "I don't care what anyone thinks or says. The fight was offered to me and I accepted it. I was never going to turn down a title shot."
He continues: "Who else is willing to fight Woodley at six weeks notice? Nobody. That's why it's come to me. But I will dethrone the champion and start a new era. I'll be an active champion so they can all get in line.
"The UFC want me as their champion. The welterweight division needs me as its champion. It's been static for too long. I'll win the title, defend it a couple of times, and then move up to middleweight. Woodley is a small man who's going to get beat up. Simple. I don't care what he's good at. I've got the power, the size, and the attributes to finish Tyron Woodley.
"I won't say something unless I believe it. I will be the welterweight champion. I will be the middleweight champion. I will bring the UFC championship belt to Anfield and fight in front of 40,000 Scousers. The Darren Till era begins on 8 September."