N/A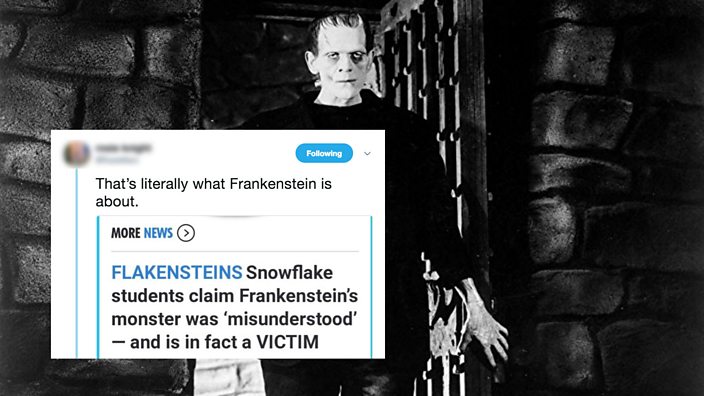 IMDB/Twitter
The Sun mocked 'snowflake' students over Frankenstein, and Twitter piled in
'Frankenstein's monster was 'misunderstood' - and is in fact a VICTIM'
Earlier today, The Sun created a monster by posting a story about how university students today feel increasingly sympathetic towards the creature in Mary Shelley's classic novel, Frankenstein.  
The Sun story picked up an earlier article in The Times about how the treatment of Frankenstein's murderous creation ties in with contemporary students' concerns about animal rights.
It highlighted comments by Nick Groom, a professor of English literature at the University of Exeter, who has written a new introduction to mark the novel's 200th anniversary since publication.
"It's interesting when I teach the book now, students are very sentimental towards the being," Professor Groom wrote. 
"There's been a gradual shift... for years Victor Frankenstein's creation was known as the Monster, then critics seemed to identify him as a victim and called him the Creature. That fits more with students' sensibilities today."
The Sun published its version of the story with the headline, 'FLAKENSTEINS: Snowflake students claim Frankenstein's monster was 'misunderstood'— and is in fact a VICTIM'. This take quickly took on a life of its own when the paper shared it on Twitter. The Sun has since deleted its tweet.
People were quick to pile in on the tabloid for the wording of its 'snowflake' headline, and to observe that one of the points of the novel is that the reader might find reason to sympathise with the 'Monster' and view it as a victim.
Commentators then - inevitably - started having some fun, imagining outraged, missing-the-point stories about other novels. 
Such was the outcry on Twitter that The Sun's head of PR responded with a statement, saying, "if our story leads people to pick up the book one more time, then we're positively delighted".
He also tweeted that there may be an anti-tabloid double standard at play in the controversy:
But probably the most important element to remember in all of this is that Frankenstein is the name of the scientist, and not the Monster.