N/A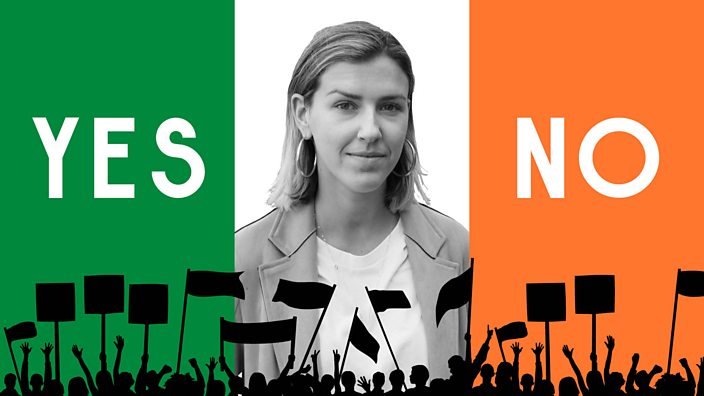 BBC Three
Ireland's abortion vote: The fight for women's bodies goes on
The campaign is over, but the battle continues
On 25 May, the Republic of Ireland voted overwhelmingly in favour of repealing the Eighth Amendment, a constitutional provision that gave an unborn foetus an equal right to life as the mother. Up until this vote, abortion was illegal except when a woman's life was at risk, but not in cases of rape, incest, or fatal foetal abnormality.
The result of the referendum means that abortion can now be legalised in the Republic of Ireland. However, for both sides of the debate, the Eighth Amendment and the campaign to repeal it was always about much more than abortion. Pro-choice campaigners for repeal said the law endangered women's lives. On the other side, anti-abortion campaigners said that abortion would strip "the most vulnerable" in society of a fundamental human right.
When I was asked to make a documentary for BBC Three on this highly divisive issue, I knew little about the laws in Ireland and, having grown up in England where abortion has been legal for over 50 years, I had given little thought to the debates around this subject. I have since learned that, on average, nine women travel to England, Scotland and Wales from Ireland every day for an abortion. But that figure doesn't account for those who go as far afield as Brussels and Amsterdam.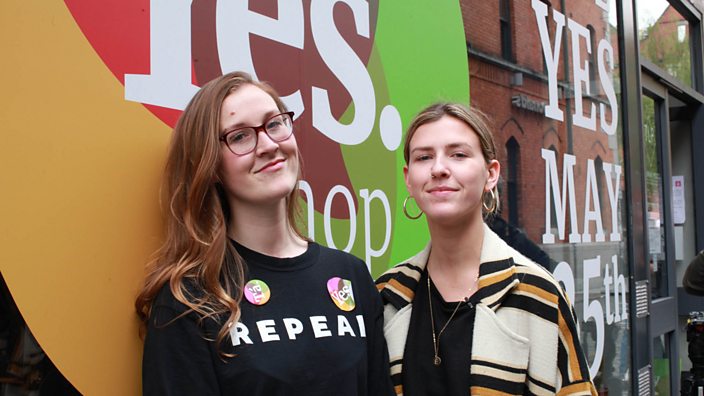 I flew from London to Dublin on an early morning flight on my way to start filming, and as the sun came up, I tried to imagine what it would be like to make that journey home after having had an abortion. One of the first people I spoke to when I arrived was Lucy Watmough, 25. She was one of the 3,000+ women who make such a journey each year after she discovered she was pregnant, despite being on the pill.
After sharing her story online, Lucy began campaigning to repeal the Eighth. She told her story to the press, at rallies, and online - provoking an onslaught of abuse. "I've had someone spit in my face," she told me. "I've been called a murderer."
Another pro-choice campaigner, Rita Harrold, 28, risked a 14-year prison sentence by taking abortion pills at her home in Dublin. Since her abortion, she has worked alongside an organisation that helps deliver pills that cause a miscarriage to women across Ireland.
Rita told me that it was perfectly safe to take abortion pills at home. However, according to the British Pregnancy Advisory Service (BPAS), the medication does come with some side effects and risks. Most common are feeling dizzy, having a headache, being sick, or experiencing diarrhoea. In rare cases - 2 in 1,000 - the woman may experience an infection. 
After meeting Lucy and Rita, I wanted to hear the other side of this debate. Gavin Boyne, a 20-year-old anti-abortion campaigner, told me he believed his life was saved by the Eighth Amendment. I met Gavin two months before the vote at the March For Life rally, which attracted tens of thousands of anti-abortion campaigners in Dublin.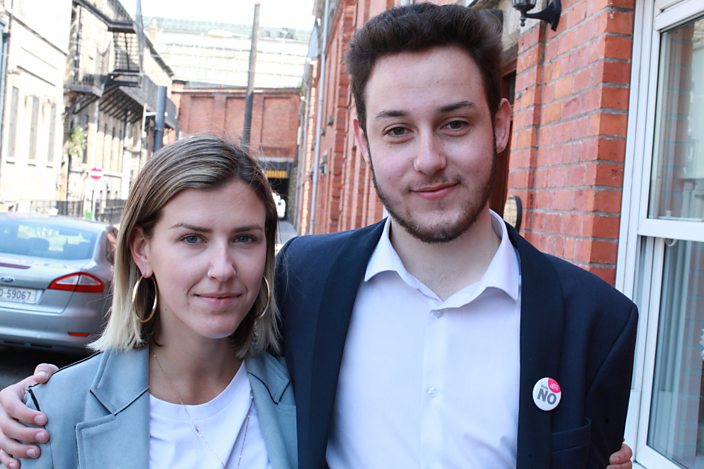 "My mother fell pregnant with me when she was 15," Gavin said. He then explained that his grandparents decided that, under the circumstances, the best thing to do was send his mother to England for an abortion. Gavin said that, during the month she spent there, she realised she was carrying a "human being", and decided "it would be wrong" to end the pregnancy.
For Gavin, this was a deeply personal issue. He believed he "would not be alive without Ireland's strict laws on abortion".
Around the world, roughly one in four pregnancies worldwide ends in abortion. Gavin told me that, with better support for women in what he referred to as  "crisis pregnancies", fewer women would feel an abortion is their "only option".
Someone with whom those words resonated was Lucy Kelly, 21, a No campaigner. When I spoke to Lucy, her views echoed Gavin, as she too thought there was not enough information out there to help women make alternative choices.
Lucy's mum suffered complications when she was over five months pregnant with twins. A life-limiting condition had been detected, meaning the babies were predicted not to survive. "She had a scan [at that stage] which made it a lot more real," Lucy explained. "She saw their wee arms, their wee fingers. They were perfect."
However, her mum did not consider abortion. "Mum wanted to continue with the pregnancy on the chance that the babies would survive," Lucy said, "but, unfortunately, they didn't." Instead, her mum chose to carry her pregnancy to full term and have an induced labour. 
On referendum day, campaigners from both sides gathered in Dublin to watch the votes being counted. Because the exit polls the night before had predicted such a decisive victory for Yes, the No presence on the day was muted. It was clear from the atmosphere that Yes campaigners knew they were going to win.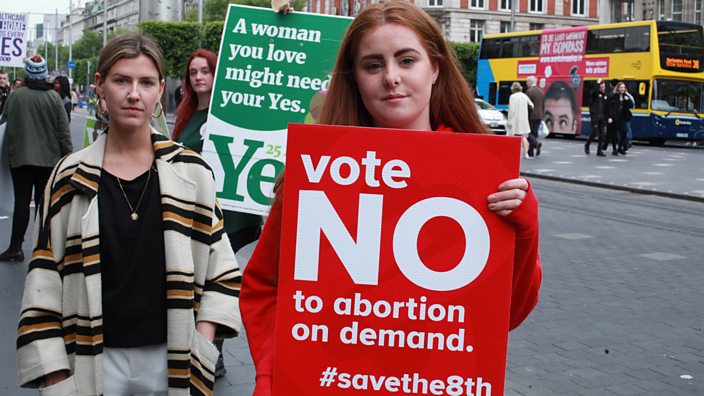 However, the mood was not one of celebration, but relief for those who hoped the Eighth would be repealed.
Despite the fact that this referendum has taken a very private issue - one that is rarely spoken about at home, let alone in public - and put it on an international stage, abortion remains a very sensitive subject in Ireland. Women who have had abortions, particularly those who did so because of fatal foetal abnormalities or rape, were not rejoicing in the streets. They were emotional and relieved. It was nothing like the Republic of Ireland's marriage equality referendum, when people threw street parties after the resounding Yes vote.
The next day, on the morning of the counting of votes, I spoke with a downcast Gavin. "It's not looking good", he told me. Being against abortion - and a 20-year-old university student in Dublin - Gavin knew he had an unpopular position. He said he'd had abuse hurled at him in bars, from being called a "woman-hater" to a "misogynist pig". But, for him, this referendum was about human rights - and he just couldn't see an unborn foetus as anything other than a human life.
By the same token, those in favour of repealing the law argued that a woman's human rights should not be deemed less important than that of an unborn foetus. I saw Yes voters and campaigners hug and cry as they saw yes vote after yes vote being pulled from the ballot boxes. Eventually, they made their way to Dublin Castle, with signs, badges, and jumpers branded with "repealED" to hear the final result - a 66.4% victory for repeal.
As I entered that iconic building, I saw a woman bend down to her two young daughters and tell them: "We made history." After the result was announced, the crowd chanted "Savita, Savita", in memory of Savita Halappanavar, a woman who died of sepsis after being refused an abortion that could have saved her life during a miscarriage.
But I also thought of Gavin, and the other 723,631 people across Ireland, who voted against repealing the Eight Amendment. After the crowds left the count in Dublin City Centre, a group of young people from Love Both - an anti-abortion campaign Gavin had canvassed for - came and gave a statement.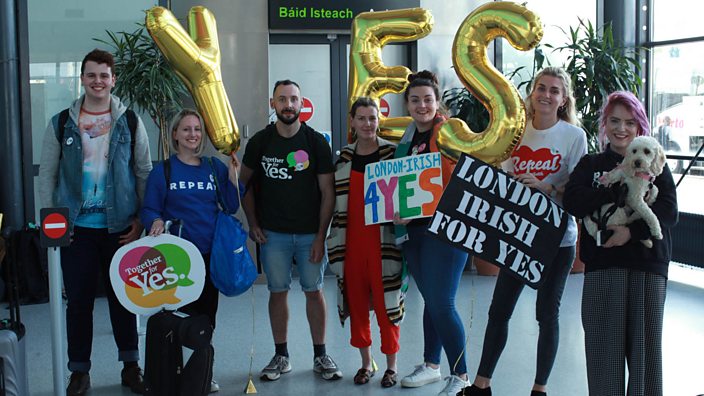 Looking crestfallen, they tearfully described the result as "a tragedy of historic proportions", and vowed to continue campaigning, adding: "A wrong does not become right simply because a majority support it."
Lucy Kelly, who I caught up with a few days after the vote, shared that mood of defiance. She told me she'd had countless messages of support from people. "If anything, this has started an anti-abortion revolution because people are not going to step back now," she explained. "We have to move on, we have to work."
There is still a way to go before abortions can happen in the Republic of Ireland, and anti-abortion campaigners will try and make their voices heard as the government decides on the legislation. The Irish taoiseach (prime minister), Leo Varadkar, has said he hopes the change will come into law by the end of the year.
Rita Harrold believes that now is the difficult part of the campaign. "It remains to be seen exactly what the letter of the legislation will include," she says. Ireland, she explains, has a mixed health service where some things are free, like outpatient hospital care, and some things are not, like visiting your GP.
She adds: "The heart of our whole struggle is to make sure that nobody is financially excluded because, if you had money and resources, you were able to travel previously. The people who suffered the most out of the Eighth Amendment were those who didn't have money." 
In the meantime, 12 Irish women a day will still need to access an abortion, and deep divisions have formed between those who support choice and those who can never accept terminating a pregnancy. While Lucy Watmough now feels that "Ireland finally trusts women", Gavin thinks his country has made an irreversible mistake.
Moving forward, Ireland still faces a struggle between the two camps as laws are decided - and repeal in the Republic has placed the spotlight on Northern Ireland, where abortion remains illegal.
Rita reflects on the result: "It's a bit surreal. I obviously am very happy with the results, but it is strange to feel that something I've been focused on for over five years has now happened."
She has just come back from campaigning in Northern Ireland and says: "There's a real feeling amongst younger people in particular that they're being left behind."
Regardless of which side they're on, campaigners from the Republic are now prepared to lend their efforts across the border, as it becomes clear the battle for women's bodies is far from over.