N/A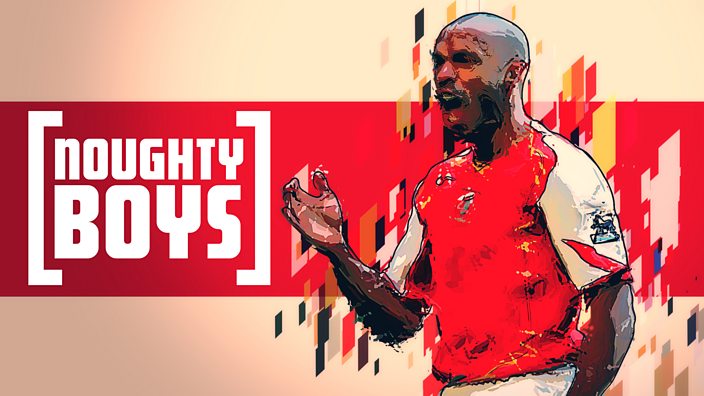 BBC
Noughty Boys: When Thierry Henry wanted to entertain, no obstacle could stop him
It all started with a chance encounter on a plane - and the Premier League would never be the same again
When Arsene Wenger signed Thierry Henry to Arsenal in 1999, the two already had history. The legendary manager first encountered youth team Henry during their time at AS Monaco in 1994.
But it was five years later, when the two met on a flight back to Paris, that English football changed forever. "Thierry," the Arsenal boss was reported to have said to the then-Juventus winger, "you are wasting your time on the wing. You are a number nine." From there, a great movement was born: from left wing to striker, from Juventus to Arsenal, and from Thierry the young Frenchman to Henry the cultural icon.
'This is what you have to do'
Henry was born in the Les Ulis suburb of Paris in August 1977, and there were initially doubts over his talents as a footballer. He drew excitement during his early years at local teams, but some felt the young Frenchman largely played out of obligation to his father. Eventually attending French footballing centre Clairefontaine, scouts and football coaches knew there was something unique to young Henry in motion, but wondered if he would ever develop the technical skills to truly master it.
It was Wenger who harnessed his talents. Signing Henry to his first professional contract at AS Monaco in August 1994, and then purchasing him for Arsenal from Juventus in August 1999. Wenger recognised both the quickness of Henry's brain and his explosive 10-yard sprint and helped Henry become one of the greatest players in Premier League history.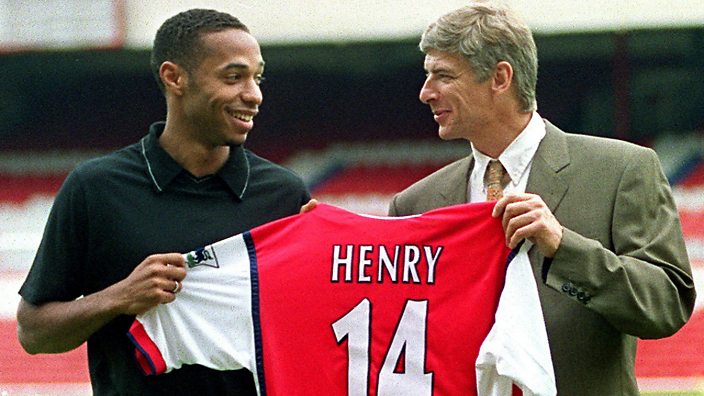 Upon arriving in England, so the story goes, Henry received a video compilation of Ian Wright's goals and best moments from Arsenal's vice-chairman David Dein. The video came with a note that read, "This is what you have to do." By the time Henry had finished in England, he had scored 226 goals for the Gunners and won two Premier League titles and FA Cups. 
While his unique blend of youthful energy, strength and movement allowed him to bamboozle opponents and win audiences, it took three years in England for Henry to win his first Premier League title, scoring 32 goals in all competitions as Arsenal finished the 2001/2002 season with the double. But when one thinks of Henry, it is not his accolades you remember - more than 15 major trophies, including two Premier League titles, two La Ligas, one Champions League and a World Cup - but his aesthetics.
He was above the game, yet revelling in its chaos
Henry played football in the cinematic way our brains imagine the sport, with deft touches, balletic passes and mazy runs. Try to picture Thierry Henry heading the ball and one pauses; but try to imagine him volleying the ball and the football fan's brain soars. At times above the game, yet frequently revelling in its chaos, Thierry Henry's brilliance helped shepherd Arsenal, and indeed the Premier League at large through the new millennium years.
The enclosed space of Highbury helped. Match Of The Day highlights at the ground were shot from a tighter angle in the 38,000-seater space, giving football fans a more intimate look at Henry's acts of brilliance. Henry looked larger than life at Highbury, bestriding the game like a colossus while the red and white of the Arsenal kit glowed vibrant under the North London lights.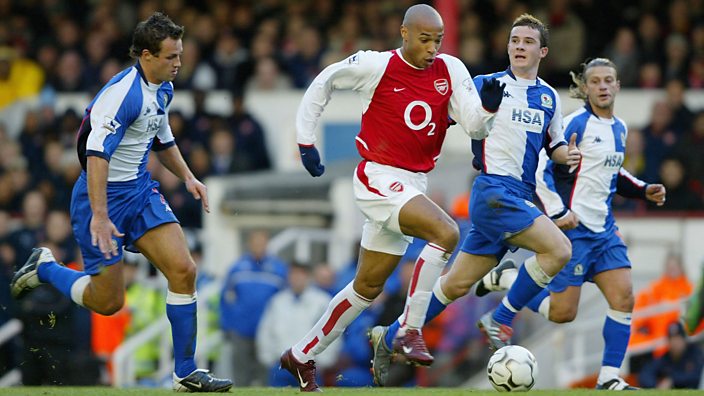 Henry was especially arresting in the Christmas period, with churned up English pitches leaving him covered in sweat and mud, giving him the look of an anointed knight walking across a battlefield. Arsenal fans loved him for it. The rest of us did too, albeit quietly and - at times when your team was on the receiving end of his trickery - resentfully.
Henry's iconic nature covered more than just sports. The forward had crossover appeal in spades, and he soon became a symbol of metropolitan sophistication. His work with Renault in 2002 exemplifies the power of Henry cool. The 'Va Va Voom' series should not have worked. You should not have been able to take a footballer, have him use a nonsense term in order to sell a serviceable small French hatchback and it be memorable, yet such was Henry's aura, the adverts had a lasting effect on the British public. Still today, people use the catchphrase when talking about the striker. 
By Arsenal's invincible season of 2003/2004 Henry's speed, vision, technique and delivery had him capable of creating masterpieces on the pitch while off it, he had become a global icon. Few players go unbeaten in a league and have one of their catchphrases added to the dictionary in the same year.
Football wasn't supposed to work like this. Those who operated on force of personality weren't supposed to be charming. You were meant to be either an an artist who valued aesthetics over steadiness, or a craftsman who rose to the top through orthodox regularity. Henry did both: becoming a striker equally ruinous with a sledgehammer or a scalpel. A four-time Premier League Golden Boot winner (he was twice Europe's top scorer) and still the record holder for most assists in a season (20), Henry redefined what we knew about English football.
But for all the destruction he wrought among rival teams, Henry remained likeable throughout his time in England, possessing a je ne sais quoi and cunning disdain that made him a playground, stadium and living-room favourite. Whether you were four, 14 or 44, there was at least one point in time that you wished you were a bit more like Henry. (Although Irish football fans will remind you his cunning could cross into the downright villainous.)
Some footballers make the sport look hard. Others make it look easy. Thierry Henry made it look like a work of art.
Take his goal against Wigan in the 2005/2006 season.
After awarding a free kick some 25 yards away from goal, referee Graham Poll stood in Henry's way in order to prevent him from taking it quickly (as Henry had done against Aston Villa and Chelsea previously). Henry waited for Poll to walk away, and then bent his free kick into the left-hand corner of the Wigan goal anyway. Upon scoring he turned to Poll and asked "Is that enough?" A television camera caught Henry's impish smirk as he delivered the line.
Henry was one of the first Premier League players with a sixth sense for the camera, knowing how best to manipulate his body to underline and exclaim his own brilliance. It didn't matter if you were a defender or a referee. If you tried to play it quick or slow, tried to double up or bully him out the game, when Henry wanted to entertain football fans and tell a story, no obstacle could stop him. It's no coincidence some broadcasters trialled Player Cam with Henry, so viewers at home could get a closer look at his artistic flair.
Henry's myriad goalscoring gems provided something for every kind of football fan. Some exalt his goal in the 5-1 win versus Inter Milan in 2003, where he turned Javier Zanetti inside out before finishing in triumphant style. His first time lift, turn, and volley against against Manchester United in 2000 earned him plaudits from his greatest rivals.
For others, it was his goal against Charlton in 2004, where Henry, in the height of his balletic boxer period, held off defender Jon Fortune with his back to goal before finishing with a impudent back-heel. The goal against Real Madrid in the 2006 Champions League, where Henry duelled with Ronaldo, Alvaro Mejia Perez, Guti and Sergio Ramos during a phenomenal solo run and finish, saw him marry beauty with bloody mindedness.
Like all Arsenal heroes, Henry enjoyed scoring against Tottenham and he notched up five goals in North London derbies in the Premier League. His stand-out goal against Spurs, a mazy solo run capped off with a small pump fake and a calmly slotted finish, was so good Arsenal built a statue of him celebrating it outside the Emirates Stadium.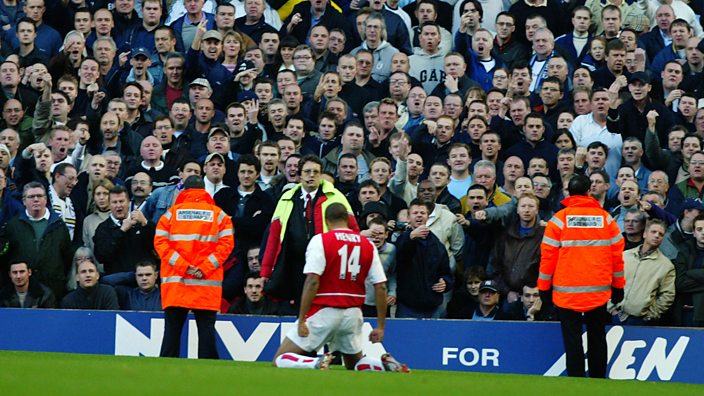 Henry left Arsenal fans bereft when he signed for Barcelona in the summer of 2007. And, still now, he's quizzed on why he chose to walk away from the Gunners. While he did win international trophies with France and achieve European success in Spain, his story will always be linked with the North London Club. So there was a certain magic to Henry's return to Arsenal in 2012, this time on a loan deal from New York Red Bulls in the MLS. 
Henry's second Arsenal debut saw him come on as a substitute against Leeds United in the FA Cup third round. By 2012, Henry was regarded by some as something of a spent force, but against Leeds, he proved there was something of the old magic left. Thierry Henry not only scored on his second debut but scored *his* goal. The 'Thierry Henry Goal', of a forward cutting inside from the left, before standing tall, opening his body and calmly bending the ball inside the far right corner of the goal past the goalkeeper, is an essential modern football technique akin to the Cruyff Turn.
It is Henry's greatest legacy, a piece of football that encapsulated his entire ethos. The goal was akin to a former flame returning and finally giving you closure. Fans could celebrate Henry again, they could forget the image of him holding the Barcelona shirt aloft back in 2007 and instead focus on the memories. The times he did what no other footballer could. When - with a shrug or a playful raised eyebrow - he would produce a moment of magic and have Highbury in raptures. 
Henry was the calm among the chaos, constantly producing works of art which inspired others. Wenger told him he was a number nine, yet he wore a 14 for Arsenal and has been copied by thousands since.