N/A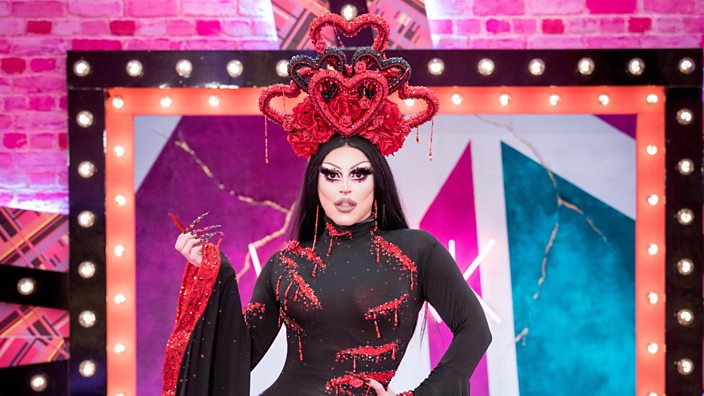 BBC
Drag Race UK's Cherry Valentine on the 'fabulous' Traveller women in her family who inspire her drag
Drag Race UK queen and mental health nurse Cherry Valentine explains how she's influenced by her Traveller heritage - and why she's so keen to help with the UK's vaccine rollout.
This article contains spoilers for episode two of Drag Race UK series two.
"When I was in college, I felt like I was living a double life.
"At home I would be one person and say I had a girlfriend - and then when I was around my friends I would become someone completely different.
"It sort of split my personality. When I grew up, I looked back and realised, 'Oh, that's not really healthy.'"
While the contestants of RuPaul's Drag Race UK are getting ready to perform, they often chat about their personal lives. And in the latest episode of the reality programme, Darlington drag queen Cherry Valentine - the second contestant to leave the show - revealed something about herself that she doesn't always discuss so freely: her Traveller family.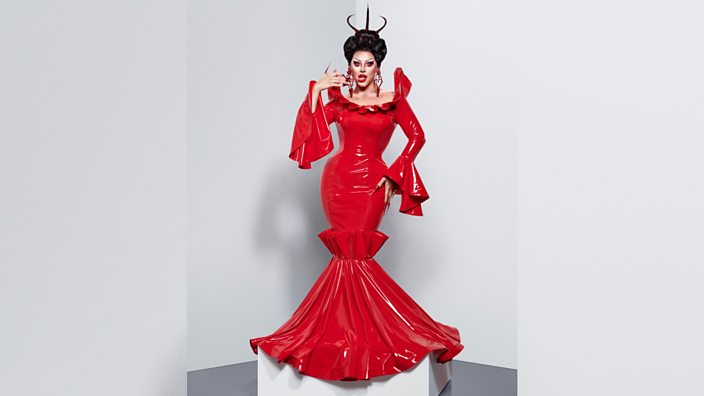 But Cherry says her style of drag is very much inspired by the women she grew up with.
"All the women in my family are absolutely fabulous," she says.
"I remember growing up they would always wear heels to go to the corner shop and wear fabulous make up, of course. That really pushed me to be more polished and to be more glamorous."
'I've received anti-Traveller DMs'
Cherry, 26, comes from a strict background where, she says, drag isn't really considered to be "normal". And for a long time she hid her Traveller heritage in the LGBTQ+ community out of fear she might receive "hate or backlash".
"I never really spoke to people about it when I first started doing drag in Manchester," she says.
"I never told anyone. I didn't even tell my partner for about six months because you always have that feeling that you're going to be judged. I mean, I hear it all the time."
Since appearing on Drag Race UK, Cherry says she's received messages on social media with racist, anti-Traveller slurs.
"I grew up around that so it's not really bothered me but you do still get it and there's still stigma."
'When are you getting married? When are you going to start a family?'
Cherry, who goes by Georgie out of drag, says there were times when it was "really tough" for her growing up on a Traveller camp, where she assumed she would end up fixing cars like her dad.
"At the minute I'm very fluid in my gender… and growing up wasn't easy.
"There were times where I left home for a bit and just had a bit of a meltdown.
"In the Traveller community, there's a lot of pressure on young people to marry, to settle down, to have a family and to get a job to support the family.
"I think that's why I used to lie so much and say I had girlfriends.
"People would say, 'Oh you're going to college and that's really good but when are you getting a girlfriend? When are you getting married? When are you going to start a family?'"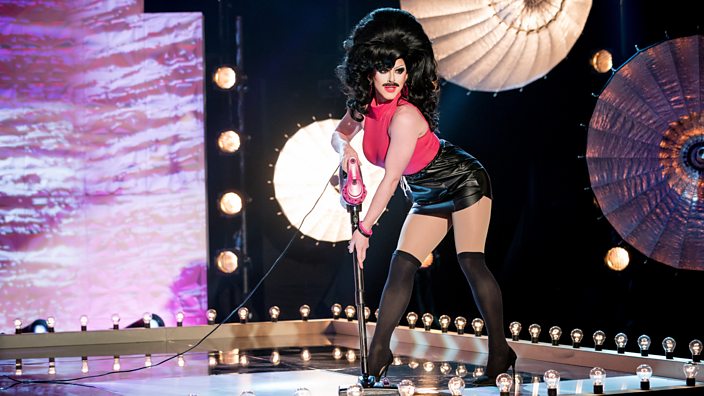 Cherry, who generally uses the pronouns she or they, says she doesn't blame her family or her community for her experience growing up.
"I just see it as something that they always knew and that's how they were brought up, with those very old fashioned views."
But still, having to hide her identity had a big impact on her mental health.
"Growing up it did affect me. I don't think I was completely sane at all."
Cherry hopes her story is a reminder that LGBTQ+ people exist all over the place.
"There's LGBTQ+ people everywhere, no matter what community you're in. No matter who you are.
"I hope the message that comes across is to accept yourself first and then don't really care about what other people think."
"Homophobia is present in all communities and Travellers are no different in that regard," says Chelsea McDonagh, education policy and campaigns officer of the national charity The Traveller Movement.
"LGBT+ people from all walks of life experience discrimination which can result in them living in denial or being rejected from their families.
"Recent developments like Travellers marching at London Pride are a positive step and an example of the change that is occurring, but there is work still to do to ensure that everyone who identifies as Traveller and LGBT+ is accepted for who they are."
'I'm a qualified nurse - I need to be doing something'
Alongside drag, Cherry is a qualified nurse and is hoping to help with the UK's vaccine rollout.
"I just love people," she says. "I like hearing people's stories and talking to them.
"Covid was such a massive shock to everyone and I felt, 'Well, I'm a qualified nurse I need to be doing something.'
"Drag is my passion and my dream but I do love being a nurse - it's something I'll always do."