N/A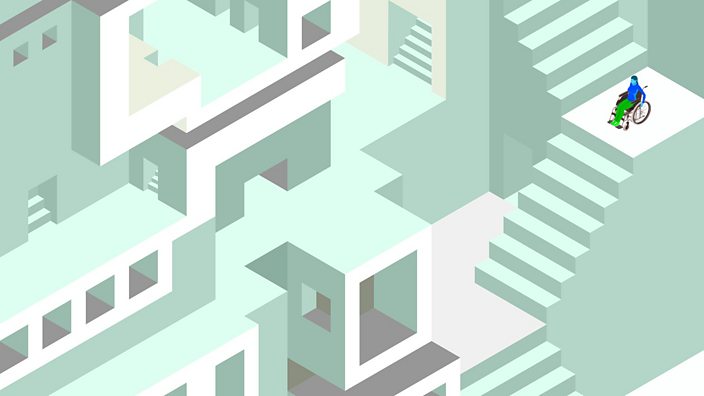 BBC
Renting while disabled: 'Being in a wheelchair means I pay double the rent'
For a generation priced out of home-ownership, renting is a key route to independence. But for wheelchair users, inaccessibility can make it an impossible dream...
Finding an affordable place to rent can be a challenge for many young people. But for Emma, who has cerebral palsy, her first battle isn't paying the bills or finding fast enough broadband. It's trying to safely navigate her wheelchair from her bedroom to the inaccessible bathroom.
The room is so small and cramped she can't fit her chair inside and instead is forced to precariously rely on crutches to reach the sink and shower. Without grab rails for support, every morning feels a dangerous struggle.
Sometimes she falls while trying to get herself ready. It's scary, she admits, as living by herself there's no one to shout out to for help. "I do manage to lift myself up," she says, "but I've been late for work multiple times."
Explaining herself to bosses is "frustrating" because if the bathroom was accessible she'd never have a problem arriving as expected. "I don't need to be fixed or altered, housing and society does," she says.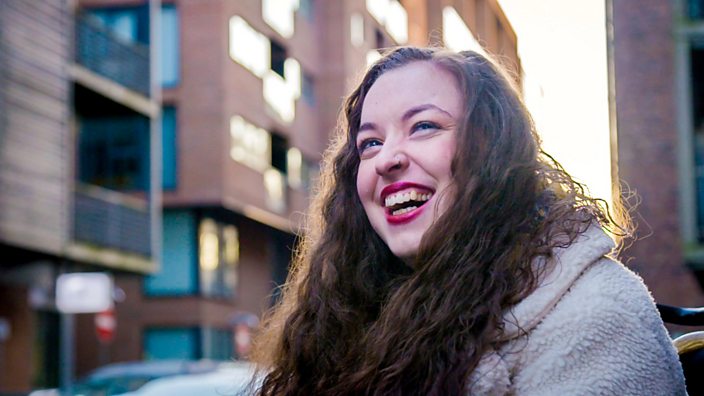 If Emma's morning routine sounds shocking, it's far from unique. As a 22-year-old Liverpudlian, she's one of 400,000 wheelchair users in England alone living in unsuitable accommodation, according to Habinteg housing association.
The UK's lack of accessible housing has been described as a "hidden crisis" by the Equalities and Human Rights Commission (EHRC).
This is especially true for private rentals. Despite the number of disabled people increasing to 14.1m in the last year, the EHRC's 2018 report found 93% of 8.5 million rental properties in the UK to be inaccessible.
This means that for young professionals like Emma, who want to live with friends in a city, the struggle to find somewhere affordable and accessible to rent can feel almost as impossible as saving to buy a home.
It's a tough task, but the perfect test for Big V and Tobias, the expert home-hunting duo on BBC Three's new show Rent Like A Boss. Together, they help Emma and other young people with their renting struggles.
"What was surprising is that Emma's accessibility requirements weren't catered for," says Tobias. "Her flat had a balcony that she literally had to come out of her wheelchair to use, and a galley kitchen she couldn't properly manoeuvre.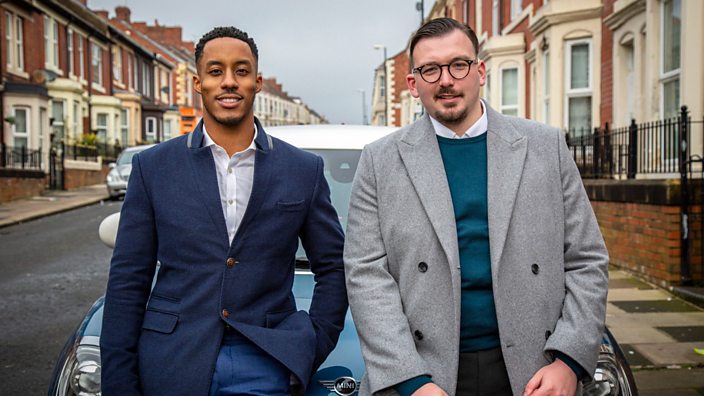 "It really hit home how more genuine care needs to be taken to adequately house residents of all walks and wheels of life."
The difference a safe, accessible home can make to disabled people's lives is huge.
Just ask Abbi Brown, a 27-year-old wheelchair user. "When I live somewhere accessible it allows me to focus my energy on living, rather than just surviving," she says. "But when I live somewhere inaccessible, every day is a reminder of all the things I can't do."
Given the clear need for accessible housing, why is there such a shortage?
The simple answer is that there's no UK-wide commitment to building liveable wheelchair accessible properties as standard. Instead, it's up to local authorities to set and enforce accessibility targets - however just 5% are requiring developers to construct wheelchair-suitable housing according to the ECHR.
The exception is London where, since 2004, 10% of new builds have needed to be wheelchair accessible or adaptable. Disability housing groups are calling for this to become the national standard.
But the lack of UK strategy means many wheelchair users have to make-do and muddle through a sea of confusion - from estate agents to landlords.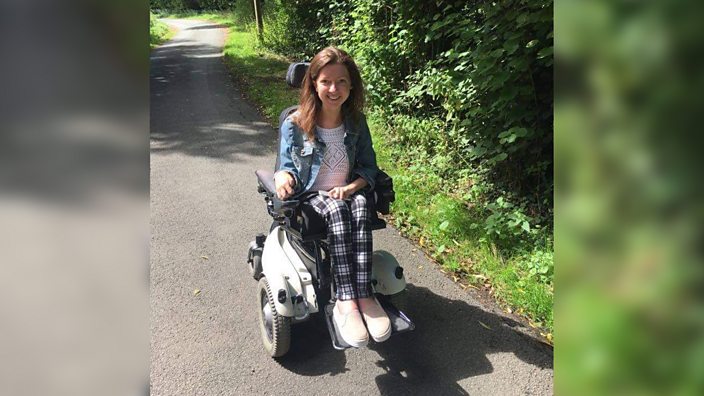 Millie Hawes, a 24-year-old wheelchair user in London, says "countless" estate agents during her search for a place to rent claimed a property was wheelchair accessible, only for the opposite to be true.
"It was a total nightmare. We'd rock up at a viewing to find either a step into the front door, the corridor was too narrow or the bathroom too tiny," she remembers. Property websites "didn't help" adds Millie, as she says they often lack proper accessibility filters, and photos are not always representative.
Abbi similarly says the "biggest struggle is finding properties which are actually step-free, as estate agents never seem to know whether a flat has a lift or not.
"At one viewing, an agent did check for a lift, but forgot it was down a flight of steps. He asked if we 'wanted to see it anyway'. I said no."
'Willingly accept sacrifices'
Adapting a property to make it more accessible is often the only way.
The law is supposed to help with this. The Equality Act 2010 gives wheelchair users the right to make adaptations to their homes so long as they are "reasonable". In reality, this leaves the door open for landlords to fight changes and refuse adaptations - especially long-term, significant ones, like a heavily-altered bathroom. For instance, at the moment, the law does not require the landlord to make structural changes to your property, or the 'common parts' of a block of flats.
The changes are also expensive, averaging at around £9,000 - and again rely on landlord agreement. The Disabled Facilities Grant (DFG) aims to support payment - offering £20k to £35k depending on where you are in the UK - but the way it's means-tested leaves many disabled people needing to contribute a significant extra cost they simply can't afford.
Add to this that applicants must intend to stay at a property for five years to be eligible, and it becomes easier to understand why many young renters, Millie included, feel it's simply not a realistic option.
"I chose not to make any long-term adaptations as I wasn't sure how long I'd be living here and know the DFG can't be used multiple times within a five-year period," she says.
"I also worried substantial changes like a wet room, automatic doors, and a wash and blow dry loo wouldn't be approved". Adaptations that, as someone with severe muscle weakness, would make a huge difference to her personal dignity.
Instead, Millie relies on portable equipment loaned to her by the local authority. "It's not perfect but it's manageable until I eventually buy my own home which I can fully adapt," she says.
Beyond home adaptations, Millie's need for a live-in carer adds extra financial strain. According to disability charity Scope, life costs £583 a month more on average if you're disabled.
"Being disabled means double the rent, double the bills, with little to no support for working disabled adults to cover these extra costs. I have to pay two thirds to cover the extra room for my carer," Millie says.
"There's certainly something to say about the way disabled people willingly accept sacrifices, like not having access to sinks, not being able to independently open doors to access their home, without batting an eyelid. Would a non-disabled person do that?
"I feel forced into not getting the right adaptations when renting, through fear of a landlord saying no or the local authority not funding it unless it's your forever home. What 20-something-year-old lives in a forever home at that age?".
These added pressures can be hugely damaging to mental health. Abbi says her access needs left her "feeling like a huge burden" on her flatmates after needing to move four times in six years.
"At one point during our last move, I was actually suicidal and was nearly hospitalised," she says.
"I found it really hard to understand why my flatmates still wanted to live with me given that needing a lift and no steps makes it so difficult to find somewhere. I kept telling them to go and find somewhere just the two of them because I was just holding them back.
"We ended up living in a more expensive flat which isn't as nice as the places we all know we could be living in if I didn't need a lift.
"My flatmates are really nice about it but it makes me feel so guilty."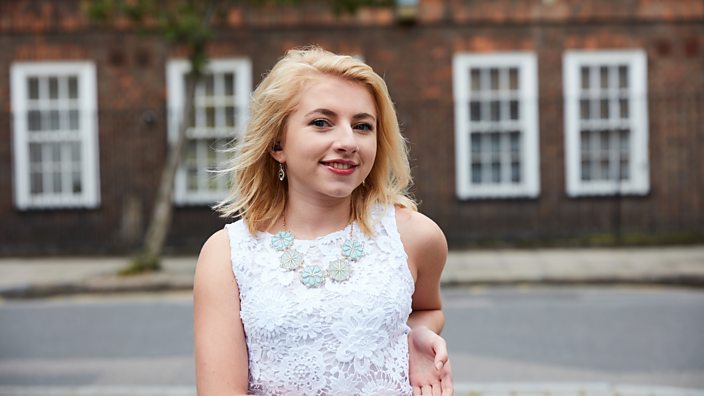 Scope say they regularly hear from disabled people unable to find suitable accommodation, or who are "stuck living in sub-standard and unsuitable homes."
"Something desperately needs to change. Government and local authorities need to step up and ensure affordable and appropriate housing is available to everyone."
In response, a spokesperson for the Ministry of Housing, Communities and Local Government said it is committed to "making sure everyone has access to a decent and suitable place to call home."
They say that since 2012, the DFG has provided over £3.2 billion to deliver around 280,000 home adaptations, and has launched an open public consultation to improve understanding.
"We expect landlords to adapt properties for tenants – and they must not unreasonably withhold consent if they're asked to make changes to homes."
So, where next? Thankfully there are projects in place to help better support the needs of wheelchair users looking to rent.
Habinteg are set to launch an online accessible property directory to help simplify the process.
"We have heard frequently how frustrating online research can be because there just isn't sufficient information about accessibility on house hunting databases to help disabled people narrow down their search" said Nic Bungay, Habinteg's director of public affairs.
"That's why Habinteg is developing a pilot accessible housing database by working with disabled people, housing associations and Homefinder UK to improve online information on accessible homes".
For Emma, this would be a huge help as she turned to Rent Like A Boss after struggling with the lack of clear advice.
"I searched on Google but it's so unclear", she says. "Type in 'accessible renting' and everything but nothing comes up".
Alongside this digital resource, charities are setting up initiatives to help redress the balance. London-based Abode Impact has launched a multimillion pound fund to build more wheelchair-friendly housing in the capital's private rent market, while Aspire's Housing Programme provides 58 properties around the UK for spinal injured people to live in whilst they find a permanent home.
"Disabled people should be able to live independently", says Aspire CEO Brian Carlin.
"We're working with other charities and organisations towards a future in which no wheelchair user has reduced independence due to limited housing options".
Part of sparking this change means helping landlords standardise practices. The National Residential Landlords Association is working with a number of groups - including Foundations, a home improvement body who have done extensive work on improving disabled facilities grants - to produce clearer and more comprehensive guidelines on wheelchair accessibility for private rentals.
Millie and Abbi believe increased awareness like this can, by improving housing, also allow disabled people to fulfil their potential.
As a law graduate Millie says she faced a "chicken and egg" situation of wanting to leave her parents' home in Cheshire to move to London for work, but fearing the need to find somewhere accessible - especially as she wanted to live with a friend.
Abbi recognises how this can hold back the professional lives of "bright, young disabled people".
"I know so many disabled graduates who limited their job search post-uni to areas where they knew they could live, rather than applying for the job they wanted knowing they could always find somewhere to live afterwards" she says.
Emma agrees. "As a renter with a job, I don't want to be thinking 'do I have enough energy to get into bed' or move around my house safely just because I'm in a wheelchair.
"An accessible home makes me feel secure - I can focus on living my life".