N/A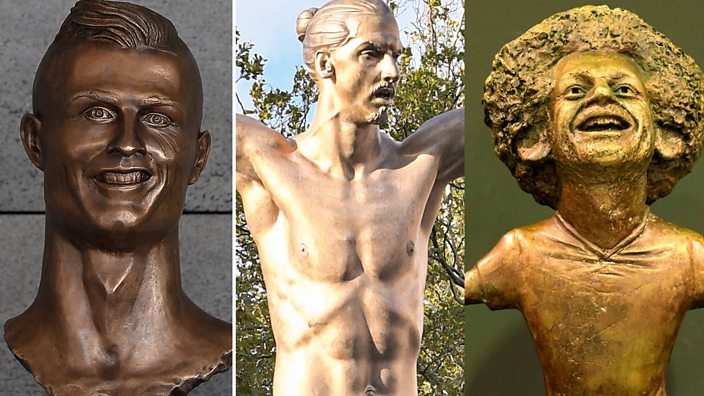 Gettyimages
Zlatan's new statue is better than most of these weird creations
Take a look back through some of the most questionable statues in sport - including a misshapen Salah, a terrifying Essien and that Ronaldo monstrosity
The 8ft 9in bronze structure, commissioned by the Swedish FA, was greeted by hundreds of fans outside Malmo's stadium, where Zlatan started his career.
He was typically humble in receipt of the tribute.
He must also be grateful that it turned out the way it did. Certainly, we know by now that these things don't always go to plan. Here are some of the weirdest statues of athletes that have been unveiled in recent history.
This statue of Mohamed Salah was unveiled in Sharm El Sheikh, Egypt, in November last year.
Isn't it uncanny? Apart from that fella from  Home Alone, it's also been compared to a corrupt orthodontist from Parks and Recreation...
As well as another footballing titan...
Sculptor Mai Abdel Allah told Egypt Independent that she based her work on Salah's goal-scoring gesture because she saw him as a symbol of excellence, and explained that she had some issues once the bronze was added to the mould. 
Whatever you think of the end result, you have to admire the effort.
Brandi Chastain - Bay Area Hall of Fame, San Francisco
Brandi reacted by commenting, diplomatically, "it's not the most flattering, but it's nice"
Michael Essien - Kumasi, Ghana
Unveiled early in 2018, in Essien's country of birth.
There is a lot to unpack here - the proportion of trunk to lower half, the wincingly awkward posture, the angular face, that has a passing resemblance to Kryten from Red Dwarf...
Maradona - Kolkata, India
Introduced to the world in December 2017, this depicts a young Diego (complete with a rather healthy mop of hair) lifting the 1986 World Cup trophy, which he led Argentina to win.
Some thought it looks more like the Crystal Palace manager, Roy Hodgson.
Cristiano Ronaldo – Aeroporto Cristiano Ronaldo, Portugal
In March 2017, Madeiran artist Emmanuel Santos unveiled this bust to adorn the newly named Aeroporto Cristiano Ronaldo in Funchal on the island of Madeira.
Not everyone was taken with it. Niall Quinn must have felt honoured though.
Despite some ridicule online, the artist was defiant. 
"It was impossible to please the Greeks and Trojans. Nor did Jesus please everyone," he told The Guardian. "What matters is the impact that this work generated. There is always the possibility of making a difference. I was prepared for all this."
Yep, that's right, he doubled-down by comparing himself to Jesus. We don't think he's referring to either Navas or Gabriel either. An artist with a bigger ego than his subject possibly.
Ted Bates - St Mary's Stadium, Southampton
Bates, who died in 2003, made 216 appearances for Saints as a player, scoring 64 times, and managed the club between 1955 and 1973.
Fans weren't pleased that the likeness, which cost £102,000, was slightly, er, out of proportion.
A more fitting tribute was unveiled in 2008.
Andy Murray – Shanghai, China
Here's Andy Murray greeting his own terracotta statue at the Shanghai Masters in 2011. Amazing how they've really managed to capture his more animated side.
The defending champion retained his title, beating David Ferrer in the final. 
Carlos Valderrama – Santa Marta, Colombia
Since 2002, visitors to the Eduardo Santos stadium, home of Colombian football side Union Magdalena, have been treated to this massive, bronze statue of the great Colombian national player Carlos Valderrama.
Magdalena were the creative midfielder's first club. All we can say is, fair play to the artist Amilkar Ariza for the graft it must have taken to recreate those curls.
Paavo Nurmi – Helsinki, Finland
This statue outside the Olympic Stadium in Helsinki casts him completely naked. Why? Because why not?
Michael Jackson – Craven Cottage, London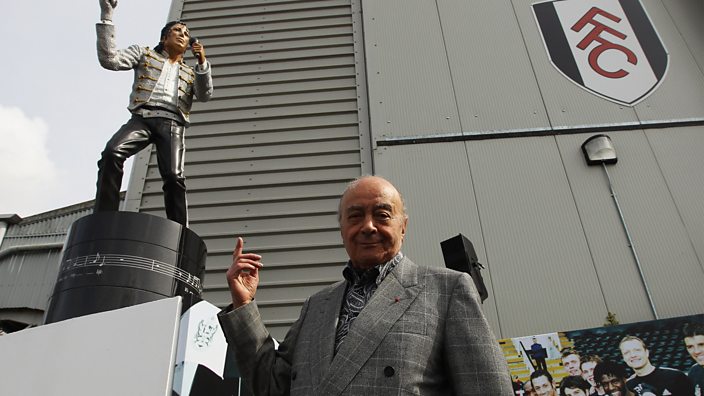 It's hard to believe that it actually happened now, isn't it? Did former Fulham owner Mohamed Al Fayed really install a 7ft 6in statue of Michael Jackson outside of Craven Cottage in 2011?
Mr Al Fayed insisted that the pop legend was a Fulham fan and resisted calls to pull down the statue.
However, after the club was sold to Shahid Khan, the statue beat it in 2013. Al Fayed has attributed Fulham's relegation from the Premier League in 2014 to that statue being removed.
"This statue was a charm and we removed the luck from the club and now we have to pay the price," he said. "When [Khan] asked me to move it, I said: 'You must be crazy.' This is such a fantastic statue, which the fans are crying out for. But now he has paid the price because the club has been relegated. He called me because he told me he wanted Michael to return. I told him, no way."
The statue was moved to the National Football Museum. 
Article originally published 23 January 2018