N/A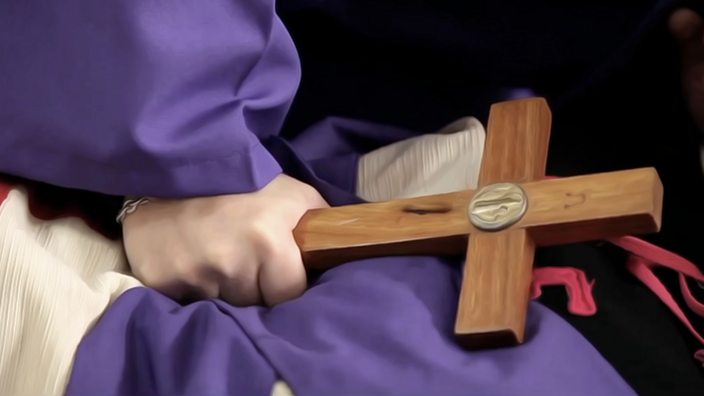 BBC Three
What I learned when I met a real life exorcist
Padre Manuel Acuña is famous in his home city of Buenos Aires, Argentina – and I helped him perform an exorcism
Leaning forward, I dangle a set of gold bells above the head of a young woman shrieking in anguish. She twists and turns her limbs into the most unnatural of positions, while a man draped in religious garb barks biblical verses at her. Helpless and confused, I stare blankly. I'm someone who feels awkward at the best of times, but this is something else entirely.
The shrieking woman in question, Natalia, is undergoing an exorcism, and I've signed up to ring the bells that supposedly drive off the devil. To my side, the exorcist, Padre Manuel Acuña, nods at me in encouragement. He wears a stern expression, ready for battle. So I ring the bells harder. I don't really believe in any of this; to me, these are just small golden bells. But Natalia believes, and I just want her to feel better.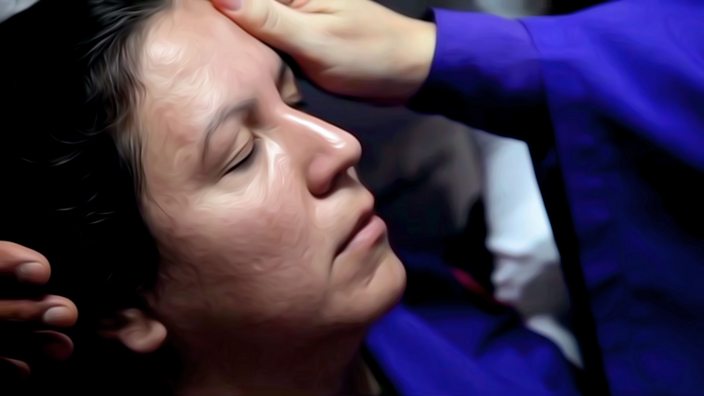 With the exorcism's climax imminent, the Padre yells in Spanish, "In the name of the Lord, I order you to leave this body!". I just freeze, clutching my bells. When it's over, Natalia weeps with joy. She's been suffering from delusions and hearing voices for years. Now though, she seems convinced the exorcism has cured her. Her relief is palpable, her anxiety quelled.
That was 18 months ago, when I started filming a documentary for BBC Three about exorcism, a subject I never imagined I'd be so interested in.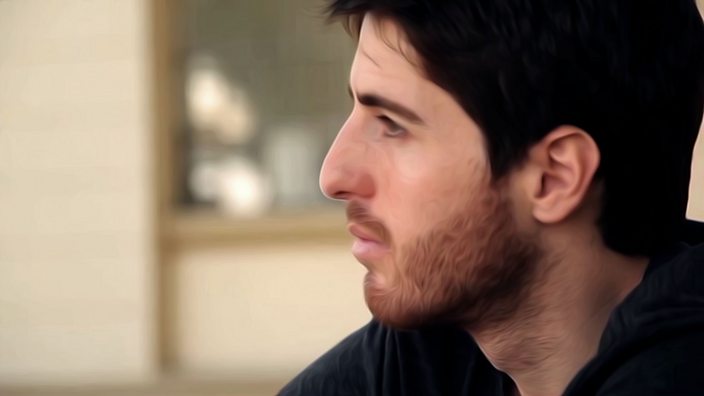 I'd arrived earlier that morning at Padre Manuel Acuña's church in Santos Lugares, an impoverished suburb by the railway tracks in Buenos Aires, Argentina. In addition to the usual ecclesiastical relics and artworks, I found the church decorated with a profusion of film paraphernalia and posters with the Padre's face superimposed into starring roles.
He's portrayed as Father Merrin from the classic '70s movie The Exorcist, and Father Marcus Keane from its spin-off series. In less artfully constructed posters, he stands alongside Mulder and Scully in The X-Files, before taking his place among the cast of Penny Dreadful.
From this lair of vanity, alongside the usual church dealings like Sunday sermons and confession, he also conducts one or two exorcisms per week, and runs a school for aspiring exorcists, where courses cost £38 a month. Quite a sum for people living in this region.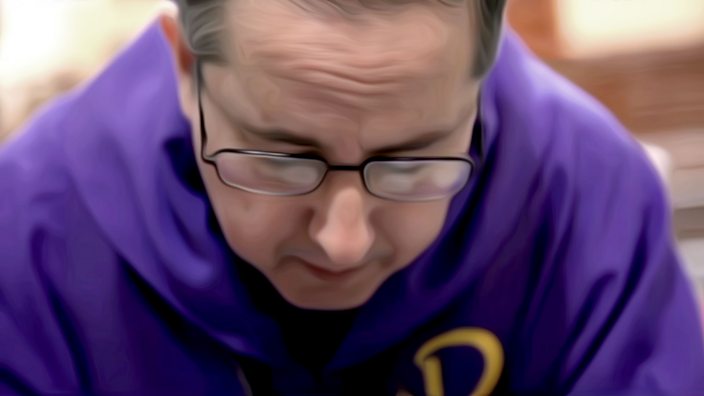 I first became interested in finding out more about the Padre after watching him chatting as a guest with Argentine celebrities and models on TV and radio shows. I'm an atheist, but something about the Padre drew me to him. I was aware of his active social media presence comprising myriad Facebook, Twitter, and YouTube profiles, and I knew from his church movie posters that he welcomed comparisons to Hollywood films.
I felt it was unusual for a priest to seem so fame-hungry, so I decided to give him a call. For me, it was a chance to look deeper into the practice of exorcism and its long-term effects on the Padre's often poor and vulnerable followers. Did it really cure people with mental illnesses? And – providing it helped the patient – did it really matter if it was real or just a form of catharsis?
As filming progressed, though, the Padre ended up accusing me of questioning his relationship with a young woman who'd left psychiatric care to be by his side.
This was his assistant Paula, who organised his consultations with potential "exorcisees". She'd spent most of her adolescence in a psychiatric ward, before the Padre performed an exorcism on her and took her under his wing.
She revealed to me that her exorcism was, in fact, one that had gone viral on YouTube. First posted in March 2015, and entitled The Exorcism of Laura, this video was actually the exorcism of Paula. Now, far from her family and without a boyfriend, her life seemed to revolve entirely around the Padre's church. She told me: "We like each other a lot because he saved me."
Suspicious of my questions, the Padre cornered me in a small room with his team and let rip. I tried to remain calm, but my legs were shaking. Although the Padre is fairly diminutive, he has a presence about him. I was aware that nobody knew where I was – in the middle of nowhere at midnight with people I considered to be fanatics. While our cameras rolled on, he started shouting at me and the crew. I was gobsmacked.
But that tension had been building for some time. As an atheist, I was sceptical of his paranormal theories: he believed in things like levitation, curses, and even cross-fearing vampires. When I cheekily quizzed him about the latter, I half-expected him to react angrily. But he replied: "Oh yes, vampires exist. Not garlic – that's just from movies, but the cross works."
And yet Natalia and Paula both seemed happier after their exorcisms. To find out why, I spoke to Paula's former psychiatrist at the Alvear Hospital for Psychiatric Emergencies, Dr Garín. He explained that exorcism is a "dangerous practice […] [that] by suggestion can reassure and help them. Until the re-emergence of a new [psychological] episode after one, two or five years."
To see if the doctor's words proved prophetic, I checked up on Natalia off-camera more than a year after her exorcism. She told me that her "demons" had returned. Today, Natalia refers to the Padre and his work as "theatre", even though she remains very much a part of the paranormal realm, and gets weekly exorcisms at another church nearby.
While the Padre is arguably the most famous of Argentina's exorcists, he is one of many. In fact, Dr Garín explained that "it's very common for patients to come to the hospital having been to a priest or evangelical pastor."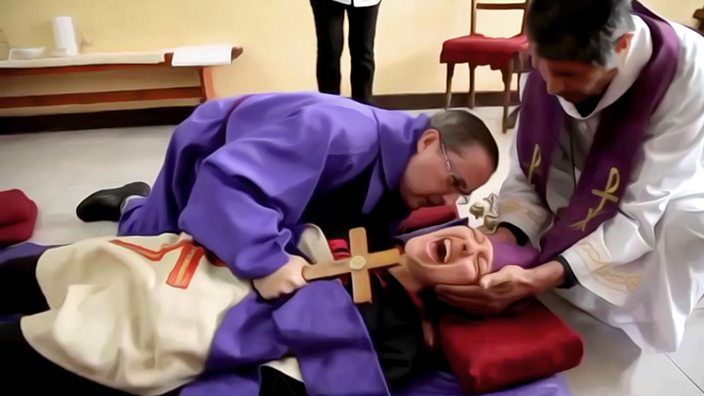 In our film, history repeats itself with our only other exorcism subject, Candela, a 17-year-old schoolgirl, whose parents decided to take to see the Padre. When I met her in the church, she was in tears.
Her mother explained: "She cuts herself, hears voices […] we went to a psychiatric clinic but […] I don't want my daughter in that place." When Candela felt able to talk, she added: "My dad came to get me from school, because I wanted to commit suicide in the toilets."
This time, I got to know the person undergoing exorcism before the ritual, which made it more heartbreaking to watch. Waving bells around just felt like I was undermining the seriousness of her situation, so I watched from the sides as she laughed demonically and roared from some dark place within her: "She's mine! You'll never have her!" I'll never forget that torturous scene, which I could barely bring myself to watch back when I was editing it.
We went to her home to check up on her a few weeks later, and filmed her beaming with pride and talking excitedly about the success of the exorcism.
But, like with Natalia, Candela lost faith in the Padre's methods. Her suicidal thoughts returned just a month later, and she only recently started feeling better after joining an evangelist church that has given her new hope. When I caught up with her off-camera a year after her exorcism, she explained: "It's not a good path. Now I'm much better, thank God, because I took the path of truth, which is evangelical."
These women live in deprived and old fashioned districts, where mental health is a taboo topic of discussion. In fact, Candela told me she'd never known anyone else to speak of mental illness.
Before making this documentary, I'd considered exorcism a silly but harmless practice that was glorified by such gothic works as Dracula and The Exorcist. But standing in a room filled with the screams of teenage girls brought home the stark reality.