N/A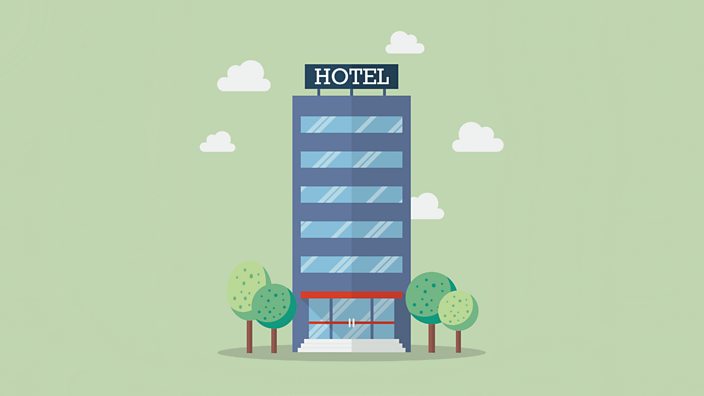 Getty
Coronavirus: Life inside a 'homeless hotel'
How did residents cope and what happens next for rough sleepers?
"I remember seeing a couple of articles that claimed this was going to be a big reckoning moment for rough sleepers and might even end homelessness for good.
"But a roof over a head is not enough to solve all the issues that long-term rough sleepers face."
Anna* was four months into her new job at a homelessness charity when the Government announced that all rough sleepers in England should be found somewhere to stay to prevent the spreading of coronavirus. 
Anna's local council was given their share of the £3.2m funding to distribute among homeless charities. The charity Anna worked for was one of them and they used their share to book 50 rooms in one hotel.
Since the lockdown began more than 14,500 people who were at risk or living on the streets were given emergency accommodation.
But Anna, along with some of the people temporarily given a room in hotels across the UK and one homelessness expert, says those with mental health and addiction issues struggled to live in the hotels - and that not enough thought has been put into long-term housing solutions.
"Will they just be back on the streets in a few weeks' time?" Anna, who's in her 20s, asks.
'Separate entrances for private and rough-sleeping guests'
When Anna set off on her first drive over to the hotel she felt unsure about what awaited her.
"I was kind of just turning up prepared for anything."
When she arrived the hotel was fairly empty. The outreach teams had offered all the places to the most vulnerable rough sleepers they worked with but many didn't turn up.
This meant that for the first few days Anna was sent out with her colleagues to approach people who were rough sleeping to let them know hotel rooms were available for them.
By the end of the first week, the hotel was full of mostly male clients aged between 18 and 60.
The group included long-term rough sleepers who had spent 20 years on the streets, those with restraining orders preventing them from going home, young adults who would otherwise be sofa-surfing, recent prison leavers and a few who were very new to rough sleeping.
"There were just so many reasons this hotel was not fit for [purpose]," Anna says. "I mean to start with there was no kitchen.
"My immediate worry was, 'how many months would they have to eat pot noodles?'"
In Anna's hotel, people who had been rough sleeping were allocated around two thirds of the hotel rooms while the rest were available for private clients.
But it was not long before the hotel received complaints from the private guests and - as a result - two separate entrances were created.
For some residents, the stability of accommodation coupled with constant support really helped them rebuild their lives. But Anna says some struggled to follow the rules of the hotel.
"How do you stop an addict from doing drugs in their room? How do you tell a chain smoker he can't go outside after 10pm? How do you confiscate alcohol from an alcoholic?
"We did the best we could but in the first few weeks I had a string of shifts that constantly ended in the police or ambulance being called."
Anna recalls in those first few weeks there were two suspected overdoses as well as fights, including one resident who was beaten up so badly he broke several ribs.
Anna remembers how she'd do anything to avoid evicting people, often turning a blind eye to smoking in rooms - a strict hotel rule - and would instead hand out warnings instead of eviction notices.
Anna estimates around 30 people were evicted or left the hotel in the four months she worked there.
'I'm starting to get nervous - I have nowhere else to go'
"I haven't had a stable job for two years," says 36-year-old Olivia*. "I don't have any family in the UK and I haven't had a permanent home for the last year."
When lockdown was announced in March, Olivia was rough sleeping on streets around London while also managing her chronic weak immune system. She would usually sleep in accommodation inside a church, organised by the charity Glass Door, and then spend her days in cafés and a nearby day centre.
She remembers when the charity announced they were being put up in hotels: "The entire church erupted. I'm serious, there was cheering and clapping. Everybody was so happy.
"What a relief. After living like that for a year or so, that part of my life was finally ending. I couldn't wait.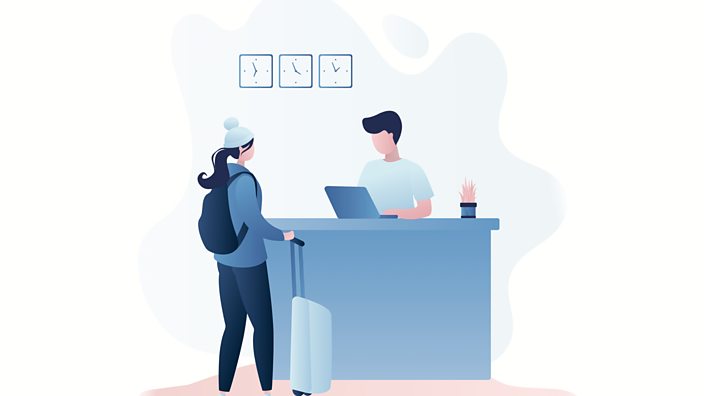 "A team of healthcare assessors came to talk to each one of us. They were going to sort us into hotels depending on our healthcare risk.
"I was in one of the highest risk groups and by the afternoon I was walking into a hotel in Wandsworth, in south London.
"In the first month I never left my room. I was so worried about my health and the hotel had specific nurses that could help me set up doctors' appointments.
"Meanwhile nurses tested us for the virus, TB and STIs. I felt like I was getting healthier.
"I didn't mingle, I wasn't there to make friends. There were a few incidents of fights and piercing screams in the middle of the night but I would just report it to reception and they would fix it.
"I know some other residents really struggled in the hotel. There were people there who had been living on the streets so long they didn't know how to live indoors.
"I even saw people go to sleep on the streets a couple of nights in the beginning as that was just more normal for them.
"We haven't been told anything about leaving the hotel yet. I'm starting to get nervous because I have nowhere else to go.
"The only thing I know is that I don't want to leave."
'It wasn't my favourite place but you've got to start somewhere'
Before the lockdown, Sebastian, 28, had been sofa-surfing for almost a year on his friend's couch in Worthing, West Sussex, after becoming homeless because of a relationship breakdown.
"I was happy to get a call from the emergency housing team in the council saying I could stay at the hotel.
"I was a little nervous as well as I don't deal with change too well.
"The hotel had four floors, I was placed in the basement in a corner, which I was really happy about. It meant I could just keep myself to myself.
"There were definitely lots of theft going on, a couple of fights, I think there was an incident where a resident beat up his girlfriend and got kicked out but that's not something I got involved with.
"Overall, the hotel removed my homelessness status which was great. It wasn't my favourite place but you've got to start somewhere. It was a bit of a stepping stone for me to better places."
Sebastian is now living in his own flat, which was organised by the charity Turning Tides.
Paul, 23, became homeless in February. He was sofa-surfing on his friend's couch for a month before finding himself on the streets of Blackpool.
In March a police officer approached him to tell him about the hotels for rough sleepers.
"The hotel I got moved into was a mix of good and bad," he says.
Paul says he began to pick up new skills. "I started to do things I hadn't done before, like buy my own toiletries and things. I got better at budgeting and working out what I needed to spend money on and what I didn't."
But he also remembers severe arguments in the hotel between other residents.
"There was shouting, swearing, slamming doors and verbal abuse."
Paul was told that he was only allowed one hour outside per day but he stayed out longer to avoid the shouting and arguing.
He now lives in a hostel specifically for 16-25 year olds, and is supported by the charity Streetlife.
"We get along much better in here," he says. "Everyone sticks to themselves."
'We need a much longer-term solution'
Anna was able to support some of the residents at her hotel, too.
One person she worked with arrived directly from prison. Anna helped get him registered with a GP, helped him claim benefits and organised a trip for him to see his family once social distancing measures were relaxed.
But Anna thinks the situation affected the mental health of many of the residents, who often felt trapped - bored of watching TV and doing jigsaws.
"This emergency solution was successful in preventing my clients from contracting and hopefully spreading the virus. But, there was no real thought into what would happen in the long term."
In May, it was announced the government funding for the "Everyone In" scheme was to end and by June hotels began to prepare to open fully to the public. It was around this time that Anna left her job with the charity.
Petra Salva, director of rough sleeping for the homelessness charity St Mungo's, says that "on the whole, local authorities really did their best to accommodate people in a very short period of time.
"The key challenge was to preserve life and to make sure we didn't lose people, so in that way we couldn't be that picky about where people went."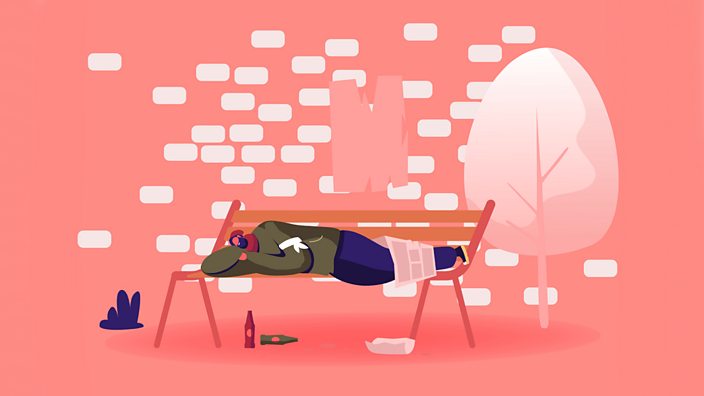 According to the charity, six out of ten rough sleepers in London have a drug or alcohol problem.
Petra explains that "one of the key reasons people turn to drugs and alcohol is that sleeping rough is a dangerous and lonely place.
"It's a depressing situation to be in and it's almost inevitable that what you will do to make yourself feel better is start to indulge in alcohol and drugs. I've had clients say to me they need to drink just to be able to close their eyes at night."
Petra describes the "Everyone In" scheme as a step in the right direction.
"But those with drug and alcohol issues will not be fixed in three to six months. It takes more investment and services. We need a much longer-term solution and that's the lesson to learn here."
A spokesperson for the Ministry for Housing, Communities and Local Government said: "It was right we took action quickly to get rough sleepers off the streets to keep them safe from coronavirus.
"We have ensured vital services, such as mental health or drug and alcohol addiction support, have remained open.
"We are working at pace to deliver thousands of longer-term homes to ensure as few people as possible return to life on the streets as part of our commitment to end rough sleeping for good, which is backed with over £500m funding."
*Names have been changed.
If you've been affected by the issues raised in this article, sources of support are available here.