N/A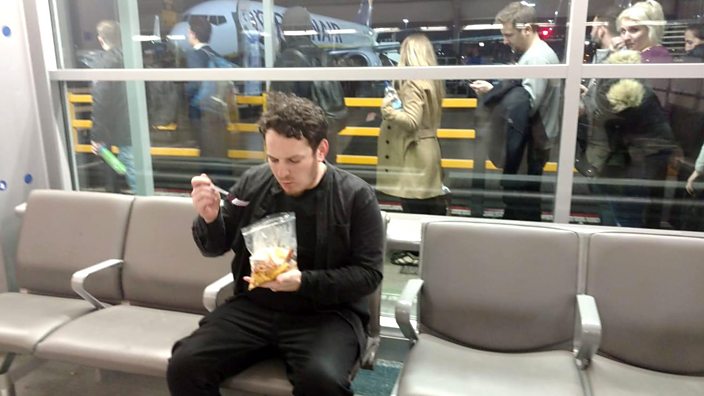 Eleanor Lewis
Hungry flyer unveils brilliant new travel hack
With no time to eat his all-day brunch, one man opted for drastic - but effective - measures
It might be a modern-day privilege to be able to take to the skies and jet off on foreign adventures, but that doesn't mean it's not without its annoyances.
One of the biggest is that airports seem to exist in a parallel universe where you can run out of time despite turning up stupidly early – sometimes having to abandon a meal halfway through to make your flight.
But an inventive Londoner recently went viral after valiantly refusing to give up on his food, instead employing a genius hack to ensure that not a mouthful was wasted.
Nathan, 30, was flying from London to Rome with his girlfriend and her family and, after buying a meal at a pub in the terminal, found himself pouring the whole lot into a clear plastic security bag, in order to carry on eating on the move.
He shared a photo of himself eating it on the shuttle train to the gate with his friends' WhatsApp group, commenting: "Timings got a bit tight at the airport… Had to tip my... dinner into one of those clear bags for liquids and eat it at the gate."
His friend Eliot Mitchell then shared screenshots of the chat on Twitter and it began to make its way across the internet, inspiring a mixture of praise and revulsion at Nathan's newly-created travel food hack.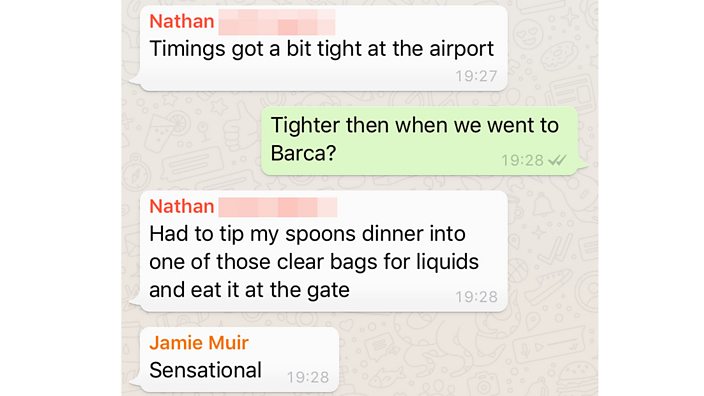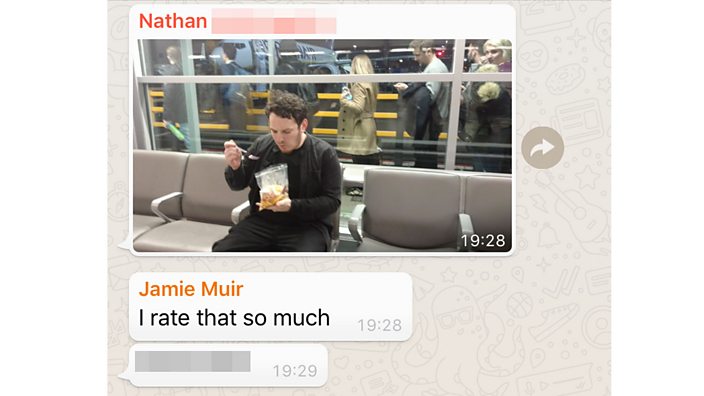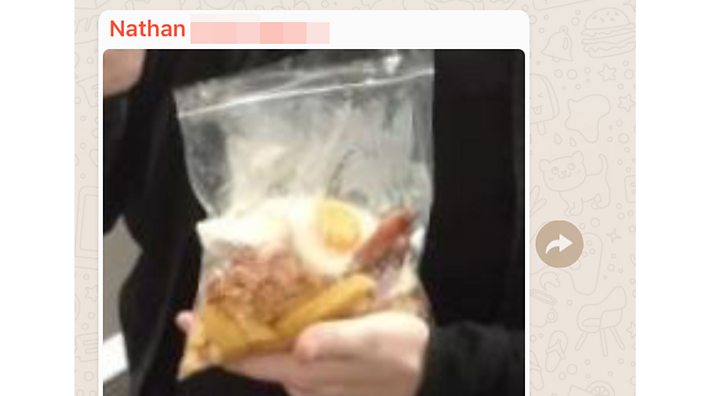 As for Nathan himself, he was unrepentant.
He told BBC Three: "I was actually on time for the flight to begin with but there was a bit of a discussion about whether to get food at a cafe or in one of the terminal's pubs. We ended up stopping at a pub because it was dinner time. The food arrived really quickly but it seems I might have been over-optimistic about the extra time it would take to get to the gate.
"I went for an all-day brunch for around £16 with a pint. I know it's traditionally a meal for the morning but I was in holiday mode already so I thought, what the heck!
"Let's be honest though, I would have survived without the meal. I'm sure of that now, looking back. My grandparents on one side taught me not to waste food and my grandma on the other side got me pretty hooked on fry-ups, so I feel this response was pretty instinctive."
It seems the experience of eating a full hot meal from a plastic bag was a perfectly pleasant one, though. "I lost a bit of egg to the floor, slippery little things that they are," says Nathan. "Chips were soggier than I'd prefer but otherwise it was fine. Beans are the first thing that I'm happy to let go from from a full English, so I only added about five or six to the top of the pile, and more for decorative purposes than anything else. It all went down in time and I kept my track record of never missing a flight, so I was chuffed to bits."
Meanwhile, his mate Eliot told BBC Three: "I wish I was surprised by this, I really do, but when it comes to Nathan you kind of expect these situations. However, I will say this is the strangest thing he's done to date. For a man that sees tinned sardines as a suitable festival snack, and thinks a folded-up oven pizza is an acceptable on-the-go meal, I can't really tell if this is a new high or a new low."
One person questioned how Nathan had managed to get the fork through security - however, the restaurant is located after the airport checks, so he was left to consume his unorthodox takeaway without any issues.
A spokesperson for Stansted Airport confirmed the manoeuvre was perfectly legal, telling BBC Three: "It wasn't a security issue as he was in the departure lounge. As an airport issue there was obviously nothing technically wrong with what he did – he wasn't taking it through security – which obviously may have presented some challenges depending on what was in there, whether there were liquids or anything – but, given he was in an airside environment already, there were no issues from that perspective."
They also confirmed that had he not scoffed down the lot already, he might have been able to take his meal onto the plane itself: "I don't know what he had, how hot, smelly or whatever else it might have been – but that would have been a matter for the airline he was travelling with."
You can take food through security, although the Department for Transport warns "food items and powders in your hand luggage can obstruct images on x-ray machines" and "your bags may need to be checked again manually by security". They advise you to "put these items in your hold luggage to minimise delays".
However, any "liquid or semi-liquid foods, for example soup, jam, honey and syrups" will be subject to restrictions, which means they must be under 100ml and in a transparent, re-sealable plastic bag.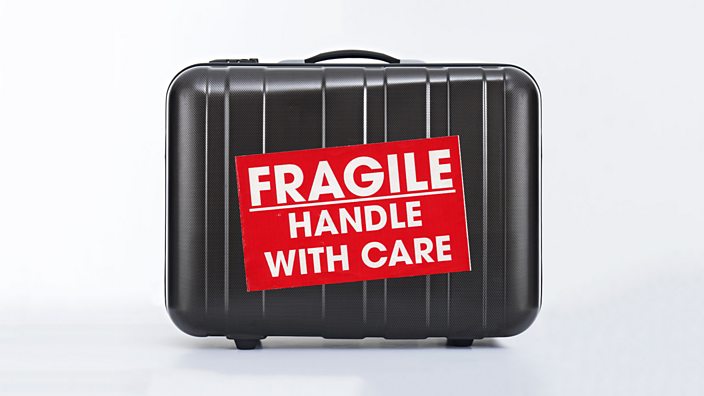 You  shouldn't just look to Nathan for inspiration next time you're at the airport though; there's a host of other previous pioneers who've managed to make the flying experience that little bit more enjoyable.
If speed of progress, rather than cost, is your concern, then baggage handler Thomas Lo Sciuto, who works at a regional airport in the US has some advice for you. He told Quora that the best way to ensure your luggage is first off the carousel at your destination is to be one of the last passengers to check your bags, adhering to a "last on, first off" logic. However, he also suggests using a more strategic tactic, backed up elsewhere: ask the check-in agent to put a fragile sticker on it, since this luggage is usually put on last – and thus, more likely to emerge first at the other end.
Other useful tips include taking an empty pillowcase with you, allowing you to instantly create a pillow with your other clothes should you experience delays or simply want a bit more comfort on the flight, and if there's two people travelling together then reserve the aisle and window seats in the hope no one will want to take the single vacant seat (and if they do, you can simply ask to swap with them).
Once on the plane, the way to receive the best service, according to flight attendant Annie Kingston, is to sit at the back. She told hotel booking site Oyster: "The reason is simple: We like to avoid responding to call bells from the front of the plane because answering one means potentially flaunting whatever item the passenger has requested to everyone else along the way.
"This can cause a problem since planes often don't have enough extra vodka, pillows, earplugs, and toothbrushes, or the time on shorter flights to deviate from the service schedule. For passengers sitting near the back of the plane, however, it's much easier to slip in that second mini bottle of wine."
Still, you won't be needing any extra food or drink on board if you follow Nathan's example and demolish an all-day breakfast and a pint – whether assisted by a plastic security bag on the move, or from a good old-fashioned plate sitting, on a good old-fashioned seat, in a good old-fashioned restaurant – just before boarding.
This article was originally published on 5 March 2019.