N/A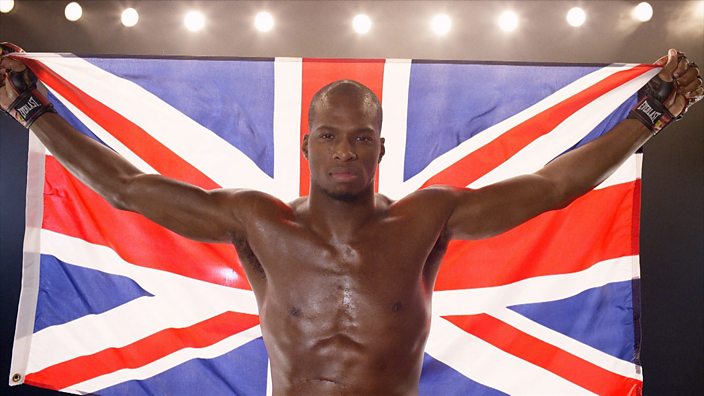 Bellator
Bellator MMA: 'It gets your adrenaline pumping'
Three fans of mixed martial arts on why they love the sport.
"Everything around me was just buzzing. It's phenomenal."
That's how one fan describes watching a Bellator fight, the US-based mixed martial arts organisation with some of the best fighters in the world.
Bellator, which takes its name from the Latin word for "warrior", sees mixed martial artists battle it out - and it requires serious skill.
The next event takes place in London on Friday 13 May, where American Logan Storley faces the UK's Michael "Venom" Page. It will be shown on BBC Three.
Here, three Bellator super fans explain exactly why they're so in love with the sport and the community that comes with it…
'It gets your adrenaline pumping'
Esha, who lives in Hull, is originally from the US and works as a digital marketing executive when she's not making her own art or writing about MMA.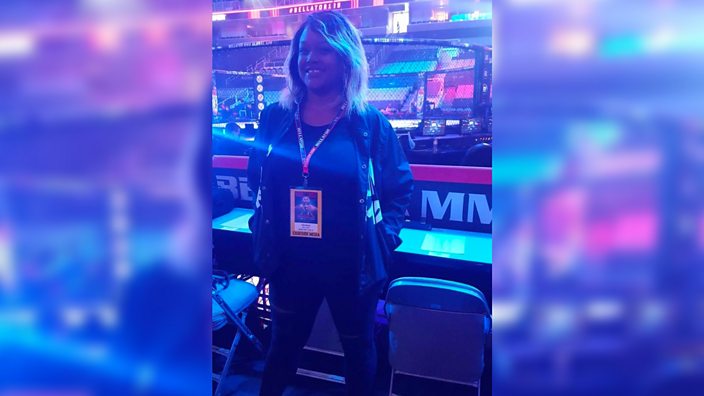 "MMA is fast paced and I love all of it: the knees and elbows, the blood, the cuts on the face. It gets your adrenaline pumping.
"I love going to live MMA fights, there's nothing like it. If you haven't been, you need to experience it at least once, for sure.
"Being there live, you feel the energy. When you're around with a crowd, it just makes that much more of a difference.
"I always feel like I vicariously put myself within these fighters so if I'm rooting for one, I really want them to win. It's like I'm fighting with them. It becomes obsessive.
"MMA in general is such a new sport, compared to boxing that's been around for years and years. And this means it's something fresh, it's something new. It's fun, the fans are fun, the fighters are fun.
"Once you start watching MMA, your adrenaline kicks in because there's no other sport where two elite fighters square off across the octagon while we cheer them on in every way.
"The MMA community is huge on social media and we share everything in this one amazing community. I love to write and I came out with my own blog where I write about MMA, so that led to a larger passion of following the sport.
"I think there's definitely a difference with how women in the sport are treated. There are still men who aren't comfortable watching women fight but we already have women champions who are walking around with a belt making history. It's okay for women to fight. It's okay for women to get hurt sometimes.
"When it comes to the community, women are treated differently, too, like with the type of online messages we get. People ask: 'Do you even know what you're talking about?' I guess that comes with any community. It's not only MMA fans that act this way.
"I plan on watching the fight on 13 May. As much as I wish I were seeing it live, I'm pretty excited to watch on BBC Three for the first time at home.
"My prediction for Denise Kielholtz vs Kana Watanabe on the main card is Denise will get it done in the first round. As for the main event with Michael 'Venom' Page vs Storley, Michael 'Venom' Page will win with a second technical knockout in the second round."
'Everything around you is just buzzing'
Ryan, who lives in Llandudno, north Wales, is an aspiring MMA writer and runs his own page dedicated to the sport.
"The atmosphere was just crazy when I attended a live Bellator fight. I was lucky to have a front-row seat. I was in the first set of chairs after the cage, so everything around me was just buzzing. It's phenomenal.
"Seeing the fighting first hand, the main thing I noticed were the sounds of the fight: you actually hear the connection of the strikes.
"And every fan in that arena talks and gives their opinions. They all love to share their thoughts about MMA.
"I wanted to dip my toes in the sport so I did a couple of charity fights. I did a bit of training in Muay Thai and Jiu Jitsu beforehand. I absolutely loved the training. I found peace in it.
"I was really nervous before my first fight. I considered if I was even going to follow through with the fight because of the emotions involved in the build up. I've never felt such anxiety. It gave me such an appreciation for the sport.
"And then I had my first fight in front of a crowd of about 500 people. I was the underdog but I ended up going out there and getting the knockout win within nine seconds.
"I got to learn what the sport is about and it's so much more technical and tactical than people believe. People think you go in there and it's a slug fest but it's really not.
"I can appreciate the level of fitness that people endure to go through a fight. I can appreciate how difficult it is just to stay in there, let alone fight for that long. I can appreciate the skill it takes.
"And then there's the danger of the sport. When you step into the cage, you don't know what's going to happen. There is that inherent risk that's involved. So to still step in there, it's very brave.
"About five years ago, I decided to start my page called The Combat Corner, where I interview fighters, follow their career and publish it for fans to see."
'The fans are very, very passionate'
Adam, from Ascot, works for a radio station and loves attending live fights.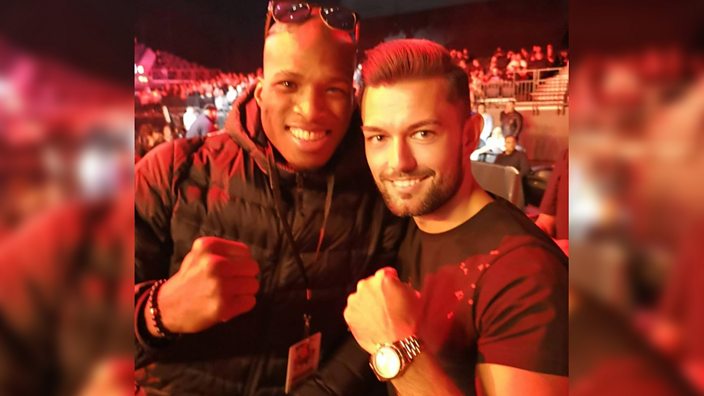 "I've trained in MMA myself, just for fun really and to learn some skills. And I've managed to go to pretty much all the Bellator events in London. It's so exciting. There's a real buzz.
"The MMA community is closely knit and you get to meet a lot of people when you go to events. The fans are very, very passionate.
"During lockdown, when there were no live events, quite a few of us fans jumped on Zoom calls and we got the chance to talk about it and sort of share the experience as if we were watching it together. It's good to just be able to talk about it.
"The community and shared experience is definitely a big part of it.
"The first time I came across Bellator was about 10 years ago. I've been a fan of Michael 'Venom' Page for years because his style is quite unique. I think he's the most exciting fighter I've seen. His fights are jaw dropping.
"The main thing I love about MMA is the skill and training and dedication that's required. The fighters who get to a world-class level live and breathe it.
"The other thing that attracts me to MMA is the art of it. A lot of people see MMA as a bit of a barbaric sport but the fighters are highly-skilled individuals that just want to test themselves against the best in the world.
"It's pure martial arts and you get to pit different styles against each other."