N/A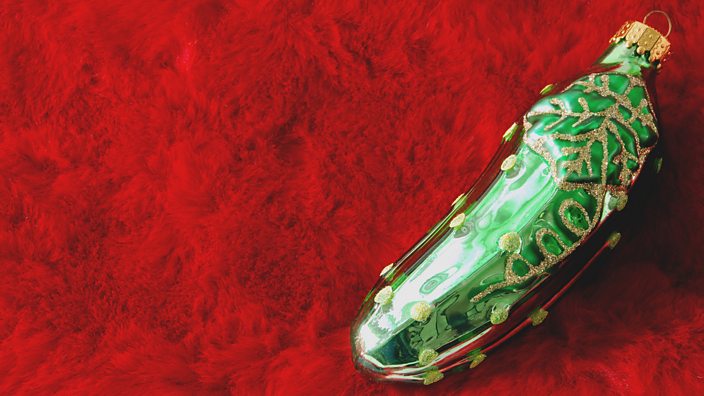 iStock
We'll all be playing 'grab the gherkin' this Christmas
Our new favourite part of Christmas Day
When you think of Christmas, you probably think of all the usual stuff - a tinsel-wrapped tree, eating mince pies by a roaring log fire, a portly bearded man climbing through your window in the middle of the night… (we mean Santa, you pervs).
But hey, times they are a'changing, and nowadays people like to jazz up the festive season with some fresh ideas.
We mean, why not have a neon pink tree? Or a 100% vegan Christmas dinner, minus the traditional (and always dry) turkey? And are you really looking forward to that gross, raisiny Christmas pudding, or would you actually rather skip it and have a yummy salted caramel cake instead?
Well, if you're looking for some Christmas inspo that's a bit more left-field, there are some pretty impressive long-running traditions all over the world that you may never have dreamt were even possible. 
So without further ado, here are our favourites.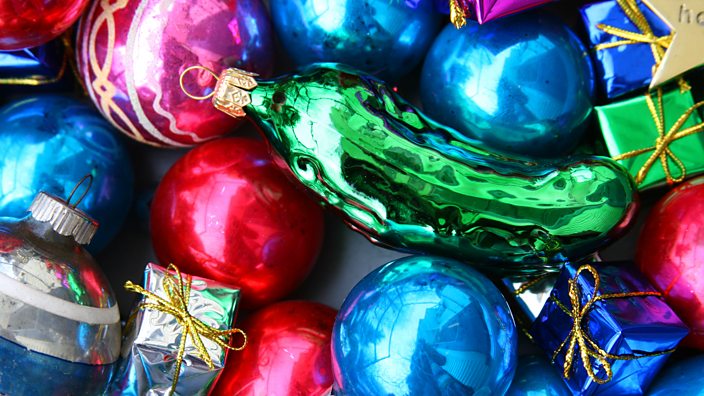 We know how it sounds, but no, this isn't a euphemism that your dad's creepy friend thought up.
Hiding a gherkin in the Christmas tree is a tradition from the US, where it's claimed that whoever finds the gherkin first on Christmas morning will get good luck in the new year.
Because it's mainly a thing across the pond, they usually call it the "Christmas pickle" - but it's also sometimes known as 'saure gurke' or 'Weihnachtsgurke', as it's believed to have originally came from Germany - although knowledge of its apparently European origins are a bit fuzzy.
These days people don't hide real gherkins, though - no one wants to manhandle a day-old pickled cucumber on Christmas Day. Instead, shops are cashing in on the tradition by selling fancy (and sometimes pricey) gherkin-shaped ornaments made of glass and the like. Yay capitalism!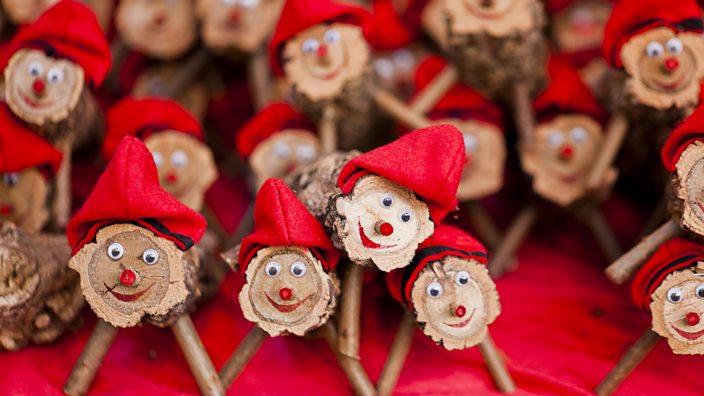 It's a bit like the original yule log. Except, instead of being made out of delicious chocolate sponge and buttercream like the yule logs you get from the supermarket, Caga Tios are actual wooden logs with unsettlingly smiley faces on them.
As the legend has it, children hit the log and ask it to poo out 'turrons', which are chocolatey sweets. Later, these sweets are found around the log. Mmm - delicious, chocolatey log turds.
Hey, whatever floats your boat we guess.
Oh, and speaking of which…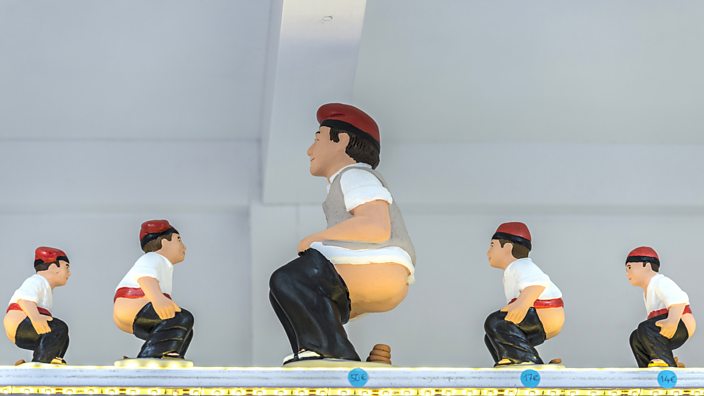 Another eyebrow-raising Catalan tradition, caganers are basically little models of people pooing on the floor. The perfect addition to your nan's nativity scene. 
'Caganer' literally translates to "the defecator" (well, a less polite version of that) and is a small squatting figurine that's kept in prominent locations around the home.
For example, you might find them in the corner of a nativity scene, facing away from the baby Jesus, naturally. Or you may see them hiding under the tree on Christmas morning.
Frankly, we love these - if there's one thing we needed more of at Christmas, it's turds.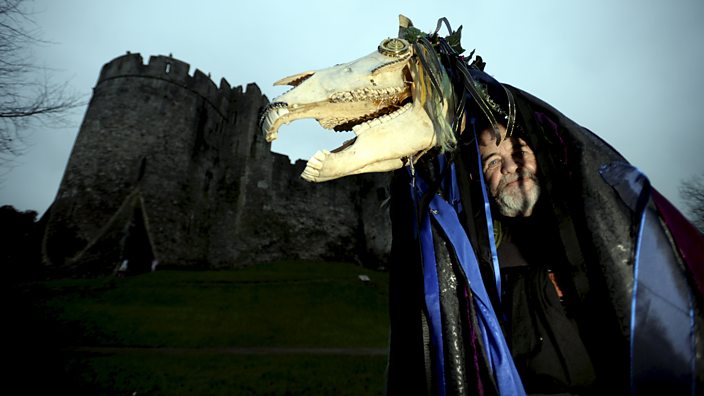 This one's a little bit closer to home.
Mari Lwyd, which translates into English as "grey mare", is a horse skull puppet that's mounted on a long pole and covered with a white sheet and ribbons. (Don't worry, a real horse skull is no longer required.)
Men and young boys then get together to carry the Mari Lwyd from door to door, while singing or reciting poetry. Each household then needs to reply from inside, before letting the group in for festive drinks.
We're not gonna lie, it sounds wonderfully spooky and really, really boozy. We feel like people on the English side of the Severn could benefit from a visit from the Mari Lwyd on Christmas Day, too. It would really spice up the carol singing. 
And speaking of spooky Christmas traditions, this brings us to our final (terrifying) Christmas cracker.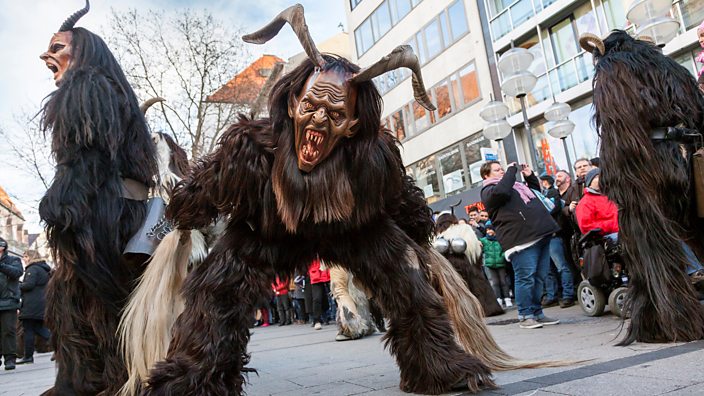 To be quite honest with you, Krampus gives us the heebie-jeebies. 
According to Austrian folklore, Krampus is a half-demon, half-goat whose entire job is to punish children at the start of December by giving them coal and birch twigs.
Essentially, he's a seriously twisted Santa. And every child's worst nightmare. 
Nowadays, people dress up as Krampus and roam around Austrian towns and cities, frightening any small children they come across.
Which, frankly, sounds great. Think about it - if you have any particularly bratty kids in your family coming over for Christmas Day, all you need to do is keep a Krampus costume handy… Mwhahaha. They'll be scarred for life. 
So there you have it - now we've scoured the globe for the best festive traditions, you can jazz up your own Christmas with a gherkin and a poo log - far more fun than yet another drunken game of Charades.