N/A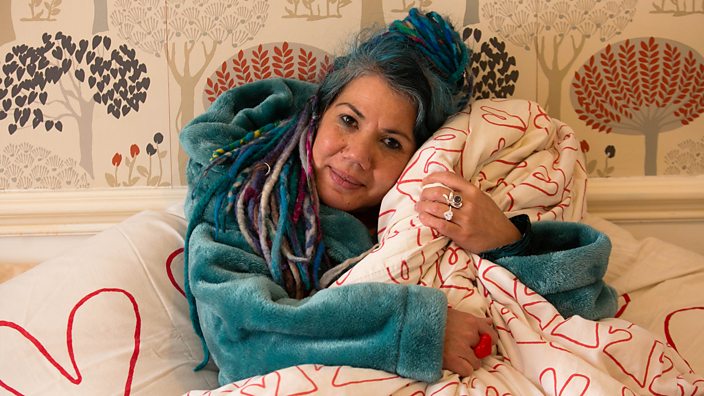 SWNS
This woman's bid to marry her duvet for Valentine's Day went viral
But now she is having second thoughts...
We all love a duvet day. But what about a duvet life? Just you and your 10-tog soulmate, bound to spend your lives snuggling together for better or worse.
That's the future one UK artist seemed destined for, after announcing her bid to get hitched to her duvet, just in time for Valentine's Day.
But after her plan to take the "most intimate and reliable relationship" of her life to the next level went viral, she's having second thoughts.
Pascale Sellick, 49, has become the focus of headlines around the world and has even made it onto TV, appearing on ITV's breakfast chat show This Morning last week.
The Devon-based artist says her 'big day' was inspired by friend and fellow artist Anna Fitzgerald, to promote the idea of self-care and self-love on Valentine's Day.
"People think you need to be in a relationship to be happy," Pascale explains.
"It doesn't matter if you're single on Valentine's Day as you can enjoy just having a duvet day; that was the original idea."
Pascale's long-term boyfriend, Johnny, is reportedly not jealous of her project.
For the ceremony, Pascale will forgo a traditional white dress, instead keeping it cosy in slippers, a dressing gown and a nightie. 
What cover the duvet will be sporting is still under wraps.
But Pascale feels the press attention has led to the true intention of her art getting lost. 
"I know very little about the media, and the next thing I knew the story had thousands of shares, clicks and comments. That was a bit overwhelming," she said.
"Some of the comments were positive but some were not.
"Before I went on [This Morning] I was a nervous wreck. The experience wasn't terrible but I was glad when it was over.
"I think they twisted the story to make it into a joke which I was not happy about, but I expected they wanted some TV drama as they want a good story."
While Pascale does see the event as something light-hearted (with an important message at its heart) - the ongoing media attention also threatens to derail plans for the ceremony.
Initially intended to take place on 10 February, it could be delayed after fears that too many people will turn up to the event. That's because it's an open invite - as long as you are wearing a onesie or pyjamas.
But Pascale is still determined to go ahead with it.
"I'm the sort of woman who if I say I'll do something I will do it.
"I'll be taking it for what it is; a bit of fun as that was the whole original idea."
Pascale is not the first person to subvert the idea of matrimonial bliss in order to make a statement.
In 2016 British artist Tracey Emin claimed that her decision to marry a stone was motivated by artistic purpose. Her marriage to the "beautiful and dignified" stone, which she 'met' in her garden in France, was a way of demonstrating 'spiritual' love, Tracey explained. Despite the long-distance arrangement the relationship appears to be, well, rock-solid. 
And if you can't find a suitable stone and your duvet is looking a little threadbare, then why not say 'yes' to yourself and become one of the growing number of people who are marrying themselves?
Could forsaking all others and committing to yourself be the ultimate act of romantic self-care?