N/A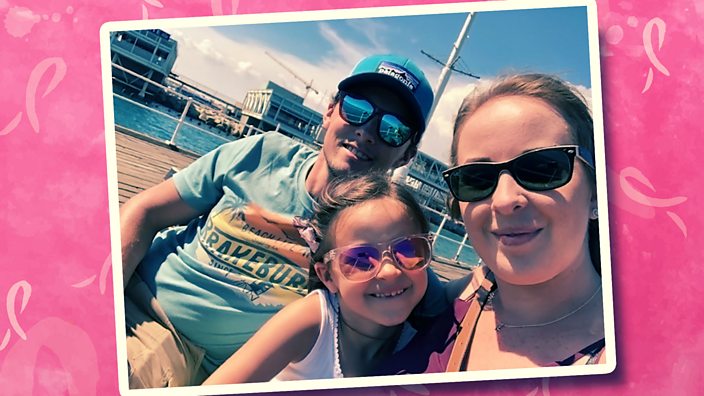 Beth Brown / BBC Three
'I was diagnosed with incurable breast cancer when I was 22...'
Young mum Beth Brown is determined her daughter will remember her - not the cancer
My daughter Amelia was 18 months old when I first noticed something wasn't right. It wasn't a lump or one of the classic signs you think of, more like a hardening on the skin at the top of my breast. But with a toddler to care for and our wedding coming up, I had other things on my mind. Everything else seemed fine, so I pushed it away, got on with life and didn't go to the doctor until after my wedding - a few months later.
Even when I went to hospital for scans and tests, I didn't think it was going to come back as cancer. The thought didn't even enter my mind. I expected it to be a cyst or something easy to treat – that they'd remove whatever it was and we'd go back to our normal family life.
But the longer I was at the hospital, the more I started to think something wasn't right. I kept seeing other women coming in, having their tests done and going again within an hour or so – while I was there for about eight hours, having test after test.
When they finally sat me down and told me it was cancer, I was really shocked. I gripped my husband's hand in panic, my mind racing. Weeks earlier we'd been so happy, celebrating our wedding, planning for the future. And now this. As soon as you hear the C-word, you immediately start thinking the worst. More than anything I couldn't stop thinking, 'but what about Amelia?'. I was terrified, and it just felt so unfair.
I couldn't understand how or why this was happening to me. I had no family history of it. I was only 22, and I'd always heard it was mainly older women who get breast cancer. It was such a huge concept to get my head around.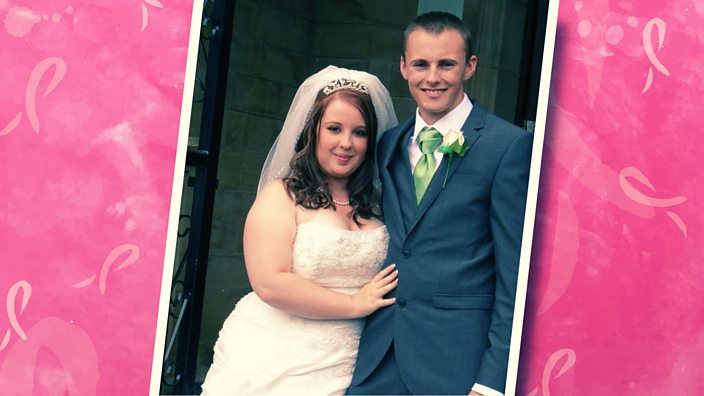 While I was still coming to terms with the cancer diagnosis, we also found out I was pregnant with our second child. It was all planned - we'd had this whole dream that, as soon as we were married, we'd start trying for another baby. We even knew how we were going to announce it to our families. But cancer was never part of that plan.
I made the mistake of googling women who'd had breast cancer while they were pregnant and found a lot of people just went through with the pregnancy, but they were often a lot further on when they were diagnosed. I shouldn't have gotten my hopes up because it only made the decision more difficult.
I was only a matter of weeks pregnant and my cancer was quite aggressive at that point. My doctor said we could carry on with the pregnancy but it wasn't advisable. There was no way of knowing how the cancer would affect me during pregnancy - and chemo wasn't an option. We knew we had to start treatment as soon as possible to give me the best chances of survival.
Ultimately, the best course of action for us was to terminate. It was an awful decision to have to make, and we were both absolutely devastated. We tried to stay positive - that we were just doing what we had to do to make me better - but I felt so numb. Instead of announcing to our parents we were having another baby, we had to announce that I had cancer.
Having been diagnosed in the November, Christmas was coming up. Despite everything, I still wanted to make sure we had a good time for Amelia's sake. So, I kept myself busy with shopping for her presents and getting everything sorted in between hospital appointments. I tried to keep everything as normal as possible.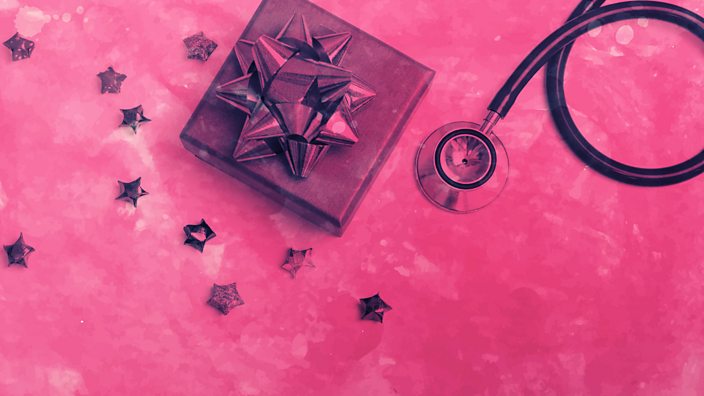 Within weeks of the diagnosis, I was starting my first lot of chemo, and being sent for all these scans to determine exactly where the cancer was and how advanced it was.
We were lucky because the treatment was done on a nice ward. There were big sofas, a TV and toys to keep Amelia entertained. The nurses were so good and friendly with her - always answering her questions about what each bit of equipment did. The chemo took a lot out of me though. Even to this day, I'm still on chemo drugs and the biggest thing is still the tiredness. It's hard to explain because you don't feel tired in yourself but it feels like your whole body is drained of all its energy.
Back then, Amelia was too young to understand why her mum was so tired all the time. I couldn't run around the park with all the other parents, and that was really upsetting. Instead, I had to sit on a bench and watch, while all the other mums were playing games, and carrying their kids around. She'd run up to me and ask me to play, but I just didn't have the energy. I still hate it now, not being able to join in but at least now she understands why I can't do all the things that other mums can.
In January 2014, just two months after my diagnosis, I was told the cancer had spread to the bones in my pelvis and sternum. It was now secondary cancer, incurable, and I'd be in treatment for the rest of my life, however long that might be. That really pulled me down.
It just felt like one thing after another. I'd already stayed strong through two rounds of chemo and I felt numb with the dread of having to endure that for the rest of my life. I immediately jumped to all the worst-case scenarios, just hearing that word, 'incurable', over and over again in my head.
By September 2015, the secondary cancer had progressed quite severely in my hip bones. I became terrified I wouldn't see Amelia start school, or get married and have kids of her own – and that still terrifies me every day. But it's been so many years now that I prefer to focus on the positives and not dwell on my prognosis. 
I knew from when I was first diagnosed that I would need to have a mastectomy to help extend my life, but we had to wait until the following summer when the chemo had shrunk my tumour enough to operate. When I went for the operation I was in hospital for five days, which was the longest I'd ever been away from Amelia. 
Although being in hospital for so long was really hard, it was even worse when I came home. It was great to have Amelia around again, but until I'd healed, I couldn't even pick her up. I had to rely on my husband to do everything. He'd have to get Amelia up and ready and deal with all the cooking and cleaning, while I wasn't even allowed to raise my arm. 
I had a single mastectomy and couldn't wait to get rid of the breast that was carrying the cancer – but I also really wanted to have a reconstruction afterwards, which hasn't been possible because of my ongoing treatment.
I have massive issues with my body image now and I hate clothes shopping. I'm always conscious of how I look when I'm out, and whether people can see my prosthetic breast. At 27, you don't expect to have to worry about things like your tops or dresses being too low cut. I still want to feel young and sexy but most mastectomy bras are designed for older women and swimwear is either frumpy or really expensive. The chances of me ever getting my reconstruction now look increasingly slim because the treatment I'm on makes me too high-risk. I've got an appointment to find out in November but if not then I'm thinking of getting a cool floral or paisley tattoo on my scar instead. 
It's been five years since my diagnosis now. Amelia was so young at the start that this is all she's ever known. She's so good and doesn't complain when we have to go to the hospital. 
Even now though, if she writes me a letter or makes me a card - she'll always write "get well soon". I think it's always on her mind. When she's tired, she will sometimes say to me, "When are you going to get better?".
It's heartbreaking having to explain that I'm not going to get better, that I'm going to have to keep going to the hospital and the doctors are doing all they can to help me stay well. Obviously, as a child you think that when you get poorly you just take some medicine and then you're well again.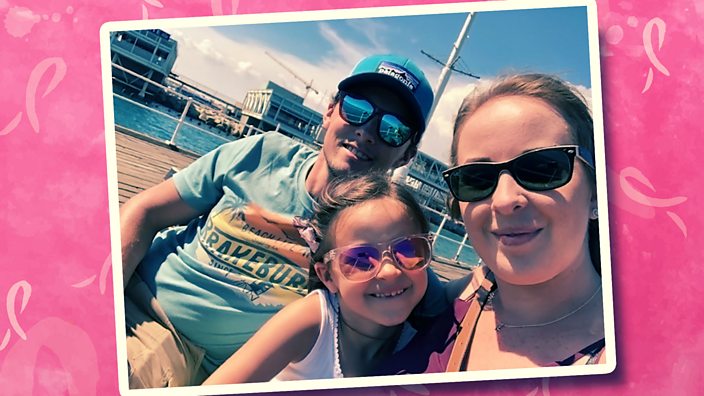 As a result of all my treatment and the side effects, I had to give up my job as an NHS 111 call handler. I really didn't want to at the time because it gave me something else to focus on, that I enjoyed doing. But on those days when I was so tired and in pain, it wouldn't have been practical for me. 
When I finally realised this wasn't just a horrible dream I'd wake up from, I began scouring the internet looking for other stories like mine. I now work with Breast Cancer Now, sharing my story to, hopefully, help others. And earlier this year got involved with the charity CoppaFeel which works to raise awareness of the disease in young women - their founder was 22, like me, when she was diagnosed. 
Otherwise, my whole life seems to be hospital visits and treatments. I desperately don't want that to be Amelia's life as well. It's really important to my husband, Mikey, and me that we plan lots of days out, holidays, and trips to Wales in our campervan; as much as we can to make happy memories for her.
We're currently in Cyprus on a family holiday and, although it's really tiring, I'm determined to explore as much as possible. Next week we're going to the Lake District for Mikey and I to renew our vows – our way of marking the five years since we got married and five years since my diagnosis.
My whole philosophy with cancer has been to make the absolute best of whatever time I have. 
It is really tough as a young mum but I don't see the point in letting cancer destroy me. Just because it's incurable, my cancer can still be managed and treated to help me live a really good and positive life. When Amelia grows up, I don't want her defining memories to be of a poorly mummy; I want her to have as many good memories as possible.
If you've been affected by any of the themes in this article, help and support is available here.