N/A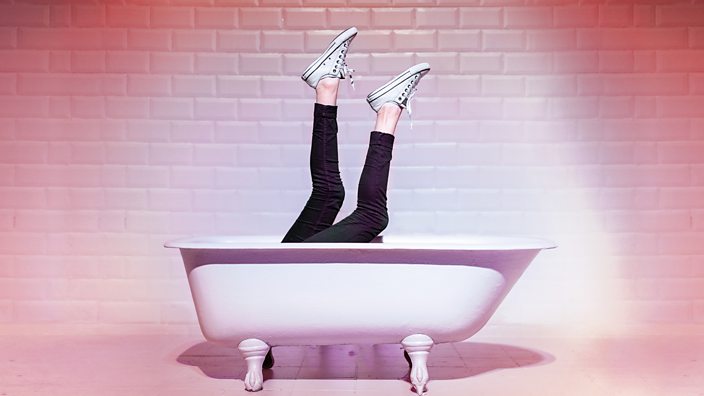 iStock
Why is the internet obsessing over what women do in the bath?
Don't even consider taking a dip unless you have three devices, two drinks and a cheese plate
What do women get up to when they're in the bath? Simply washing themselves and relaxing might seem like the obvious answers that jump to mind - but if these unintentionally hilarious adverts are anything to go by, women are actually much, much busier than that at bathtime.
Twitter user Sharon Su, from California, spotted the odd advertising trend showing women multitasking in the tub with bath trays stuffed with full-blown meals, masses of technology (despite the obvious water-based risk of a bathtub setting) and a range of beverages from coffee to wine - and decided to share some of the sillier examples. Her Twitter thread has now been retweeted and liked more than 20,000 times.
"The people who manufacture bathtub trays seem to have no idea what women actually do in the bath and I find that strangely comforting," Sharon wrote.
This woman appears to be preparing to chow down on an undressed salad while drinking a glass of wine by candlelight. Looks like totally normal bathtime etiquette to us.
Meanwhile, this intrepid bather is about to sip on an electric blue cocktail while munching on a bowl of cherries before spritzing herself with perfume - all in the bath, of course.
But it's this woman who's a proper bathtime pro. She's got a FULL cheese platter - with cutlery - two glasses of wine, fruit, a tablet, two phones and a candle. Plus, the odd scattered rose petal. Because, why not?
Ultimately, Sharon was bewildered - but also impressed - with these women's OTT bath time habits.
Others were a little disturbed that one woman is depicted drinking both wine AND coffee.
And some people, men included, shared the reality of what their bathtimes actually look like.
One commenter even pointed out that adverts have shown women being very busy in the bath for a very long time. This advert, from 1872, shows a woman writing a book while having a soak in the tub. "A woman's whim: or, genius and water - a literary lady, of Beacon Street, Boston, writes a book in a bath," says the caption in the New York newspaper. Imagine if the manuscript fell in. Disaster.
But, in the real world, this isn't the first time we've heard about people doing more than just bathing in the tub.
Oscar-winning actress and entrepreneur Gwyneth Paltrow revealed she loves nothing more than a dram of whisky at bathtime. "I like to unwind with one of my baths and a glass of Japanese whisky," she told the Evening Standard last year. "I always like to have a little something." 
And, according to the Huffington Post, one of the hottest bathing trends of recent years sees people submerging themselves in hot springs and baths filled with sake and red wine. It is claimed that alcohol baths can brighten and moisturise the skin. 
Surely, it's not that wise, though, to mix boozing and bathing? One 2015 study of fatalities in Japan says that alcohol-related bathing deaths "occur relatively frequently" in the country. A US study into the cause of bathroom accidents concluded that fainting was more common among 15-24 year olds, with alcohol as a possible contributing factor. Bathing was one of the most hazardous activities generally, the study said. 
So maybe think twice before you glug down a glass while having a soak. 
If you don't fancy mixing alcohol and bathing, you might want to take inspiration from singer Mariah Carey who, in 2018, revealed she bathes in cold milk. "Sometimes I use milk as a beauty treatment," the Grammy Award-winning diva told The Guardian.
Even more unusually, one hotel in Hangzhou, East China has created a bathing experience that lets you soak in lettuce, limes, chillies, apples and bananas. The massive baths at the Yunman Hot Spring are designed to look like one big human hot pot.
So the next time you get ready for a nice long soak, why not think how you can spice things up a bit? Prepare yourself a full Sunday Roast, maybe? Or finally finish off that novel you've been working on? The possibilities are endless.