N/A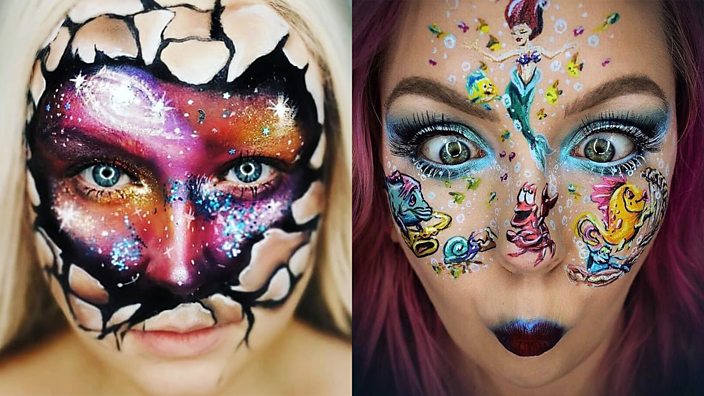 instagram/bellarougeartistry/misskatemonroe
Glow Up final: The best fan-created make-up looks
These creations from fans of BBC Three's Glow Up will blow you away
Over the past seven weeks of BBC Three's show Glow Up, we've seen some truly eye-popping make-up creations from all of the contestants and, in the final, a talented artist was crowned Britain's Next Make-Up Star (no spoilers here).
Hosted by Stacey Dooley, the show has seen 10 aspiring make-up artists battle it out by competing in real-world professional assignments to prove their artistic and technical prowess.
And the show, judged by professional make-up artists Val Garland and Dominic Skinner, has also inspired some highly impressive fan-created looks.
Here are some of the best - together with the stories and inspirations behind them.
It took Huda, who was inspired by a monochrome-look theme on week four, three hours to create this "inverted" style.
"I'm an avid make-up fan and follow all the latest trends - and I've noticed the inverted make-up look is the latest thing," she tells BBC Three. "It was originally created by an artist called Nils Kuiper and I decided to recreate this look with my own personal style by incorporating some glam."
Ben, 21, spent about three and a half hours building this look.
"It was inspired by a few of the contestants - Belinda, Tiffany and Steph - and I love the idea of showing two sides of my personality, almost like Jekyll and Hyde, but in an extremely exaggerated way," the Stevenage-based make-up artist says.
"I wanted to show the colourful, fun and explosive side of myself in contrast with the sometimes blue and simple side."
Aimee, who spent two hours creating this look, says she was inspired by "the universe and its infinite power".
"I've been inspired by galaxies and space since I started drawing so I have had a lot of practice before, painting them on my own face," the 24-year-old Glasgow-based make-up artist says.
Ella spent two hours making this look. The 18 year old says: "My inspiration for this look was revealing who you are on the inside - but in a literal sense. I recreated the muscular system on one half of my face, showing both my strengths and weaknesses at the same time."
It took 18-year-old Chloe, from Northern Ireland, four hours to complete this whole face and body look.
Chloe, who used her partner as a model, said: "What inspired me to create the look was my love for astrology and one of my favourite albums - Astroworld by Travis Scott - and his song Stargazing.
"I'm always stargazing to follow my dreams."
Kate, who spent two hours creating this look, was inspired by the musical theme of the Glow Up semi-final.
"I imagined so many people would go deep and serious, but I honestly believe the world needs more light-hearted fun and magic," the 31-year-old from London says. "For me, Under The Sea from The Little Mermaid just captures all of that: joy, magic, innocence and escapism.
"Sitting down to create this look was like self-therapy for me. I put on the movie, got in the spirit and had fun and a giggle while creating it. It really uplifted me!"
Sophie, who spent six hours creating this look, was inspired by a make-up design from Glow Up contestant Ellis.
"When I saw Ellis' look, I knew immediately I wanted to recreate it," the 20-year-old, from Berwick-upon-Tweed, says. "The meaning behind the look and the colours he used were so stunning and so beautifully executed on the model and himself. I'm such a big fan of him and his work so I hope I did it justice."
"The hardest part was definitely making sure the colours on the body were blended to perfection. I'm definitely such a perfectionist when it comes to my art so I'm very happy with how it turned out."
The prosthetic challenge took place on week two and one make-up artist used the theme to inspire this look – a play on the Wizard of Oz but also, as you can see by the hashtags, zombies and fish!
The final of Glow Up: Britain's Next Make-Up Star is available on iPlayer.