N/A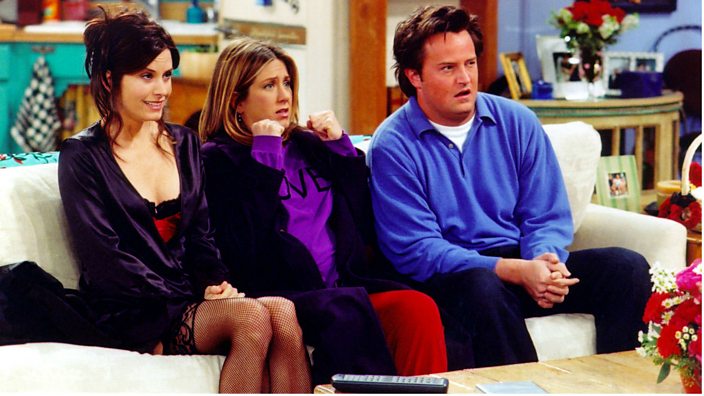 Warner Bros Television/Getty
12 whopping mistakes in your fave TV shows spotted by nitpicking fans
Friends, The Simpsons, Coronation Street - continuity errors and misfiring extras happen to the best of 'em
We all make mistakes - but, luckily for most of us, our slip-ups won't be immortalised on TV screens.
Spare a thought then for all those writers, production designers, directors, and animators, who work their tails off to make our favourite TV shows, only for some very human on-screen errors to slip through the net - and onto the 'net.
It may seem churlish to nitpick like this, but, come one, we all love to do it. Let us have our fun!
Friends is a particular favourite for spotting continuity errors. Case in point, this clear view of a body double for Monica (Courteney Cox) in a scene with Phoebe (Lisa Kudrow).
Rachel's body double was also spotted in another episode.
Doubles are regularly used in TV and movies for blocking, lighting set-ups, reaction shots and reshoots so that actors don't have to hang around unnecessarily for all hours of the day. They're not supposed to appear on screen, but one theory of why doubles are visible in these episodes is that Friends was originally filmed in a standard aspect ratio (4:3), whereas today we're watching them on a widescreen standard ratio (16:9). In other words, maybe you can see more in a shot now that you were originally meant to.
Actually, perhaps that Rachel double is the same woman in Rachel's passport photo, spotted by this fan in the show's final episode?
Another popular Friends blooper had this background extra behind Ross taking a slurp from a cup of coffee - and then start to chew it. Twitter user Nick Turner went viral when he shared the clip.
That howler reminded one person of a classic extra mess-up in the Bond movie Quantum of Solace.
Indeed, extras are a bit of a fan favourite among eagle-eyed viewers. Earlier this year there was this wonderful moment featuring a fully-committed photographer in a scene from Coronation Street.
Elsewhere in Weatherfield, fans lolled when Anna Windass (Debbie Rush) managed to call the emergency services on her mobile - without dialling anything.
Corrie's soap rival EastEnders had an all-time great mistake during its 30th anniversary live episode in 2015. It involved actress Jo Joyner (aka Tanya Branning), who was supposed to be inquiring after Ian Beale (Adam Woodyatt).
But instead of asking 'How's Ian?', Tanya asked 'How's Adam?' Jo Joyner's facial expression straight after she clocked the mistake was priceless.
Needless to say, Twitter couldn't contain its glee that night.
Elsewhere on the BBC, the hit drama Doctor Foster was singled out for this mistake involving a fridge door.
Then there are those errors that are much more niche. Take this example of someone highlighting a factual error about a type of frog in the second series of Stranger Things.
Not to mention this finger-lickin' good spot. 
Finally, it's not just actual episodes that can trip you up. There's also the promo shots, as the makers of the 1920s-set Downton Abbey discovered.
Can you spot the problem with that picture?
This article was originally published on 6 September 2018.