N/A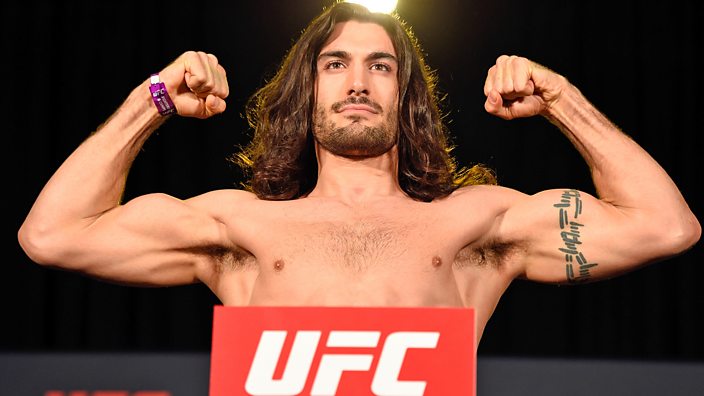 Gettyimages
Elias Theodorou will make history as MMA's first ever 'Ring Boy'
The Canadian UFC fighter is set to make his debut as a ring card model at Invicta 28 next month
While the likes of Formula 1 and PDC darts have taken the decision to scrap 'grid girls' and 'walk-on girls' from their events, UFC middleweight star Elias Theodorou is taking a different approach.
The Canadian contender, who won the Ultimate Fighter Nations: Canada vs Australia back in 2014, is breaking with tradition and becoming a ring boy at an upcoming Invicta Fighting Championships event.
Speaking to Ariel Helwani on The MMA Hour, Theodorou shared his unique story.
"I am dropping my YouTube channel, The Mane Event, and the first segment we have is ready to go. The first one is called 'Ring Boy'. I was happy enough and very excited to have my ring boy debut. But obviously now I've gotten that out of the way I wanted to go to the big leagues.  And the big leagues is Invicta.
"So I'm excited to announce that I will be joining as the first-ever ring boy for Invicta 28 in Salt Lake City."
Invicta, an all-female MMA promotion, has been credited with launching the careers of many female UFC stars, and is respected as an addition to the mixed martial arts landscape in the United States.
And now Theodorou, whose sense of humour on social media has helped take his popularity to new heights since his arrival in the UFC, has decided to get involved as Invicta's first ring card boy at their 24 March event in Utah.
Usually, events feature ring girls, who walk around the cage between rounds holding up large cards telling the fans which round is coming up next. Theodorou said it's another example of the sport's willingness to embrace equality.
"Mixed martial arts has been at the forefront of equality in many different ways," he explained. "You can see in regards to women being on top of pay-per-views and selling millions - and also now myself included as the first ring boy."
Theodorou's appearance will be seen by a large audience, as Invicta shows are aired on the UFC's live streaming service, which has followers globally.
He said he'll be earning money from his sponsors when he appears in the ring, as he'll be allowed to have their names and logos emblazoned on his shorts.
And Theodorou said there's a chance things could potentially go even bigger.
"I have really large brands that are going to be jumping in," he said. "I'm the world ambassador for Mattel. They also love the whole idea of the equality and the openness to actually put yourself in this position. 
"And I'm actually going to be partnering - if all goes well - with Barbie for 'Ring Boy' and I will be 'Man-Bun Ken'."
Theodorou's involvement in extra-curricular projects away from the octagon doesn't end there.
"In addition to this I've got two TV shows and a movie in the works," he said. "I'm the lead and the executive producer. Basically I play an MMA fighter - a huge stretch! - who gets injured and I reinvent myself through video gaming."
But despite his burgeoning career away from the cage, don't expect Theodorou to be hanging up the four-ounce gloves any time soon. He's campaigning for a bout with Brazilian former world title challenger Thales Leites, and says he's enjoying his martial arts journey too much to consider retirement now.
"I love mixed martial arts," he said. "I'm a huge believer in the fighter's journey. I love travelling and training. My last fight was in Australia. I've been to Thailand and Brazil and everywhere in between, learning and growing. 
"You only live once, to quote the immortal words of Drake, but I want to build my brand beyond fighting because this is a platform and this is an opportunity.
"And yours truly doesn't want to get hit in the head forever."