N/A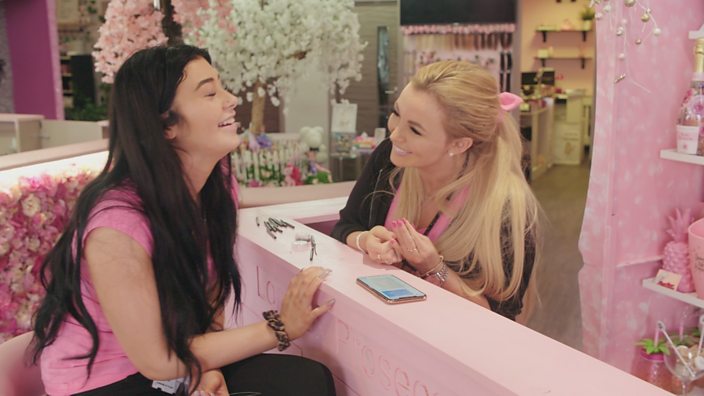 BBC Three
Salon owner: 'I'm busier now than when we were open'
Sammyjo has never had to close her "SuperSalon" in 18 years - but then coronavirus happened. In a time of social distance, how do you keep a business that relies on close contact afloat?
When Sammyjo and her mum Bev were on their way to work on 19 March they listened to the radio like they did every morning.
It was early morning, and the reporter was finishing up the news bulletins. "Stay home, stay safe," he said.
They looked at each other and said, "What are we doing?" 
Sammyjo adds: "I just said, 'I don't think we should do this anymore. It's too unsafe.'"
Four days before the country went to lockdown, Sammyjo, 32, closed her hair salon for the first time ever.
"I've never had to close the salon for, like, 18 years. It's scary.
"I just decided it wasn't safe for the staff or the clients. So I stopped opening."
Sammyjo started out as a mobile hair extensionist when she was 15. "My mum used to drop me off at different houses because I couldn't drive, obviously."
Two years later, she had worked her way up to her own salon with two hairdressing chairs. "It was a really small salon. The next year I moved into one double the size of that.
"Then a couple years later, I moved into this huge super salon, now with 15 staff."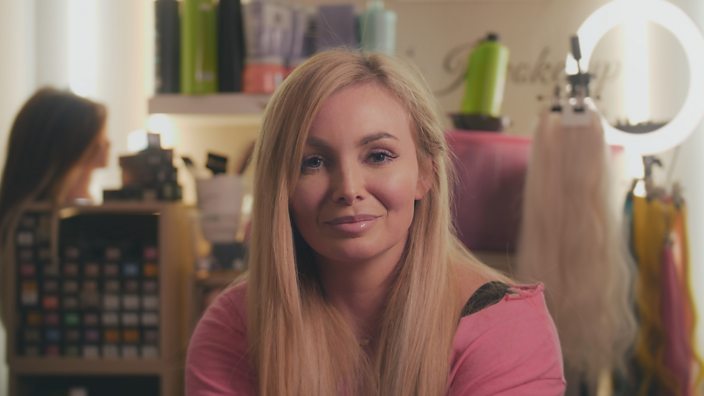 Her hair extension salon LongLox – which has over 47k Instagram followers – describes itself as "the North's Original Instagrammable SuperSalon".
In the BBC Three show Angels of the North, Sammyjo opens up about her struggles with anxiety and depression, and how life isn't as perfect as it looks on social media. The series follows everyday life at LongLox salon in Tyneside, Newcastle, as Sammyjo and her young stylists navigate life on and off the salon floor. 
Filming for the second season was cut short in March, when the effects of Covid-19 began to ripple across the UK. During the last episode, Sammyjo tries to navigate what's best for the business but most importantly what's best for her staff and clients. 
"Some of the girls have family who might have symptoms so they're just going to stay at home, just in case," she says.
"I'm taking each hour as I can, really. I'm sitting in the office watching the news – I've never done that before. My laptop's probably thinking, 'Who the hell is logged in here?'"
The lockdown has left many small businesses uncertain over their future, with the UK facing a recession after large parts of the economy have shut down. 
Sammyjo said making the decision to close voluntarily was really hard. "I don't know whether I'm crying because I haven't closed the salon before, or I'm crying because I'm not going to see everyone. I'm not going to see the girls," she says.
While the salon is still closed, and her staff are furloughed, Sammyjo has been busy maintaining the business by selling products available in the salon and taking online consultations. 
"It's busier than what I thought it would be. I'm busier now than what I was when I was open. I'm doing everything myself.
"I mean, it's not the same as being open obviously. I'm missing my girls loads – I'm Facetiming them a lot but they're all furloughed so they can't help me. They are all dying to help me, like pack packages and things like that but I've just got to do it all myself."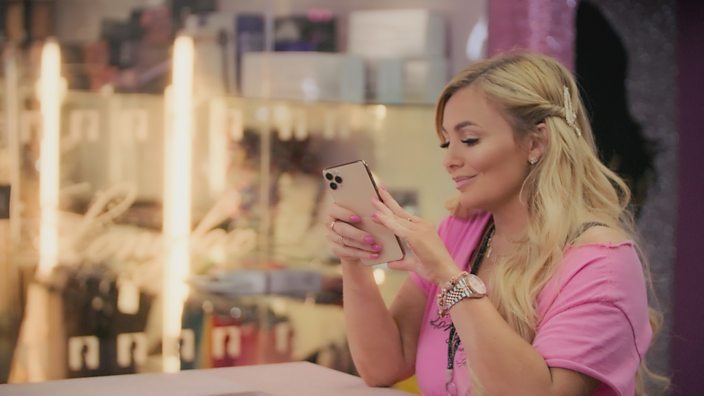 Messages to the salon's Facebook and Instagram pages have been "non-stop" during lockdown. "I've had people having meltdowns saying they want to do their roots themselves – I'm like, 'No don't! Just wait.' A lot of the messages are really supportive to me, the clients are missing the salon craic as well."
Most of the messages are from people wanting to be booked in for appointments once the salon is allowed to reopen. The Hair and Barber Council, which represents 11,000 salons, says politicians are taking too long to give the salons permission to open. Businesses are being asked by the government to be "Covid-ready" while they wait for more information.
Sammyjo and her mum Bev have been going to the salon everyday recently to try and get everything in place for when they are given the go-ahead to reopen. "I'm in the middle of getting all the plastic screens put up in the salon and just making sure it's as safe as possible," says Sammyjo. "I'm having to change the salon around a bit because you can't be so close together."
While Covid-19 is going to have an undeniable effect on businesses like Sammyjo's, she is confident they'll manage.
"My goal is just always to do bigger and to do better.
"The salon is 18 years of hard work, so I'm not giving up for anyone."