N/A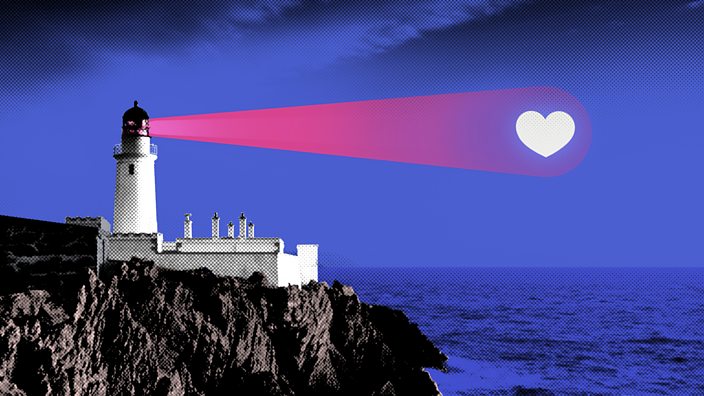 BBC Three/iStock
Dating in the countryside: Being the only Grindr user in the village
Your stories of using dating apps when there just aren't that many people around
If you live in a big city, dating apps offer a rotating cast of people who "don't take life too seriously", shirtless men at the climbing wall and group photo Guess Who games.
But when Mark*, 23, loads up Grindr where he lives on the Isle of Man, he's lucky if his number of potential dates reaches double figures. "There's maybe 10 or 15 people on the island that you can see on there," he tells me. "I tend to visit the likes of Liverpool and Manchester quite regularly because I have friends over there and it's literally like I'm a kid in a candy shop when I get there. I open Tinder, I open Grindr, and I suddenly feel very popular".
If he widens his radius, dating apps show him men in Belfast and Liverpool – which can be both a blessing and a curse. "Things have got a lot easier than it would have been, say, 10 years ago," says Mark of the opportunity to connect with people further afield.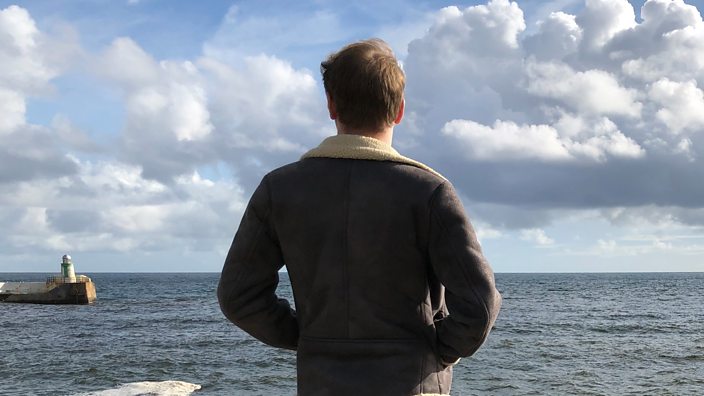 But going on a date to a big city is a commitment: it requires a trip by plane or boat, and could also potentially lead to a long-distance relationship. "I say long-distance," he clarifies. "I mean, it's like a half-an-hour flight. But still, that's a lot of money".
Tinder, one of Mark's preferred apps, says it doesn't give out information about the rural/urban breakdown of its users, but a 2015 survey by Global Web Index suggested that just 7% of them lived in rural areas. By comparison, 17.6% of England's population live in rural areas, according to the most recent census.
"It's hard to find someone you don't already know, especially someone you don't have mutual friends or family with," Ashlee, 22, says, talking about dating in her village of Melbourn in Cambridgeshire. "It'd be nice to meet someone without them having access to second hand information about you."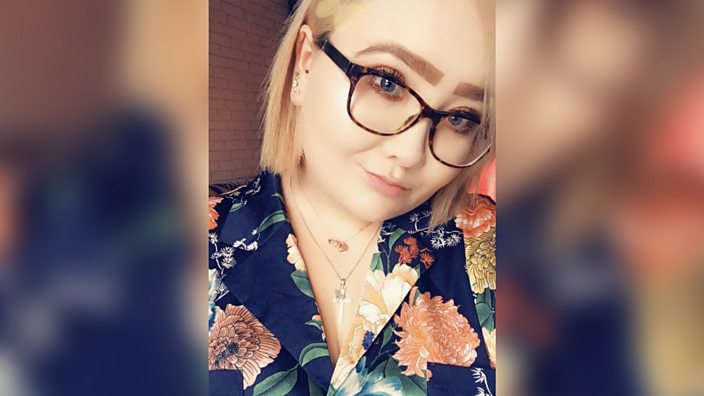 The internet became the most common way to meet a partner in the USA in the mid 2010s, according to research published this year by Stanford University. People are now far more likely to meet someone online than through friends, family or at work.
Potentially worse than having limited dating choices is the fact that, if you live in an isolated village, those choices might be your ex, someone you sat next to in year three and... your family doctor. The anonymity and opportunity to reinvent yourself that can make online dating appealing is stripped away when your dating pool is just a handful of people.
Joe*, 22, splits his time between university in London and his home village in West Sussex. When he's in London, he sets the location radius of his dating apps at two miles and says there are "endless people".
But at home it's a different story. "I'll come back here and do the same and there'll be about three people who I went to primary school with," he says.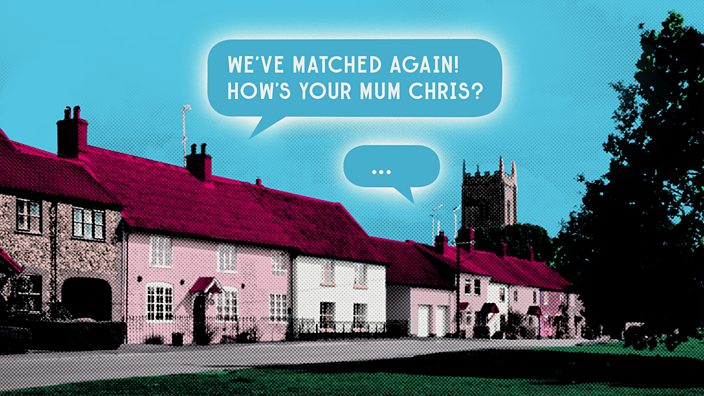 It may sound like opening a dating app is just a reminder of your isolation if you live somewhere remote, but Peter Saddington, a relationship counsellor at the Relate centre in Derbyshire, says that isn't always the case. Many of his clients are farmers or other people living in small communities.
He explains that farms stay in families for generations and those who run one tend to marry a partner who'll come and work alongside them.
"Particularly in winter time, [farmers] can get quite isolated or cut off completely," he tells me. "Being on the farm, you work long hours and you're in difficult circumstances."
He says apps can offer a source of connection that wouldn't have existed even a decade ago: "If you're not finishing until late at night, and you're really worn out, you've still got the chance to go online."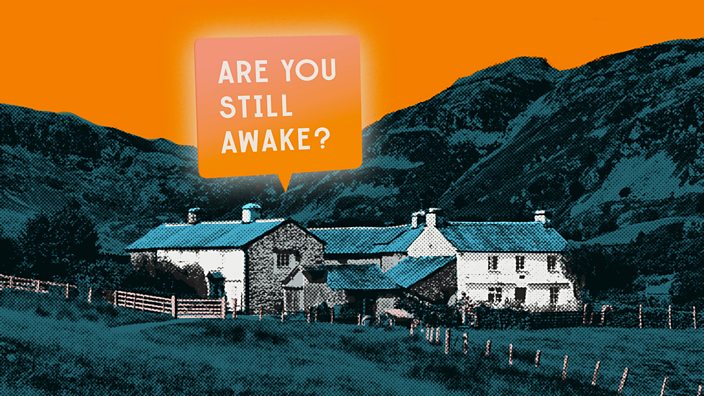 Expanding the distance radius on apps can allow rural daters to make contact with people in neighbouring towns or cities – but, as Mark says, this can mean the stakes for a first date feel much higher.
"The thing about living in a rural community is quite often you don't travel far," Peter Saddington explains. "But through the apps, people are travelling to other cities, which are outside of their comfort zone. And so that adds some pressure and makes it even more disheartening when it falls through."
After university, George*, 24, moved to take a job in a small, rural town in North West England where there weren't many other young people. "After a few weeks of living there and not having much of a social scene around and not having many opportunities to make friends or meet people, I found myself unconsciously using dating apps as a way to socialise," he says.
George's matches would travel from other towns to meet him for a first date. "They would come to my place most of the time, simply because they drove so it was easier for them to get to me," he tells me. "The first time I met my current partner, her friend drove her 45 minutes to meet me."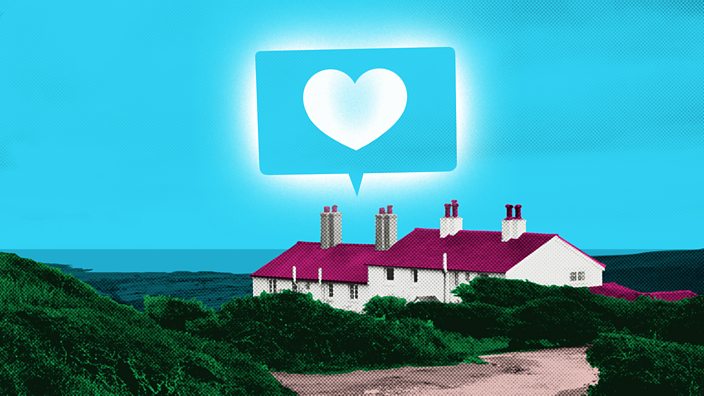 For LGBT+ people in isolated places, apps can provide a feeling of community, even if users aren't meeting up with the people they see on there, says Gavin Brown, professor of political geographies and sexualities at Leicester University. He says apps can be "really important for LGBT young people".
"Even if they don't choose to interact with those people, even if those aren't people that they're interested in, I think there's a visibility to those apps that might change a person's understanding of how they fit into the local area," he explains.
Lee*, 24, mentions another element to gay dating in a rural location that people in cities may not have experienced.
"The majority of men on Grindr are either deep in the closet and single, or they're deep in the closet and they're married," he says.
"It is hard being out on this island. I grew up with a lot of homophobia and transphobia – I took a whole 180 twist. When I was 14 or 15, I myself was incredibly homophobic and transphobic and I think that was because of the fact that I was so heavily in the closet at the time."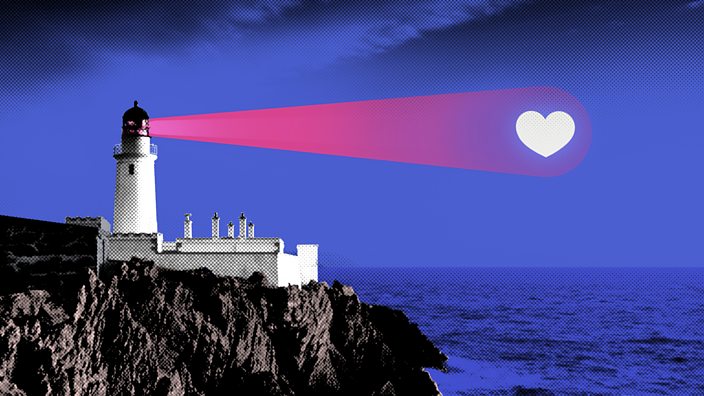 George used online dating to deal with feelings of isolation. "I don't go to the pub to watch the football or to have a drink or anything like that, so I just felt it was an uphill battle from the beginning," he says of trying to socialise in his new town.
"I found by talking to people on dating apps and getting to know them and meeting up in person, albeit under the guise of dates or just hanging out, it soon filled that void of interpersonal connection."
George, who's straight, even tried using gay dating app Grindr to meet new friends. "I suffered a fair bit with my mental health the first few months after moving in," he recalls. "At this point I'd accepted the fact that I used dating apps for social interaction, just for communication with other people. And I thought, 'Why not?'"
He set up a profile, mentioning in his bio that he was straight, and says he was inundated with messages. "A lot of them are sexual in nature, a lot of people would ask me to send pictures and stuff like that. But for the first time in a long time, I felt wanted – albeit in a sexual way," he says. "It was an incredibly gratifying feeling, I felt a real buzz from it. To the point where, some days, if I got a notification from a message on Grindr, I'd be even more excited than a message on Tinder."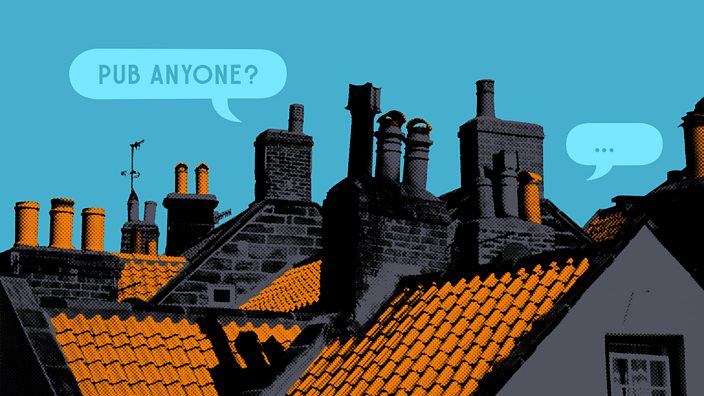 Peter Saddington says that it's common for people to use dating apps to "test out their sexuality" or to make friends. He adds: "That can be very reassuring. It can also feel very isolating because you're online to all these people but actually meeting up is quite difficult to do because they might be some distance away."
For George and his fiancee, who's from a nearby village, widening their dating app radius was worth it. He's now left his town to move in with her. "If I hadn't been on dating apps, then I wouldn't have met my future wife," he says with a smile. "So, for that alone, it was definitely worth it."
This article was originally published on 21 October 2019.