N/A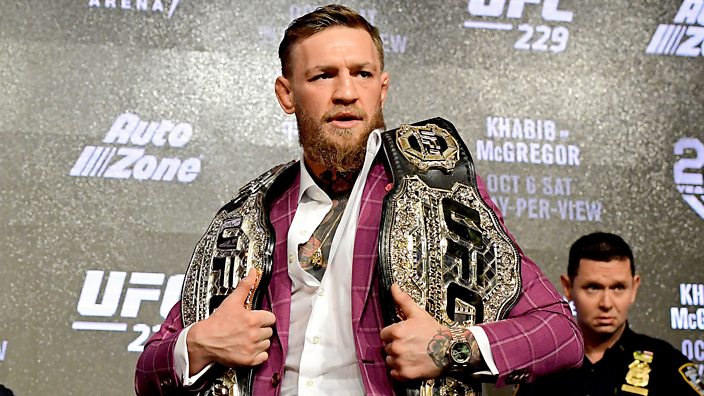 Getty
Love or hate him, here are five reasons people can't stop watching Conor McGregor
What makes Conor McGregor so, erm, Conor McGregor?
Like it or not, Conor McGregor has become one of the most iconic stars in world sport.
While his success in the octagon speaks for itself (having won the UFC featherweight and lightweight titles), he has also grabbed attention for going 10 rounds in the boxing ring with Floyd Mayweather, and McGregor has become just as famous for his life outside the sporting arena as well. It's fair to say he's living up to his nickname, 'The Notorious'.
Before his UFC comeback fight against Khabib Nurmagomedov in Las Vegas on 6 October, we ask how the Irish fighter managed to transcend the sport of mixed martial arts to become one of the most recognisable names the in world.
What is it that makes him so adored, so reviled and so watchable?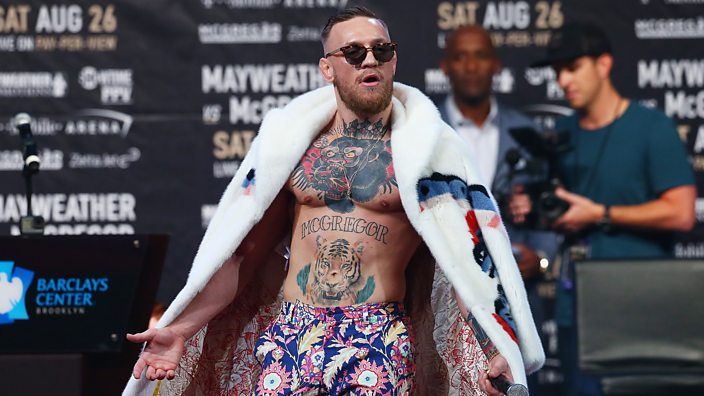 "There are two things I really like to do and that's whoop ass and look good. I'm doing one of them right now," he said before his win over Max Holloway in 2013.
McGregor takes his fashion very seriously and is regularly spotted in high-end brands such as Gucci and Yves-Saint-Laurent. Versace even designed him a robe ahead of his boxing fight with Floyd Mayweather in 2017.
While he usually favours three-piece suits with flashy pocket squares, McGregor can also rock a casual open shirt with his chest tattoos on display - and he even launched his own fashion label in 2017.
For most of us, it's not easy to pull off an outfit which is simply a flamboyant coat and bare chest, but that's how he turned up to the press conference before his bout against Mayweather.
It's not just his clothes that appeal to fans, though - put 'Conor McGregor's beard' into any search engine and you'll find endless tutorials on how to get your face fuzz looking like his.
His watch collection is also worth a mention.
Some estimates value it over £600,000, and it includes diamond-encrusted and rose gold timepieces.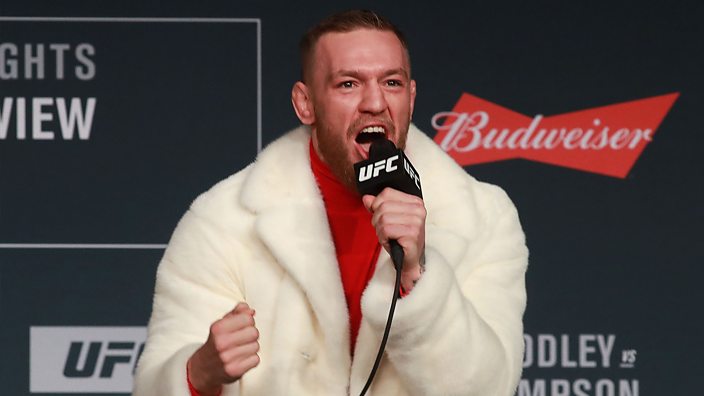 Very few athletes have the ability to hold their own in a verbal exchange like McGregor, who effortlessly blends humour and intimidation.
He's also not short of self-confidence, regularly boasting about his status or wealth. "Me and Jesus are cool. I'm cool with all the gods," he said in a UFC 196 press conference. "Gods recognise gods."
Such is the venom in his verbals that McGregor's news conferences have become circus-style events where fans swarm in to support him. Some supporters have even gone as far as to impersonate members of the media, only to shower the fighter with support on the mic while putting down his opponent.
Staying relevant is key to remaining in the spotlight and McGregor knows just how to do that by rubbing shoulders with the likes of Cristiano Ronaldo, Rihanna and Justin Timberlake.
McGregor isn't afraid to flex in front of those big names too. Backstage before his Toronto press conference for the Mayweather fight, Drake came into his room to greet him and McGregor reportedly replied with: "It's nice to be in your city, but it's my city today."
However, he did spark controversy when he was seen rubbing shoulders with Russian president Vladimir Putin in Russia earlier this year.
Describing Putin as "one of the greatest leaders of our time" was enough to make headlines around the world, and also a sure-fire way to keep himself in the spotlight.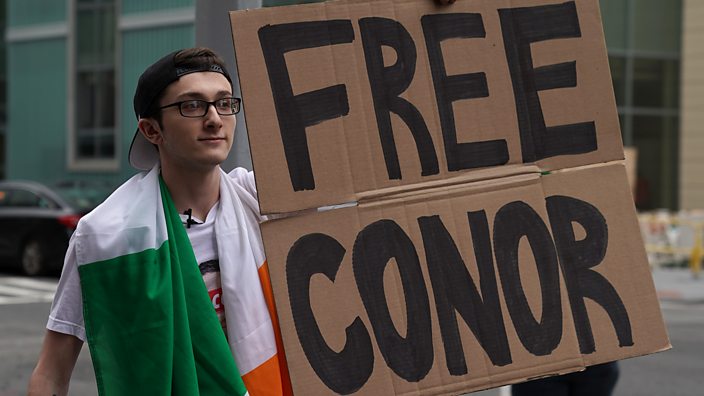 McGregor wanted the UFC to make his latest news conference (before his fight with Nurmagomedov) open to the public, highlighting how he thrives off the energy of fans.
"That's who we fight for. That's who pays the bills. That's who deserves this show," he said.
In his post-fight speech after defeating Dustin Porier in 2014, he said: "If one of us goes to war, we all go to war." This perfectly encapsulates the mindset of his hardcore fanbase that show up in hordes to support him.
McGregor's confidence and bravado have become a touchstone for Irish people around the globe, with Celtic football fans also showing their support for McGregor by lifting tifos with his famous "We're not here to take part, we're here to take over" quote from 2014.
All in all, McGregor has some of the most loyal fans in sport, who will follow him to the ends of the earth - and his engagement with them is what fuels their passion.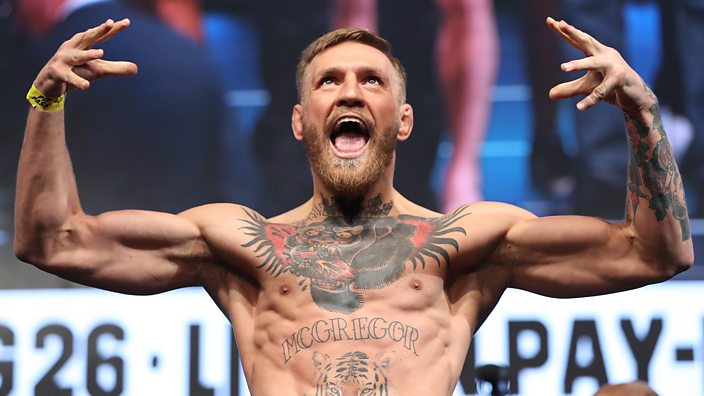 No-one can fully predict the 30-year-old's next move.
In April 2016, out of the blue, he dropped news that he'd be retiring from the sport, saying on Twitter: "Thanks for the cheese. Catch ya's later" - only to return later that year and become the first fighter to hold two UFC titles simultaneously.
And who could have guessed that he'd actually go on to make a fortune fighting Mayweather a year later - and more than that, give the boxing legend a decent fight?
Although it may be part of McGregor's appeal for his fans, this unpredictability can get him into trouble with the authorities.
He clashed with Tryon Woodley and Khabib Nurmagomedov separately over the course of a few days backstage at UFC 205 back in 2016, and he threw a trolley at a bus carrying Nurmagomedov at UFC 223 this year, resulting in McGregor narrowly avoiding jail time thanks to a guilty plea for disorderly conduct. 
It's not just fighters with whom he clashes, though, as an exchange on social media in 2017 found him in a public squabble with rapper 50 Cent.
It's as though he's living in a fiction or a crossover game where anything is possible - a world where he can fight anyone he wants without being held back by the restraints of a particular sport.
McGregor will take on anything or anyone, and the confidence and bravado with which he approaches it means he'll put a few noses out of joint along the way. While he makes enemies, he'll inevitably take a lot of fans with him.