N/A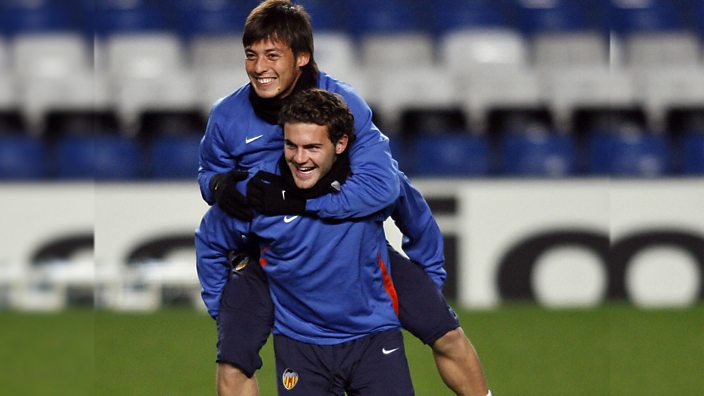 Gettyimages
Throwback to these players you forgot used to be in the same team
Remembering the time that Juan Mata and David Silva were team-mates.
Hey, remember when Kim Kardashian used to date Nick Cannon in the early 2000s? Yeah, for real! Well, basically, this article is exactly like that, well kind of, there's no celebrity dating but there are footballers who you either forgot, or in some cases, probably never knew, used to play together.
Read this and feel more equipped for the pub quiz.
Juan Mata and David Silva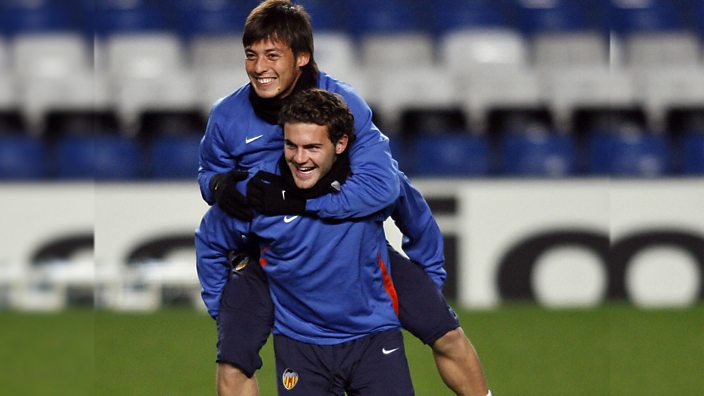 These two? In the same club? What a silky prospect. Well, during the late noughties, this was more than just something you could realise through Fantasy Premier League - it was a reality for fans of Valencia.
Silva was a product of Valencia's academy and played with the first team until joining Manchester City in 2010.
Mata also plied his trade with the Spanish club between 2007 and 2011.
From there on, obviously, they've both achieved a fair bit, including a World Cup each and three European Championships between them for Spain, as well as a Champions League trophy for Mata with Chelsea in the 2011-12 season and three Premier League titles for David Silva with Manchester City.
Cristiano Ronaldo and Gerard Piqué
Until Ronaldo left for Juventus, the two were playing for arch rivals Real Madrid and Barcelona in Spain, where matches are known to get heated, so it's a bit discombobulating to imagine them congratulating each other with hugs and high-fives at the end of games. 
Ronaldo is obviously a legendary figure in the Premier League, but Pique, who returned this week to Old Trafford to face Manchester United in the Champions League, also claims he learned a lot under Sir Alex Ferguson. He has previously told The Players' Tribune, "I arrived at Manchester United a boy, and I left a man." 
FYI, he also tells a good story in that piece about Roy Keane going ballistic after Pique left his mobile phone on in the dressing room.
"I almost s*** myself," Pique says, "But it was a good lesson."
Pique won a Champions League and Premier League medal with Manchester United, despite not featuring very often, before moving to his boyhood club Barca in 2008 (via a loan with Zaragoza). Had it not been for a certain Rio Ferdinand and Nemanja Vidic, perhaps he may have featured more with the Red Devils, who knows? 
Eden Hazard and Pierre-Emerick Aubameyang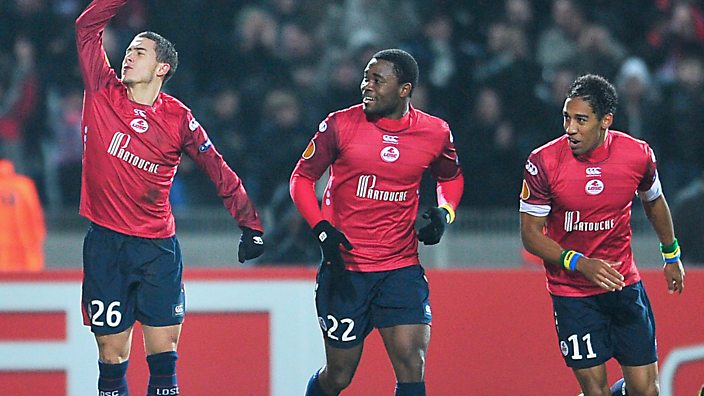 That's a nice sounding forward line, isn't it?
Hazard started his senior career with Lille in 2005, before joining Chelsea in 2012. During his time in Northern France, he played with quite a number of unlikely team-mates, including Patrick Kluivert, Joe Cole, Dimitri Payet and also Pierre-Emerick Aubameyang.
Aubameyang joined Lille on loan from AC Milan in 2009, before going switching to Monaco (on another loan). 
Hazard went on to win Ligue 1 with Lille the following season.
David de Gea and Sergio Aguero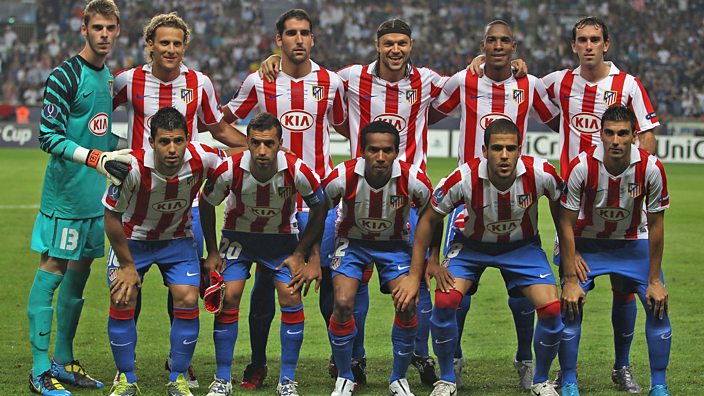 If you've watched the Manchester City documentary, All or Nothing, then you may have seen Sergio Aguero talking about how lonely life can be in Manchester, with his family - including son - living in Argentina, "…most of the time I'm on my own. If not, I'll hang out with Nico Otamendi - or David de Gea."
Manchester City or Manchester United fans may have winced at that, but the club rivals spent two seasons together at Atletico Madrid, before setting off for opposite ends of Manchester in 2011. 
Since then, they've become fairly important names for their respective clubs, Aguero recently becoming City's all-time record goalscorer and De Gea regularly mentioned as being amongst the best keepers in the world.
Marco Reus and Joshua King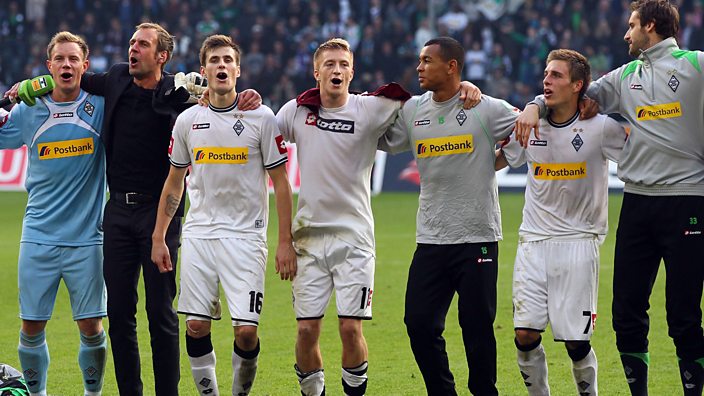 Bournemouth's Josh King has had a surprising career journey. For a start, it's always a shock to learn, with a name like Josh King, that he's actually Norwegian. And, aside from international duty, the clubs he has represented are pretty varied too.
Since he was signed by Manchester United from Norwegian club Valerenga in 2008, he's had loan spells with Preston North End, Borussia Mönchengladbach, Hull City and Blackburn Rovers (whom he went on to sign for), before making his move to Eddie Howe's Bournemouth in 2015 and ascending to the top flight of English football. 
King only made two first team appearances for the Bundesliga club in the 2011-2 season, that also featured future Dortmund star Marco Reus and future Barcelona keeper Ter Stegen.
Mauricio Pochettino and Ronaldinho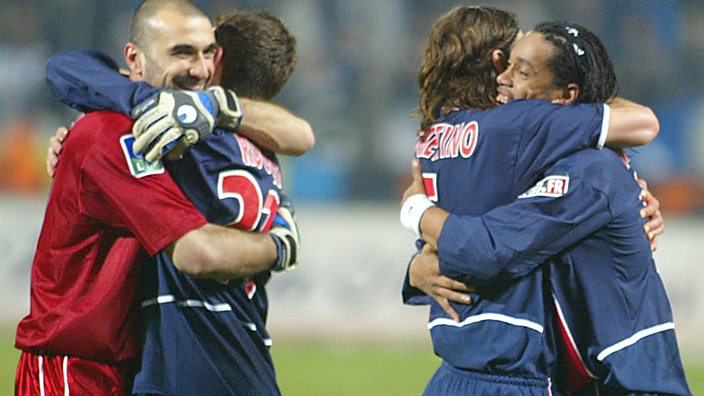 So, it's a little difficult to make out here, obviously, but those two lovingly embracing on the right – that's Brazilian legend Ronaldinho and a more hirsute Poch, both playing for Paris Saint-Germain back in 2003. 
The now Tottenham manager spent a fair amount of his playing career with Barcelona's other team, Espanyol, but also played in France for a while, including at PSG, between 2001 and 2003. In the same squad was as a young Ronaldinho, who was still establishing himself as the world-beater he would later become, after moving to Barcelona in 2003.
David Beckham and David Moyes
Yeah, you didn't see that coming did you? An absolutely top notch quiz question this one.
David Beckham was just a nipper in 1995 when his manager at Manchester United, Sir Alex Ferguson, sent him on loan to Preston North End, in the Third Division (admittedly only for a month). 
That Preston team included a certain future successor to Sir Alex Ferguson in David Moyes.