N/A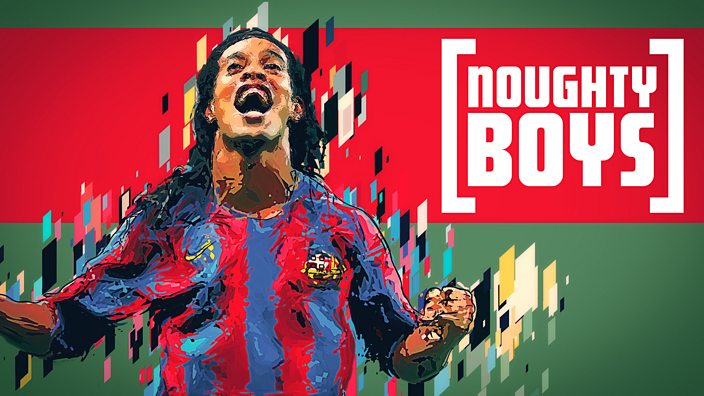 Getty Images
Noughty Boys: Ronaldinho was a magician, we just stood there gawping
'Ronaldinho treated the game of football as if he was a magician at a children's party. He made us question what was possible on a football pitch.'
In football, there is a dribbling move known as the 'elastico'.
It works by having the attacker push the ball away from themselves with the outside of the foot, in order to sucker a defender into believing they are going to dribble one way. Once the defender buys the dummy, the attacker immediately wraps their foot around the ball and then speeds off in the opposite direction. The elastico is a classic three-act magic trick: now you see the ball, now the ball is gone, now the ball has reappeared here.
In some parts of the world they call the move the 'flip flap', because of how your foot has to move in then out quickly to make it work. In some parts of Africa, and especially Nigeria, they decided to call it 'The Gaucho', in honour of the birthplace of the move's modern day master, one Ronaldo de Assis Moreira.
Or Ronaldinho to you and me.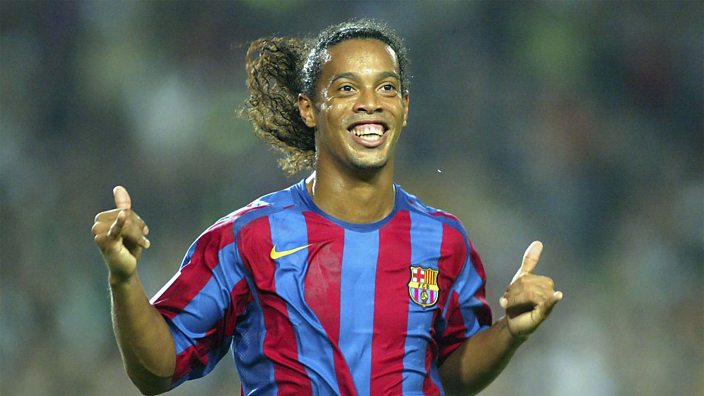 Ronaldinho treated the game of football as if he was a magician at a children's party, wowing fans and onlookers with feats of skill that boggled the mind. Steeped in beach football and futsal trickery from childhood (in one game he scored every goal in a 23-0 victory), the forward's skill repertoire included back heels, nutmegs, rainbow flicks, bicycle kicks and more, leaving defenders for dust and captivating crowds around the world.
"The ball has always been a life companion, my best friend," said Ronaldinho in an interview with Spanish television last year. "I've not been with anybody for longer than I've been with her. I don't remember who gave me my first ball but in Brazil all children are born with a ball or a football shirt under the arm."
This relationship with the ball persisted throughout Ronaldinho's entire career, taking him from boyhood club Gremio to spells in France, Spain, Italy and more. Football was a love affair for the big-grinned Brazilian.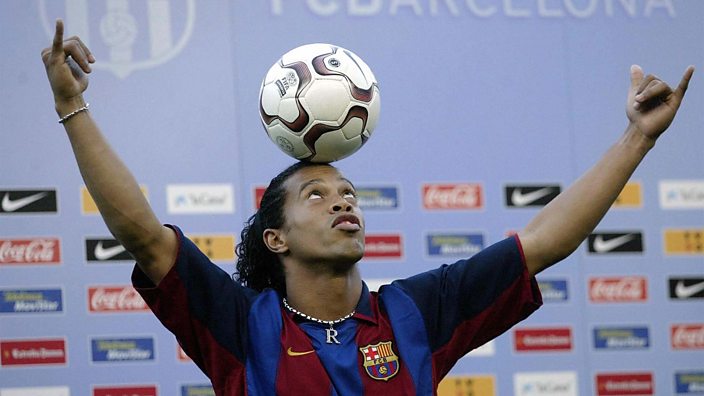 Strangely, it was this theme of romance that took the magician to the site of his greatest success. The then Paris Saint-Germain-based Ronaldinho looked set to sign for Real Madrid in the summer of 2003, until one Los Blancos director worried he was "too ugly"  and would "sink" the club as a brand. Madrid instead signed David Beckham, with the director saying "Thanks to Beckham, everyone wants to shag us."
A potential move to Manchester United arose, but two days before the deal was finalised, would-be Barcelona President Sandro Rosell phoned the Brazilian to ask, "If I become Barça president, will you come?" Ronaldinho said yes. Rosell won his election and a new age at the Nou Camp was born.
Ronaldinho made his debut for Barcelona in a league game against Sevilla that kicked off a minute past midnight (Barcelona wanted the game to be played on a Tuesday, the league insisted on Wednesday so the club played the game as early as possible). The Brazilian picked the ball up in his own half, dribbled past two defenders and unleashed a shot that set a message to the rest of the world: "Football is about to get very, very silly."
Ronaldinho's five-year stretch at Barcelona would see him win two Spanish league titles, two Fifa World Player of the Year awards (2004 and 2005) and the Champions League in 2006 - one of the most impressive hauls for a player in the 21st century, and yet it feels like a disservice to list them. Ronaldinho, after all, was a player you watched for moments, not medals won.
Finding himself on the edge of the D, Ronaldinho found his options blocked off by Ricardo Carvalho, John Terry and Eidur Gudjohnsen. Sensing Frank Lampard bearing down on him from behind, Ronaldinho feinted to shoot twice with his right foot, shimmed his hips twice and then did… something.
Before we knew it, the ball was nestled in Petr Cech's net, propelled by what later transpired to be a no-lift toe punt.
"It's like someone pressed pause and for three seconds all the players stopped and I'm the only one that moves," Ronaldinho later described. Playgrounds were soon full of schoolchildren attempting to copy their hero, once again trying to figure out the magician's secrets.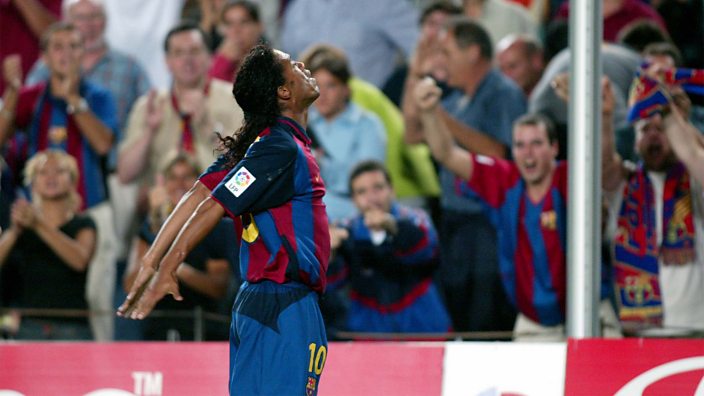 Some players won trophies. Others won hearts. Ronaldinho made us question what was possible on a football pitch.
Barcelona players aren't supposed to get a standing ovation from Real Madrid fans, yet when Ronaldinho put Los Blancos to the sword for a 3-0 El Clasico victory in November 2005, Madridistas saw no other option but to take to their feet and clap. They had witnessed something special.
Ronaldinho made us believe in magic. His free-kick goal against England in the 2002 World Cup was typical Ronaldinho. Did he mean to chip David Seaman from 40 yards out? Or was it a complete fluke?
In the same way a magician never reveals his tricks, Ronaldinho kept his cards close to his chest when asked about the goal, and why wouldn't he?
Years later, in an interview with FourFourTwo, he said, "I saw he was off his line. About five metres off. I really aimed at the goal, although not exactly where [the ball] went. All I wanted was for Seaman to be desperate and maybe trip on his way back."
As part of the 'Three Rs' contingent with Ronaldo and Rivaldo, Ronaldinho helped Brazil to win the 2002 tournament with pomp and verve - the trio notching 15 goals between them at the tournament.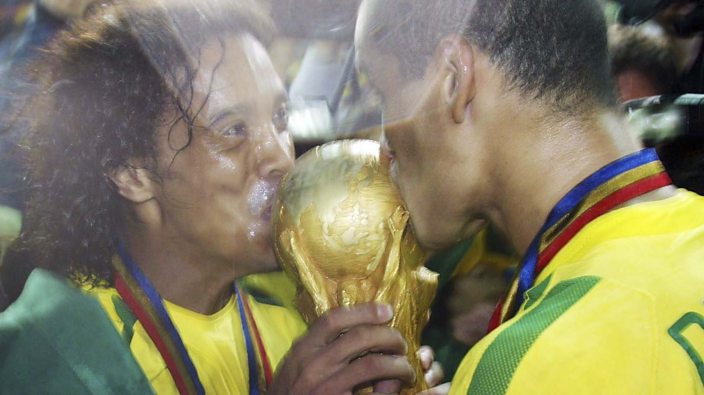 Then there was a sudden fall after 2005, with indifferent spells at AC Milan, Atletico Mineiro, Mexican side Querétaro and Fluminense following his departure from Pep Guardiola's Barcelona.
If football was a love affair for Ronaldinho, then he found the seven-year itch hard - eventually partying too much, training too little and lacking the desire for compromise and hard work that all long-lasting relationships need to work.
He burned brightly, but faded quickly as European football moved on. Lionel Messi inherited his shirt at Barcelona and another age was born. But the moments of Ronaldinho last long in the memory for football fans of a certain vintage.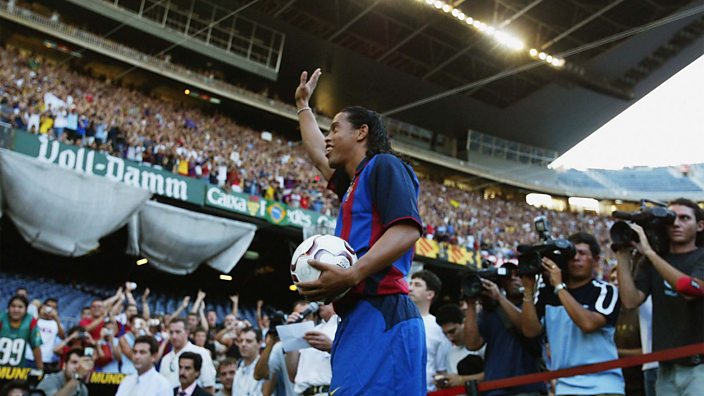 Perhaps his crowning achievement on a football field didn't even occur in a game, but in a three-minute video clip of him mucking around at Barcelona's training ground.
Emerging in 2005, the video, an ad for Nike, showed Ronaldinho expertly pinging balls off a crossbar time after time. It garnered a million YouTube views in a time when people had to spend potentially hours caching video using dial-up internet. Ronaldinho was worth it.
The video itself was simple: Ronaldinho gets gifted a new pair of white and gold boots, does a few kicks ups with them and then volleys the ball against a crossbar from the edge of the box. But somehow, every time Ronaldinho hits the ball off the crossbar, the ball returns to him, like a ship to a siren's song.
It couldn't be real. It shouldn't be real. It was all too far-fetched. Too slickly made. Too beyond the realms of physics and possibility. And yet, such was Ronaldinho's skill, you couldn't be too sure. He was too extraordinary, too magnificent, too capable of the unprecedented in football to have us write off the video as fake.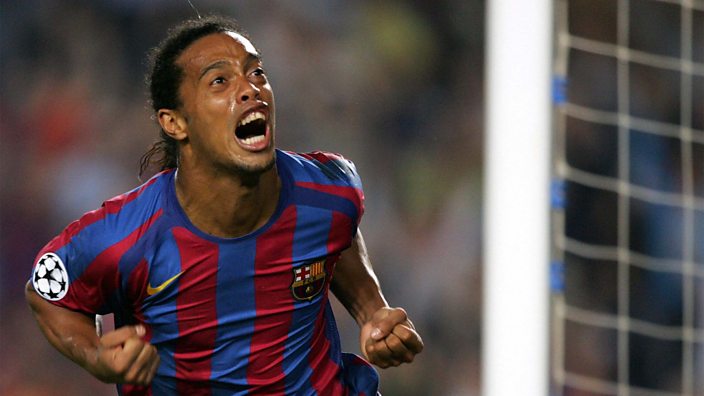 There were times when Ronaldinho had the ball at his feet in Champions League games and it looked as though he could momentarily switched on a gravity cheat so that the laws of Earthly physics might no longer apply - so why couldn't he bounce a ball off a crossbar and have it return to him?
A few months later the verdict was out: the video was not real, but instead a clever bit of computer wizardry. However, what the video did prove was the power of Ronaldinho.
The Brazilian legend may have won World Cups, Champions Leagues and Ballons d'Or, but Ronaldinho's true contribution to football was how every so often the ball would arrive at his feet and he appeared capable of disrupting the walls between dreams and reality.
This article was first published on 22 October 2018.