N/A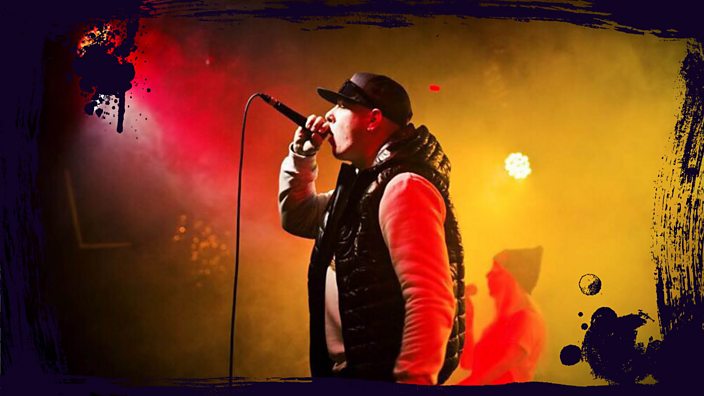 BBC Three
'How I went from guns to God'
Serial criminal Black Jack swapped his rap sheet for a hip hop career
Jack's mum had tried talking. She'd tried pleading. When her son's best friend was killed, she tried the Army surplus store.
The bulletproof vest cost several hundred pounds – but it was thick enough to stop a round from an AK-47. This was a considerable expense for Jack's mum: a single parent on benefits with four boys. It was overkill, as body armour goes – nobody in Manchester was carrying an assault rifle – but that was exactly why Jack's mum wanted it. The thought of her son in a bulletproof vest meant she could sleep soundly at night.
Jack was 16 years old – and far more concerned at how his friends would react to his added bulk.
"I used to look like a robot. My body was just a square box," he says. "People used to call me Bulletproof Jack."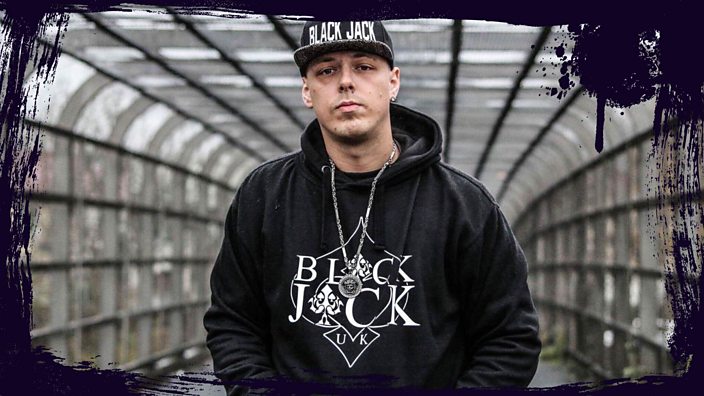 He usually wore the vest under a black hoodie. Everyone had a black hoodie. In the mid-2000s, the huge Wythenshawe estate, where Jack Hawksworth lived, was one of the most deprived in the UK – described by the New York Times  as "an extreme pocket of social deprivation and alienation" – and growing up he spent a lot of time hanging around on the streets with his friends.
They all wore the same clothes – and their "uniform" wasn't cheap. The basic premise was all-black everything, with some important details. The tracksuit was Nike or Adidas. The footwear was a specific type of trainer: the black Nike TN. Then there were the seeming anomalies: a monochrome paisley face covering; and a (black) Lowe Alpine Mountain hat – the kind with ear flaps, peak, embroidered logo, and a dedicated following among hiking enthusiasts. All in, the look came with a price tag of around £250.
"When you're that age and you're growing up on the Wythenshawe estate you've got to fit in, you want to be one of the boys," says Jack. "You just feel untouchable."
For years Jack did fit in – until a decade later his life was transformed behind bars. Now 27, he works as a plasterer and channels his spare energy into music. He is an up-and-coming rapper with close to a million views on YouTube – including a track with one of his teenage heroes: Big Noyd, of East Coast hip-hop group Mobb Deep.
He has been in and out of prison "about 12 times" over the course of a decade. His first run-in with the police was at the age of 14. He says he is no longer involved in crime – but within his friendship group he remains the exception, rather than the rule: most of the boys he grew up with are "in the same lifestyle, selling drugs and stuff ".
"There was only one group of friends," he says. "There wasn't a good group or a bad group to choose from."
The Manchester suburb of Wythenshawe may sound like an unlikely setting for relatively widespread deprivation. Its name has a disarmingly lyrical quality evocative of rolling hills and meadows – and it was a rural idyll of sorts until the turn of the 20th century.
In the 1920s, the sprawling fields, hedgerows and forest were replaced with one of Britain's early 'garden cities': a concrete suburbia that was supposed to provide a solution to overcrowding in Manchester's slums. Bad planning meant that the original stock of housing was too expensive for the poor. Its post-Second World War expansion transformed it into a concrete jungle. The middle classes gradually moved out, and the working classes that moved in suffered levels of deprivation significantly higher than the Manchester average.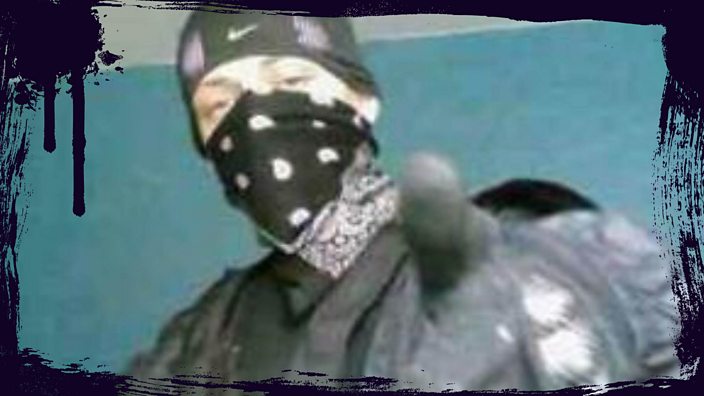 In 2007, a teenage resident was photographed making a gun sign at then-Conservative party leader, David Cameron – an image that made newspaper front pages all over the UK. At the time Wythenshawe was a poor suburb of Manchester – the fourth most deprived area in England according to the Index of Multiple Deprivation. 
There is a strong correlation between poverty and crime in the UK. Home Office data show that in 2007 the most deprived parts of England had double the rate of burglary compared to the least deprived. Jack and his friends carried out burglaries and in later years robberies as a way of making money.
With a criminal record, "it's not easy to get a job," he says. "You need money. It was easy money."
For any of them, escaping this cycle of crime would not be straightforward. About one in four prisoners reoffend. Nineteen out of 20 prisoners in England and Wales are male, and 38% of the prison population is under 29.
Jack's criminal career began with him rebelling at school and setting fire to the bins. Then he was expelled after getting caught with cannabis. By the age of 14, he'd been charged with aggravated burglary – an offence that landed him in juvenile prison. Police caught Jack in a house he was attempting to rob with a meat cleaver tucked in the waistband of his trousers.
"I didn't actually take it with me to do the burglary," he says. "I just happened to have it on me."
He recalls feeling strangely numb to the "madness" of the routine violence of gang culture in Wythenshawe at the time. But the murder of his 17-year-old best friend is a moment that sticks in his memory. Jack was 16 when his friend was fatally stabbed with his own knife, after seven men came to his house to beat him up – and the situation escalated, with fatal consequences.
But the loss of a friend didn't stop Jack. He acquired a gun and started carrying out armed robberies. This led to a year-long prison stretch, followed by another a few months later for possession of a firearm.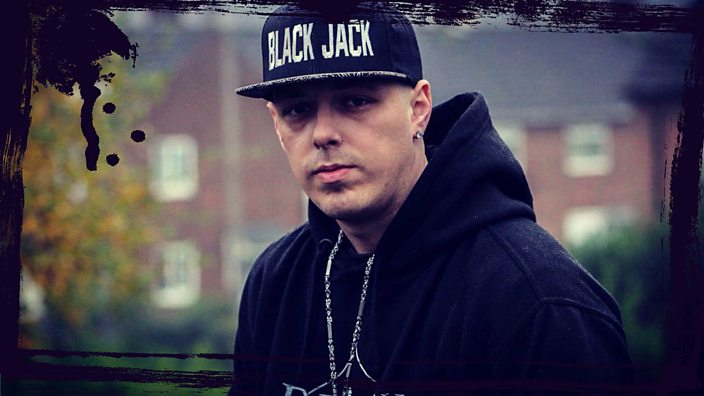 Jack says he now regrets his crimes. "I've got a different heart and mind now. I regret every single thing. It's made me the person I am – but I regret the damage I did."
At the same time, however, he feels that his hometown left him with limited options. "If I'd lived on a posh estate, and they'd shown me a different way to live, I'd have followed those steps," he says. "Being on Wythenshawe estate, I didn't know any other way."
During his last stint in prison - a seven-year sentence for robbing a drug dealer, of which he served three inside - he realised he was wasting his life. "I remember looking around thinking, 'Every single second I've wasted in my life in these cells I am never going to get back,'" he says. "It made me realise how precious time is."
Open to finding alternatives to a future of crime, Jack started working with a mentor from a Christian organisation. They helped him realise that he had the capacity to turn his life around – and leave behind a life that had become increasingly oppressive.
"I'm not saying I lay down and saw God," he says. "I'm not that type of guy. You won't find me on the corner preaching. But it was like something switched on in my head."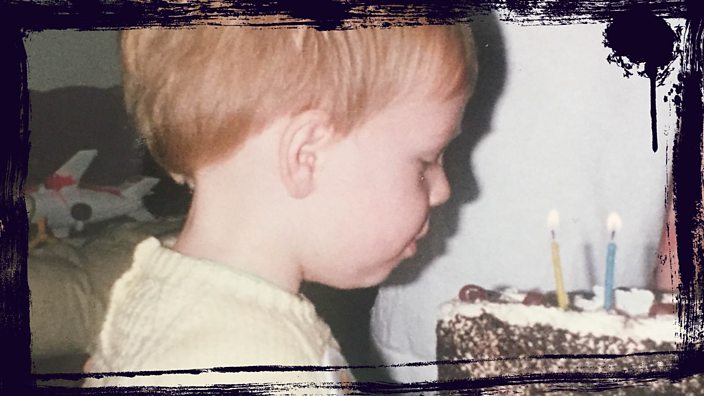 Outside of prison, he secured his first real jobs – first in a bike shop, then as a plasterer. At the same time Jack decided to start laying down the first tracks he'd written in the cells as Black Jack.
Today, his determination to turn his life around has started drawing attention from unexpected quarters.
"I've got mates sending me pictures of three-year-old kids with Black Jack birthday cakes," he says. "It's crazy."
Jack used to spend more time watching his back than his Instagram feed. But over the last three years, with a growing army of YouTube fans, his notoriety in Wythenshawe has morphed into a different kind of fame.
"My family are over the moon," he says. "They didn't think I'd ever change. My mum's always had love and respect for me, but she's just more happy now. She doesn't have to worry about me."
This article was originally published on 1 June 2018.