N/A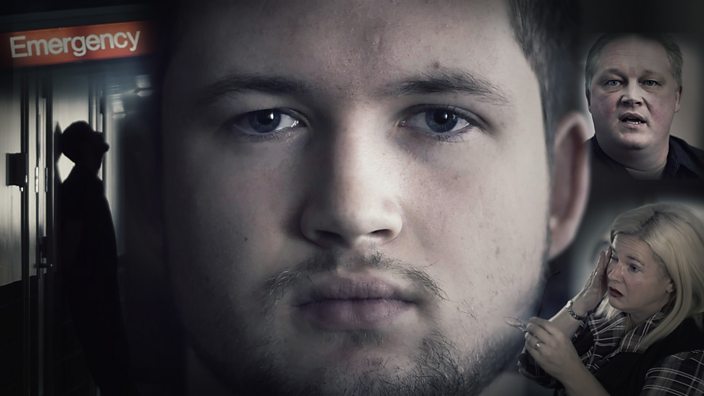 BBC Three
The teen who shot his parents
On 8 March 2013, Nathon Brooks, a high-achieving and apparently happy 14 year-old from Moses Lake, Grant County, Washington, walked into his parents' bedroom while they were sleeping and shot both of them multiple times in the head.
No one, not even Nathon, seems exactly sure why he did it.
His own description of the attack is probably the biggest insight we can hope to get.
Before I realised that I'd done it, I'd pulled the trigger and the gun had gone off.

Nathon Brooks
"I walked into their bedroom, I raised the gun. I don't know why. And then I remember having these really quick thoughts of, 'you don't have to do it'. But they were so quick and, like, suddenly gone, that I didn't really have a chance to think about it. And before I realised that I'd done it, I'd pulled the trigger and the gun had gone off. I fired again and then I fired again. I ran down the hallway. I sat down on the stairs and that's when it really clicked what I'd done."
CCTV footage from the night shows Nathon running through the house in his underwear, carrying a revolver, just prior to the shooting. We now know, from Nathon's confession in police custody, that he had taken the .22 Smith and Wesson pistol from a locked case in a bedroom within the house, walked into his parents bedroom, aimed and emptied the pistol.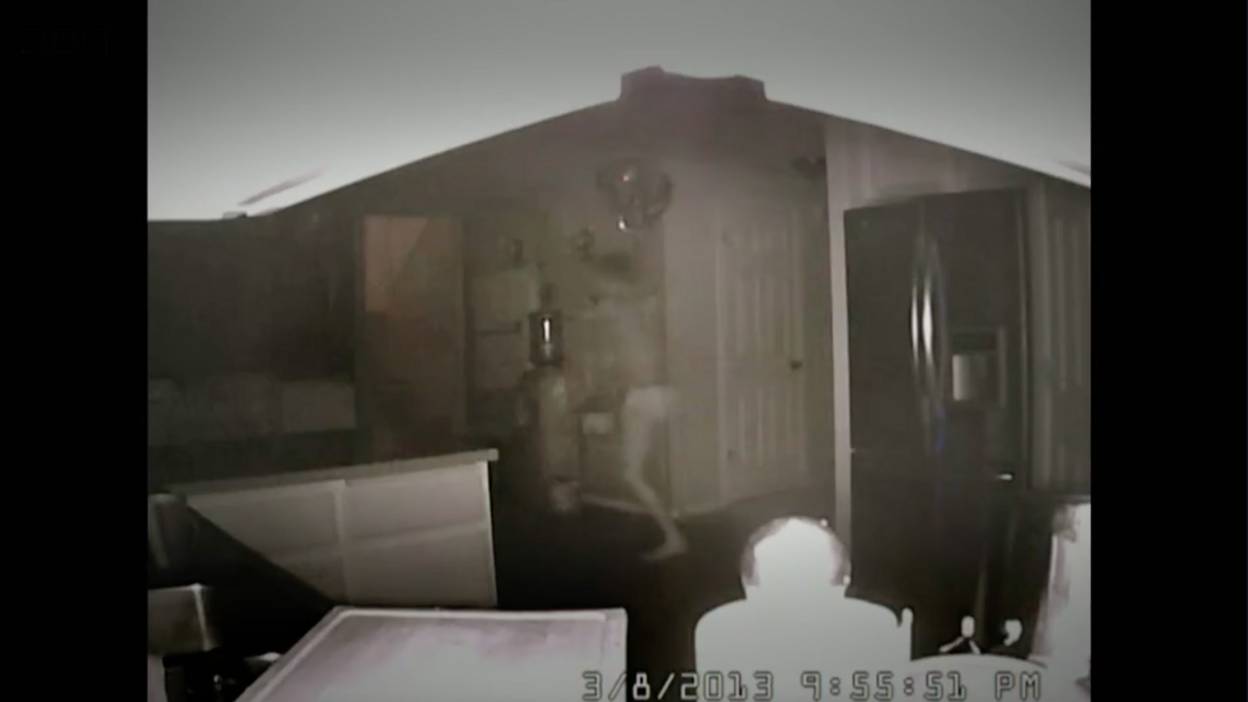 BBC Three
Nathon's mum, Beth, was shot beneath one eye, among other places. His dad, Jon, was also shot multiple times, including in the forehead. Remarkably, both survived. In fact, both were conscious just after the time of the shooting and Jon was capable of making a call to 911.
In a chilling recording of his call to police, Jon is heard telling an officer, "I woke up and we'd all been shot." Emergency services arrived on the scene shortly afterward.
"My neurologist said I'm the first he'd encountered to come out of that, walking and talking," says Beth.
Apparently, when she asked her neurologist why she was still alive, his response was, "None of us know."
In I Shot My Parents, a documentary on Three that features interviews with the family, they speak about the impact it's had on them.
Both parents were diagnosed with PTSD after the incident. Jon describes, "many, many, many sleepless nights, nightmares, lots of issues to overcome".
They moved into a new home after the incident, partly to escape painful memories. It's hard to comprehend how the parents could begin to come to terms with what had happened, but Jon perhaps makes a telling comment when he says, "I'm extremely good at bottling up emotions."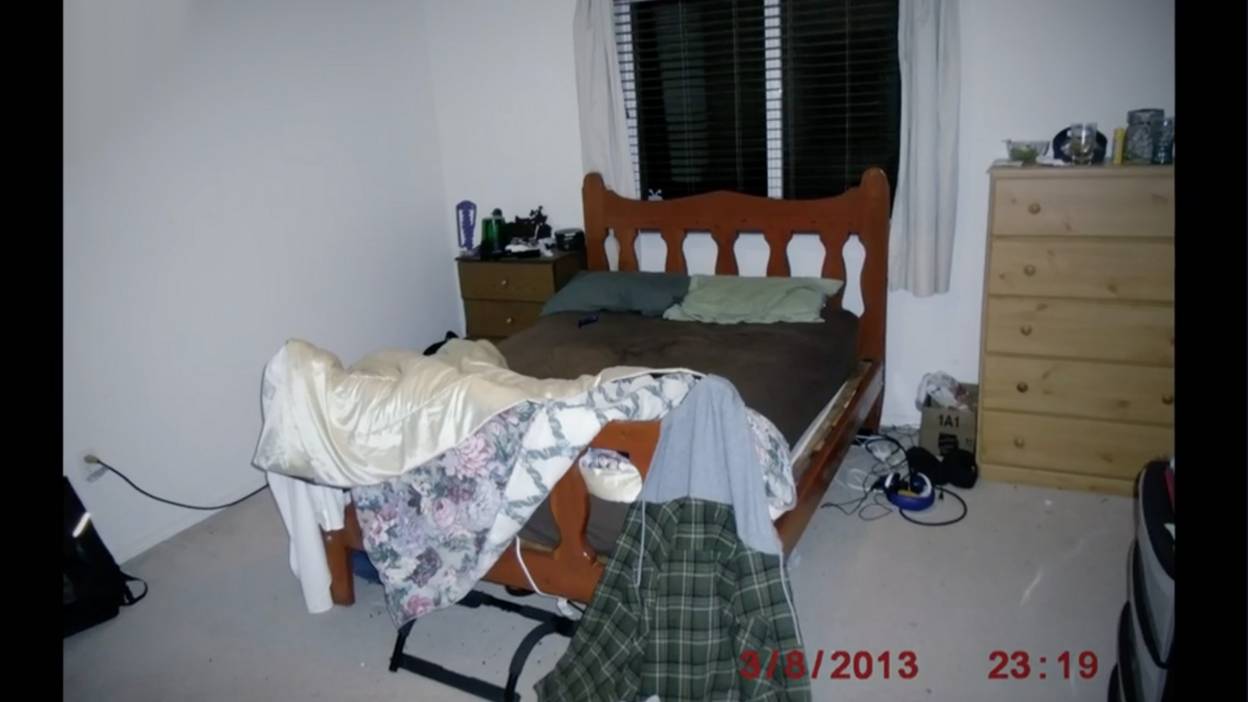 BBC Three
In the US, five parents on average are killed by their children every week. That's according to Professor Kathleen Heide of the University of South Florida. What seems abnormal – or at least more abnormal – about Nathon's case, is that there apparently weren't any warning signs. His parents and grandmother describe him in the film as having always been "a good kid".
Caiden, his best friend at school, tells a similar story.
"He was well liked by everyone in the school. Sports - he was on top. He had all the girls, that's for sure."
Certainly, there had been no diagnoses to suggest a problem beforehand.
I don't know what I was thinking

Nathon Brooks
Footage from a police interview on the night of the attack shows Nathon looking vulnerable and shocked.
"I don't know what I was thinking," he cries. "Kids don't just pull a gun on their parents."
To the interrogating officer's comment, "you're a good kid," Nathon replies, "Apparently not. I almost killed my parents." Nathon is informed by the officer interrogating that his parents haven't died.
He does at least seem clear at this point, however, about what the end goal was when he fired those shots.
When an officer asks him, "What were you trying to do when you pulled the trigger?", Nathon replies, "What a gun does… kill."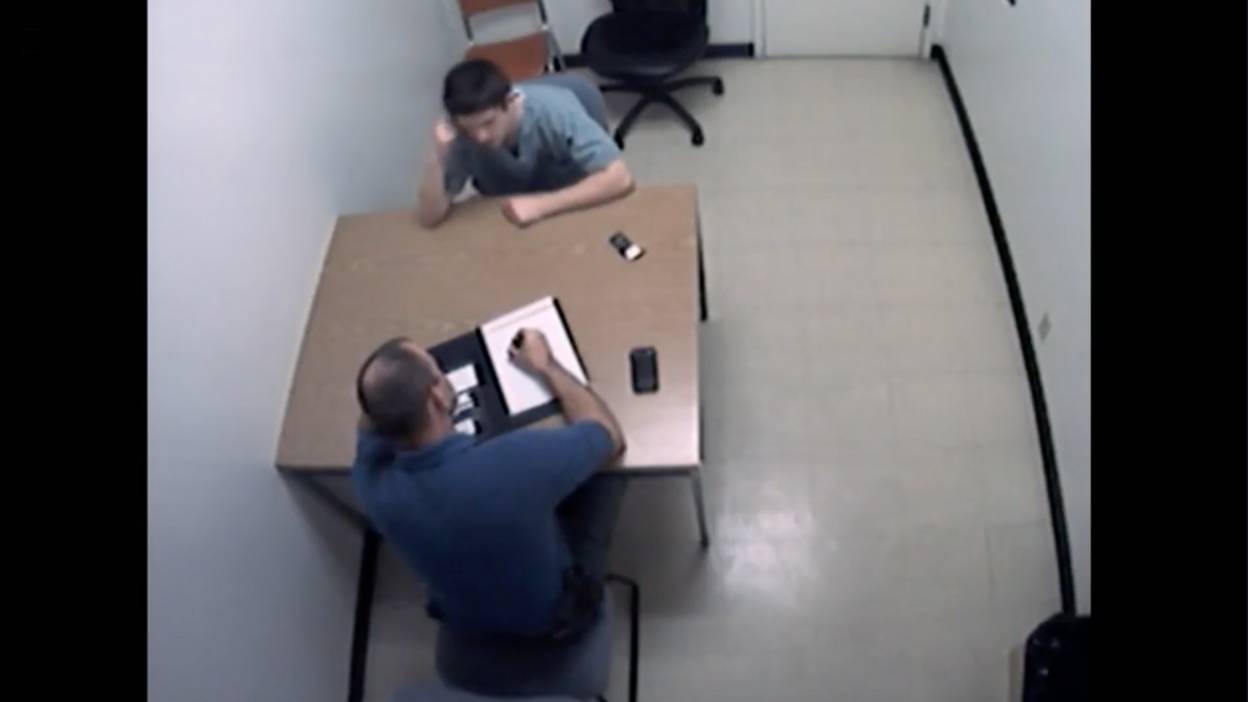 BBC Three
We now know that, on the day of the incident, Nathon had been made to do chores and had been grounded from all electronics by his parents for receiving a detention at school. Just a few hours before the attack, apparently, Nathon's father had told him "get some sleep. You've got a lot of work to do and you're not going to be playing in the game [an upcoming basketball tournament]".
Nathon says that that admonition from his father – that he couldn't play with the basketball team, "was like the click". Nathon's friend Caiden does mention that Nathon had spoken to him "multiple times" about his parents being strict, but he still didn't feel cause for alarm.
During Nathon's trial, Angus Lee, prosecuting attorney, argued that he should be tried as an adult. He was 14 at the time of the offence. Lee claims that, had Nathon been tried as a juvenile, then that would guarantee he would be released from incarceration aged 21. A juvenile court can order incarceration as a penalty, but methods used to confine juveniles can differ from adult courts. Lee felt there could be a question of public safety if Nathon were released at 21. The court decided he should stand trial as an adult for two counts of attempted murder. Lee claims that Nathon was looking at "a minimum of 40 years in prison – up to about 50 years".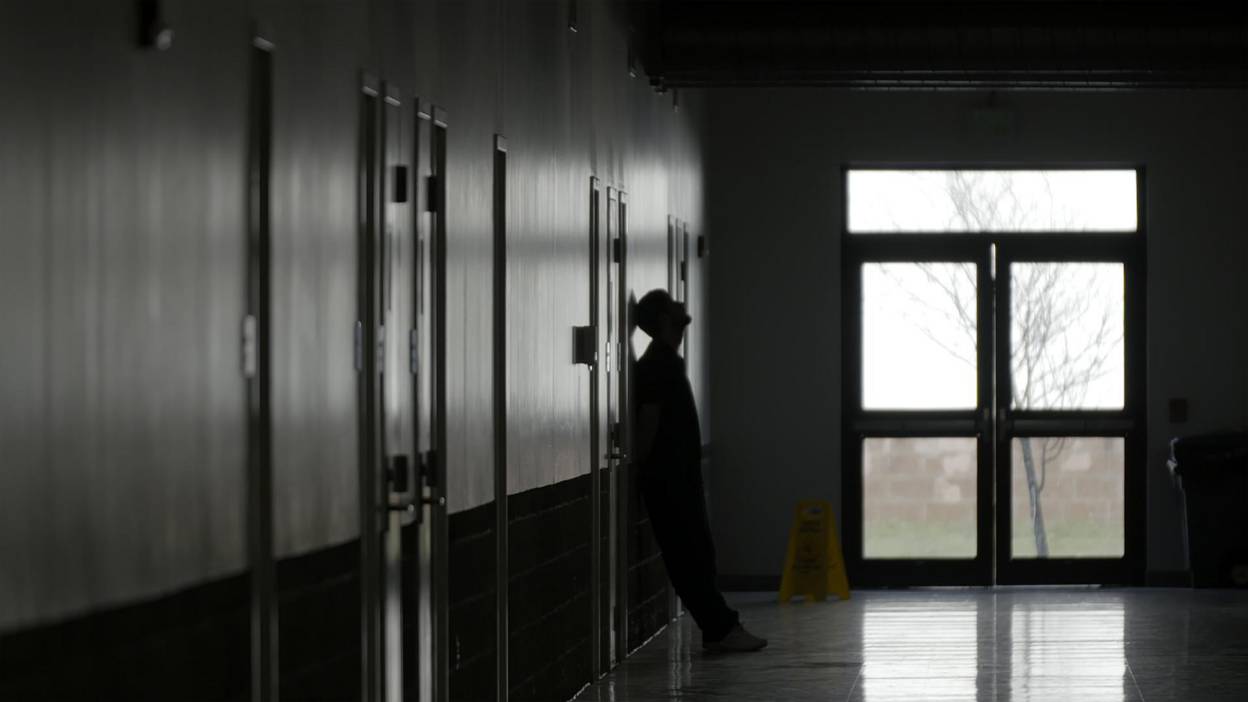 BBC Three
His father, Jon, describes the position he and his wife found themselves in.
"The prosecutor's office wouldn't talk to us because we were the parents of the accused. The defence attorneys wouldn't really talk to us because we're the victims. So we didn't really know what was going on… but we did feel that Nathon did need to be punished," he explains, adding, "Part of the realisation we've come to is that we couldn't provide the treatment that Nathon needed. The court could provide that." It's unclear whether Jon is talking here about the punitive benefits of detention, the therapy Nathon receives in prison, or both.
Nathon avoided trial by pleading guilty to a lesser charge of assault with a deadly weapon and, in February 2015, was sentenced to 15½ years in prison.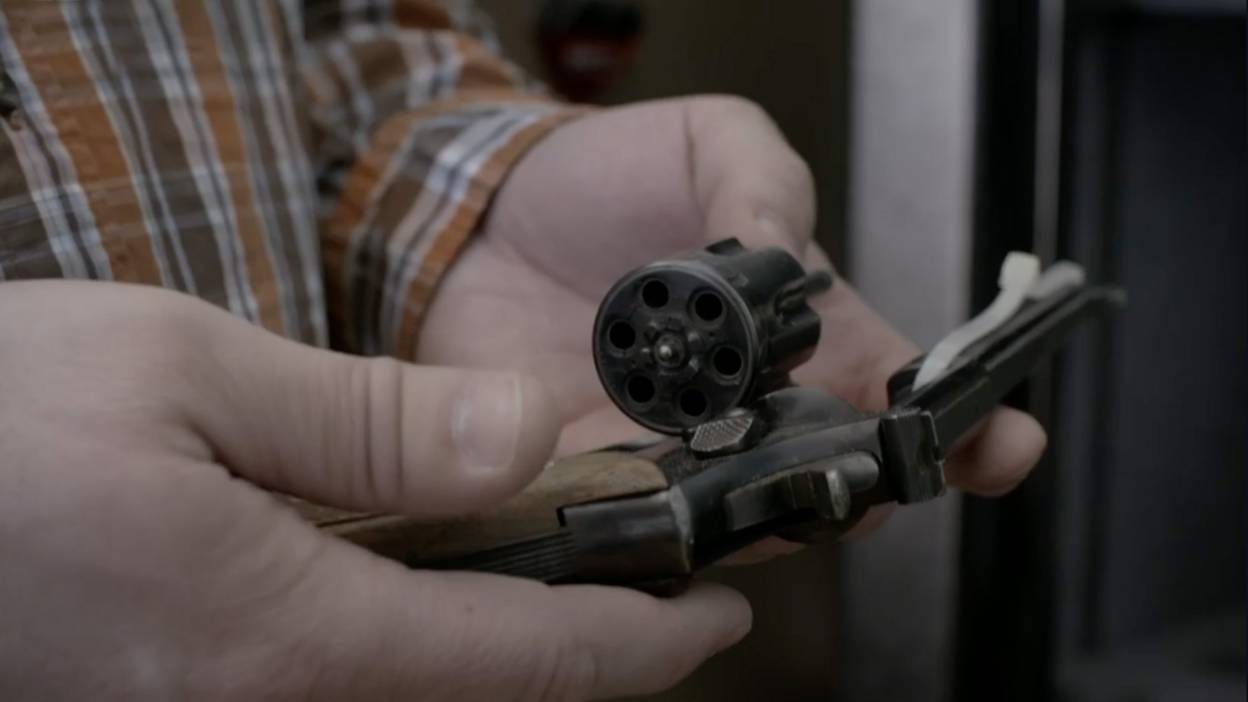 BBC Three
I'm glad that we didn't die - just so that Nathon never has to carry that

Beth, Nathon's mother
He and his parents still maintain contact and seem to have a fairly good relationship. When we see Jon and Beth visiting him in prison, they chat about fairly normal things – his mom doesn't approve of his new beard and wants to know if he's brushing his teeth regularly. Jon admits that he'll "probably never understand" exactly why Nathon chose to try to murder them both that night.
At the end of the documentary, as their visiting time comes to an end, Nathon's parents hug him and tell him that they love him. He replies in kind.
"I'm glad that we didn't die - just for Nathon," says Beth. "So that Nathon never has to carry that."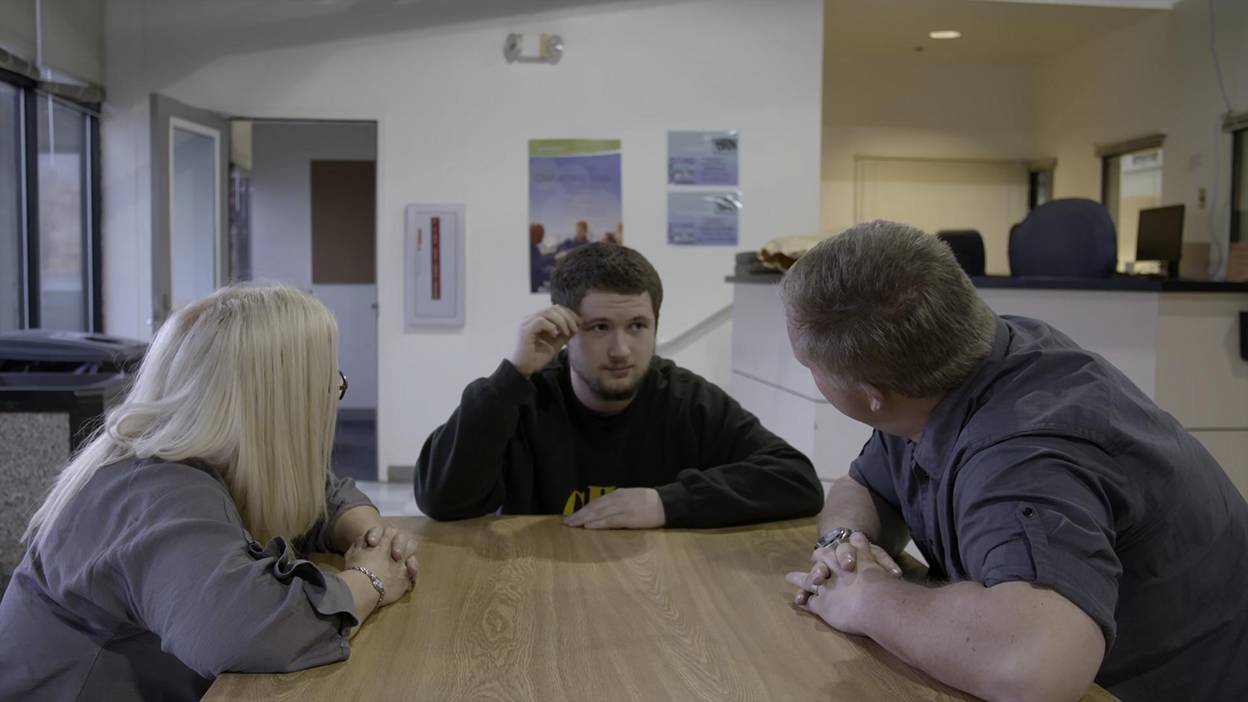 BBC Three
Nathon is still trying to understand what he did, with the help of his therapist, Shanna Shultz. Since being imprisoned, he has had a number of psychiatric assessments. Shultz explains that, after observing him for a few years, "we haven't noticed any personality disorders," and, "there's been no anti-social traits." She adds, in the film, that she hasn't witnessed anything in Nathon that would give anyone cause to believe he was psychotic.
His defence attorney adds his opinion in the film that there was no evidence of abuse at home.
He has had a number of diagnoses, but this is an ongoing process of investigation and not, in any way, a definitive explanation. Nathon's diagnosis on arrival to prison was Oppositional Defiance Disorder, ADHD, and possible Bipolar. These diagnoses were later revised, based on further assessments. His current diagnosis, explains Shultz, is Major Depressive Disorder. It is not clear whether there's a link between Major Depressive Disorder (otherwise known as clinical depression) and extreme violence.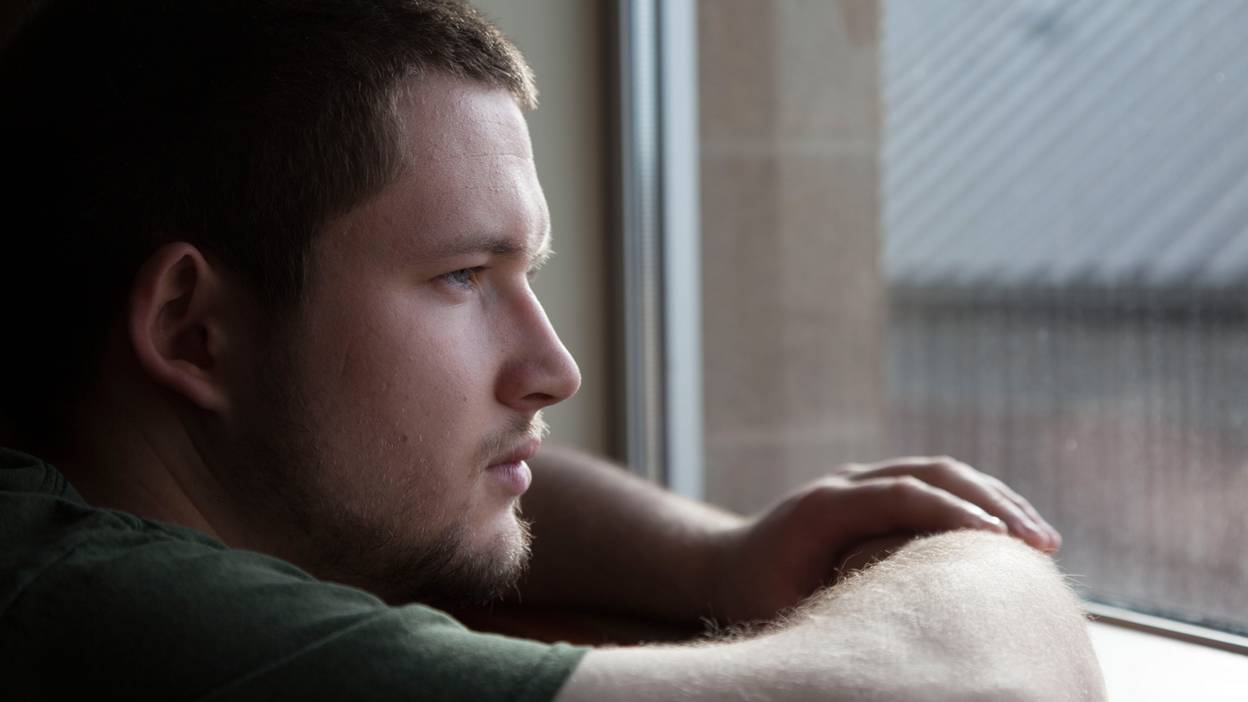 BBC Three
There is no definite evidence to link Nathon's diagnosis to his crime, but, for now, it seems therapy is helping him come to terms with what he did and why he did it.
"To sit there and think and not know why was terrible. And knowing that you caused so much pain… not having the answer was very, very difficult. I felt very guilty about it because how could I do such a thing and not even know why?" he tells us.
Nathon is due for release in 2028.
Originally published 13 April 2017.