N/A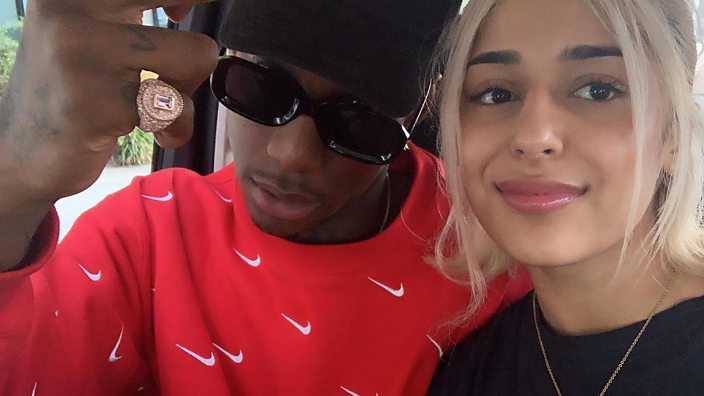 BBC Three/Hana
Music's Dirty Secrets: 'I was offered £20,000 to never speak on our relationship'
How safe is the music industry for women? A new BBC Three documentary investigates how the music industry deals with assault allegations and, in an exclusive, speaks to the ex-girlfriend of rapper Octavian.
Warning: This article includes details of assault and sexual assault
"[He] kicked me [and] threw me into the balcony door.
"My lip was burst and I had several bruises."
Octavian has worked with major international artists like Diplo, Skepta and Gorillaz – and his long-anticipated debut album, Alpha, was due to be released in November 2020.
Now, after sharing her allegations on social media, Hana appears in a new BBC Three documentary, Music's Dirty Secrets: Women Fight Back, that looks at how the music industry deals with allegations of abuse. Hana claims that attempts were made to silence her from speaking out.
She published the allegations on Instagram on 11th November, so that they would have maximum impact the day before Octavian's album release.
He was then dropped by his label, Black Butter Records, who say they "do not condone domestic abuse of any kind." Octavian has denied the allegations and says he has "not been violent or coercive towards Hana".
'He pushed me to the floor'
Hana met Octavian at a house party in 2017 after she'd moved to London from Edinburgh. The pair started a relationship but things then turned toxic. She fell pregnant in the summer of 2019, and alleges the abuse started straight after she had an abortion.
She came home from the procedure needing support, but instead, she says she was attacked.
"I just wanted to be held and feel like I hadn't just done something really, really horrible, and he kind of pushed me onto the floor, grabbed me by my face and threw me backwards," Hana says.
That's when she says he kicked her, threw her into a door and left her with bruises.
Hana reported the incident to the police and says she contacted Octavian to tell him she planned to reveal what had happened to her on social media.
But shortly after, she received a non-disclosure agreement (NDA) from his lawyer, which would prohibit her from revealing anything that had happened in their relationship.
Messages seen by BBC Three suggests that Octavian's management were involved in arranging the document. They deny it, and sources suggest Octavian's team believed his side of the story.
"They were offering me £20,000 to never speak on anything that's happened in our relationship," Hana says.
"Never tell any publications, never tell any family, never tell any friends, never say anything bad about Octavian or his career, or anything at all really. Delete all photos, all evidence, all videos. Just act as if I never existed."
Hana refused to sign the document.
'He said he'd changed – and I fell for it'
After the alleged attack, Hana and Octavian got back together. But she says the abuse continued, and in June 2020, a year after the abortion and the first incident, she hired a lawyer to send Octavian a letter asking for damages. A copy of the letter was sent to Black Butter boss, Henry Village.
The letter detailed the alleged abuse, and said she had videos and photos of her injuries.
Octavian contacted Hana. He said he was in therapy and dealing with his anger, and Hana ended up withdrawing the legal letter.
"He was so gentle, so sincere, so compassionate. I don't know how he could act this way, it felt so real, how he'd changed. And I fell for it," she says. She hoped that he had really changed, but a month later, in July 2020, she left the relationship for good.
It seems word spread to Octavian's publicity team that she had video and photo evidence of abuse, and by September, they had quit.
Still feeling unsupported and frustrated, Hana posted the videos to her Instagram account on 11 November. Octavian was dropped by his label the next day.
He told the BBC: "I wholly deny Hana's allegations, which are only one – grossly distorted – side of a troubled relationship. Much of what she has said, and has been reported, has been manipulated or is simply untrue. I will not go on trial by media, but I will repeat that I have not been violent or coercive towards Hana, and I am not a misogynist."
Both Hana and Octavian have given statements to the police and an investigation is ongoing.
'My work dwindled' after being raped
Hana is not alone, unfortunately, in making allegations of abuse. Several women have told the BBC the music industry is rife with sexual assault.
Dozens of women contacted BBC Three saying they had been assaulted by men across the industry – from artists, managers, engineers, to producers and senior executives.
In the documentary, we also hear from Kristen Knight, a Miami-based DJ who alleged last year that she had been raped by the DJ and musician Erick Morillo.
"When I got to his house it was like Dr Jekyll and Mr Hyde. He immediately started coming on to me and I told him, 'I'm not comfortable', and it eventually got to the point where I was so uncomfortable that I left," she says.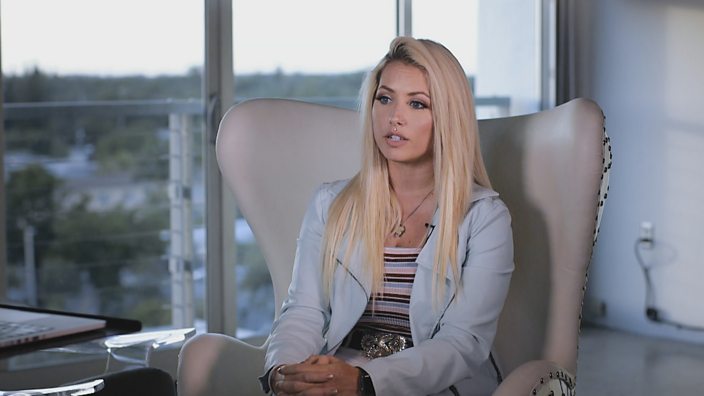 She says Morillo, most known for his 'I Like to Move It' track, apologised and convinced her to come back to the house which she did, partly out of fear of messing up a relationship with a famous, well-regarded artist.
Kristen says she started to feel drowsy and fell asleep. "When I woke up, I woke up in a panic, and then I realised I was naked. At some point then is when I had the flashbacks of Erick raping me."
Horrified, Kristen went straight to the police. Morillo was charged and it became an international news story – but before he could face the charges, he was found dead in his home after a ketamine overdose . He'd been due to appear in court just three days after his death.
Despite the charges, Kristen says she didn't feel supported by the industry at all. Her name was leaked as the accuser, and she says this affected her work.
"My bookings immediately started dwindling," she says. "I actually decided to take an indefinite hiatus from DJ[ing] because of it."
After his death, among the tributes that were posted online were darker revelations. More women came forward, alleging Morillo had a long history of sexual assault.
'There are no consequences'
A 2019 survey by the Musicians Union found that almost nine out of ten people who said they'd experienced sexual assault in the music business didn't report it.
Hana and Kristen have made their allegations publicly, but there are many more who fear speaking out. The risk of losing work or having their allegations brushed off – or worse, being legally compelled to keep quiet – is real.
The other stories heard by BBC Three follow this pattern. One woman claims she was threatened with the sack when she didn't respond to explicit messages sent by the owner of the company she worked at. Eventually, she quit, after she began losing important tasks at work.
Women's rights lawyer Gloria Allred, who is representing victims of R Kelly, Harvey Weinstein and Jeffrey Epstein, says the power dynamic between men and women in the industry means predatory behaviour will continue.
"There is so much fear that victims have of consequences to them if they speak out. And as long as a victim does nothing, nothing will change," she says. "When a celebrity is able to continue to prey on women with no consequences they are being reinforced in their belief that they can continue to do it."
If you have been affected by the issues raised in this article, help and advice can be found here.
Music's Dirty Secrets: Women Fight Back is available on iPlayer now.