N/A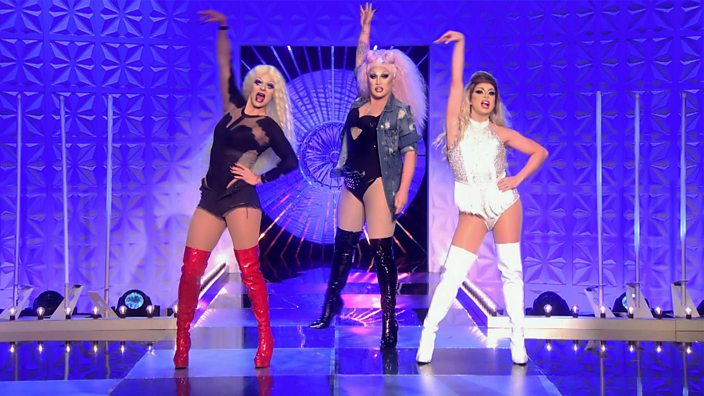 BBC Three/World of Wonder
RuPaul's Drag Race UK: Queens form girl groups in latest challenge
Who won this week's RuPeter badge? Which queens can really sing? And find out who we think delivered the read of the week (and who was on the receiving end)
*WARNING: This article contains spoilers for episode five of RuPaul's Drag Race UK*
Destiny's Child. The Spice Girls. Little Mix.
Girl groups are one of the cornerstones of the modern music industry. I mean, without them we wouldn't have the classic 1998 tune C'est la Vie by B*Witched. And quite frankly, a world without C'est la Vie by B*Witched is not a world I want any part of.
Now the girls of RuPaul's Drag Race UK are hoping for their own pop superstardom after singing their way through episode five, Girl Group Battle. They've even released their own singles. Here are all the most sickening moments and the best gag-worthy fan reactions from the latest episode.
The Werk Room got especially shady this week as the queens were asked to critique each other in the iconic reading mini challenge. And it was Crystal who proved herself to be the shadiest of them all - and she even won the chance to pick her team members for this week's main event. Who knew Crystal could be so mean?!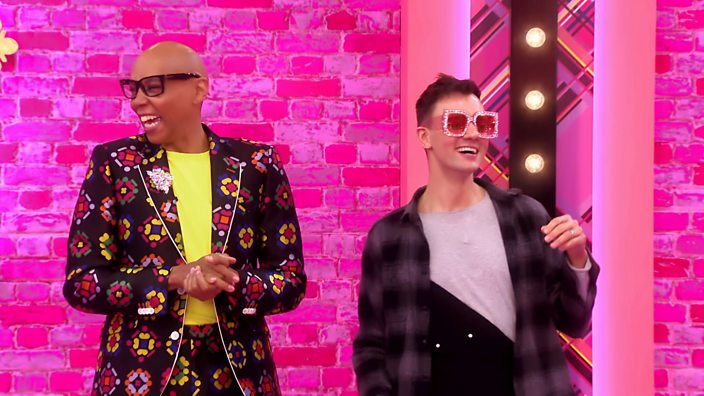 It was all about the voice as the queens formed sickening girl groups. Crystal, The Vivienne and Cheryl Hole called their group Filth Harmony. And Baga Chipz, Divina De Campo and Blu Hydrangea opted for Frock Destroyers as their group name (a reference to an uber-famous internet meme about two adult performers).
The queens, after writing their own lyrics and putting together some dazzling choreography, then recorded their tracks with singer-songwriter MNEK, who's worked with stars including Beyoncé and Madonna.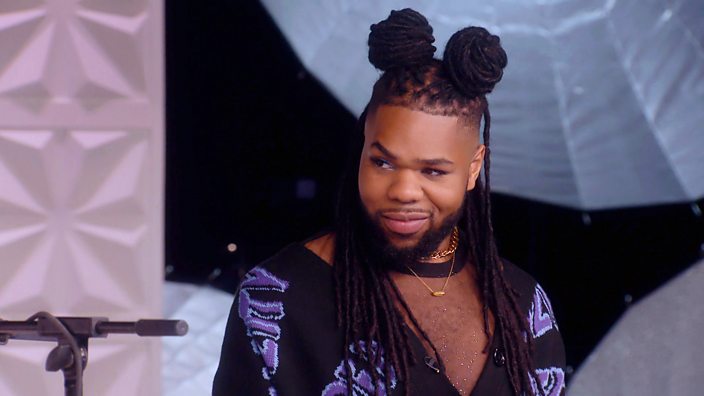 Back in the Werk Room, the topic turned to school bullying and the impact of Section 28 - a 1988 law brought in by a Conservative government that stopped councils and schools "promoting the teaching of the acceptability of homosexuality as a pretended family relationship." 
"School was hard," an emotional Divina explained. "I got a lot of flak from pretty much everybody in the school. Growing up for everybody was hard. But then you add on being gay and it was just a whole other level, particularly for the time that I grew up in.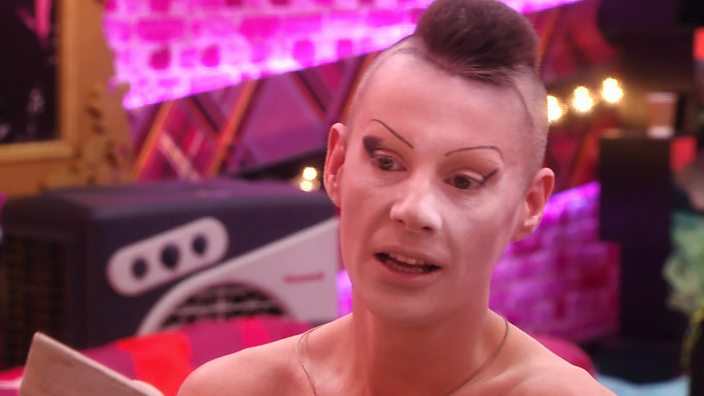 "Kids in the playground pushing and shoving... Throwing their drinks on you. Because of Section 28 it meant that a lot of teachers felt like they couldn't step in."
4. The Vivienne in the bottom two! *screams*
Little Mix's Jade Thirlwall was on the judges' panel this week - and Baga, Blu and Divina really shone through as they performed the original track Break Up (Bye Bye). Good werk girls!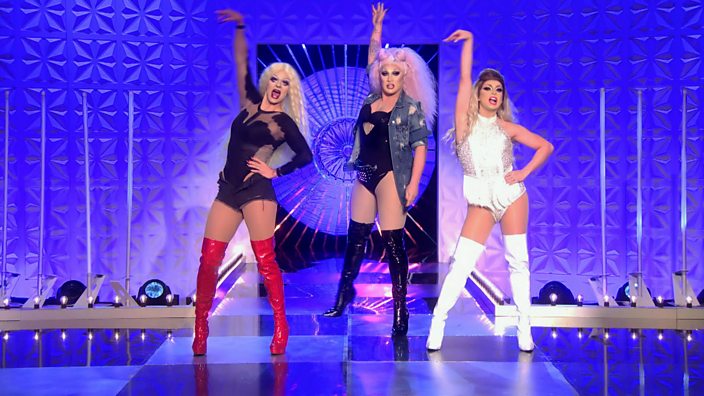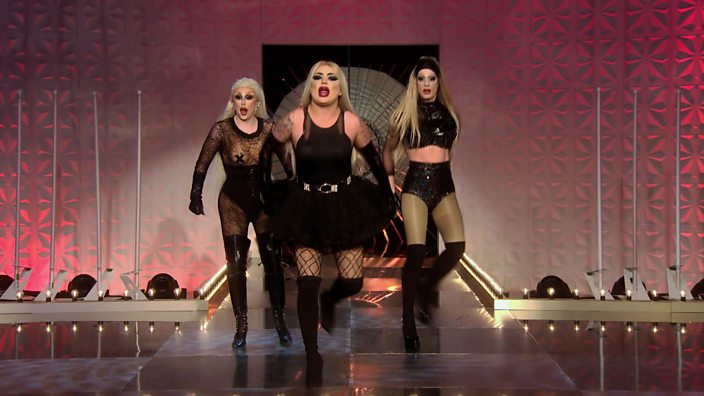 And on the runway, all three of the girls turned out stellar looks on the theme "day at the races". In fact, Ru was so impressed with the team that he announced a three-way tie and they were all given RuPeter badges. "Supplies are running out girls," Ru joked. "Collect them while you can."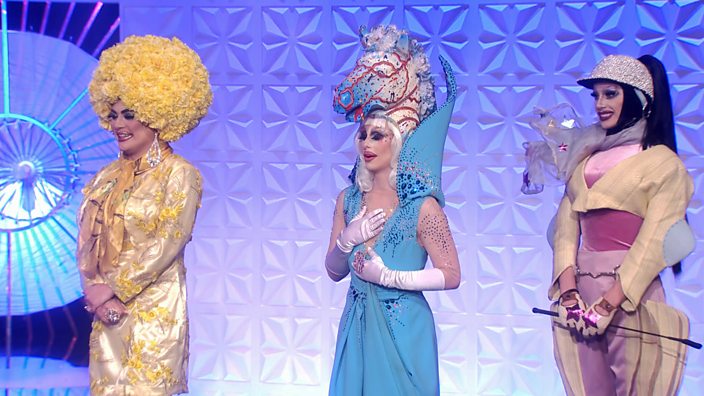 After an amazing lip sync to Little Mix's Power - between The Vivienne and Crystal - it was our favourite hairy, Canadian queen who was asked to sashay away. You did yourself proud Crystal!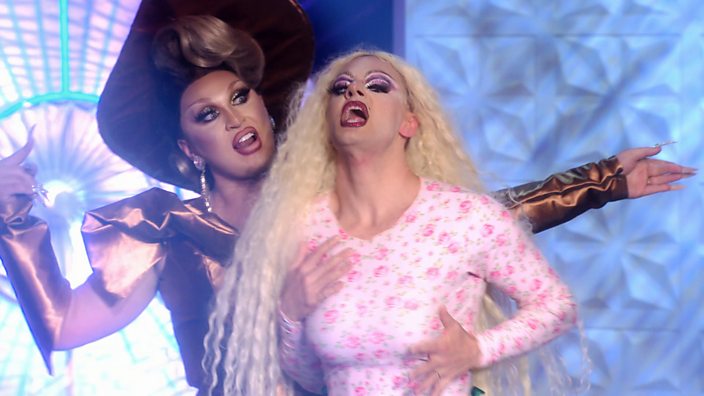 Crystal, referencing an iconic line from the Queen of Pop, when reading Blu Hydrangea:
"Blu… in the immortal words of Madonna, 'I loathe Hydrangeas.'"
The Sashay Away Interview
Crystal, 34, originally from Canada, speaks to BBC Three about her time on Drag Race UK.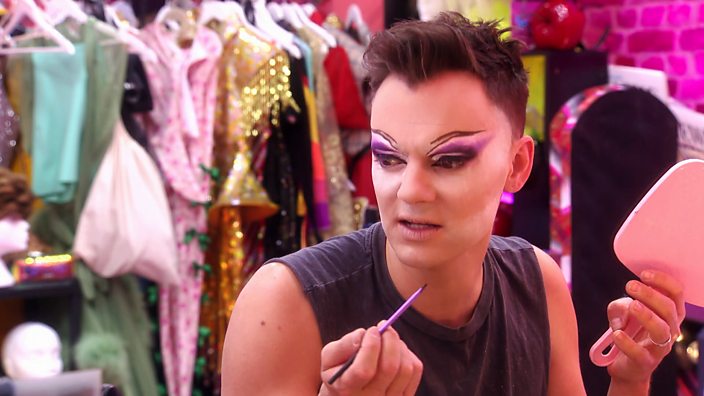 You really stood out from the pack! Was it important for you to represent east London and an alternative style of drag?
"I had no idea I was going to be the alternative queen! In my head the queens I work with in east London are all much more out there than me - so the idea that I've become the figurehead for alternative drag is kind of funny. But I'm really happy with how I presented myself. I think I got my point across."
You really embraced being the hairy queen - why was it important for you to show that queens can show off their body hair?
"Before the show started, I wondered if it was going to be an issue. I debated shaving but I ended up deciding this is how I generally do drag in the world so I'll bring it onto the show and see what reaction it gets. I was worried it would get a negative reaction and that someone like Michelle might ask me to shave.
"But I think it was quite positively received all in all, which is cool. Because, for me, drag isn't about female impersonation and I'm not trying to convince anyone when I do drag that I am a woman. I'm trying to highlight the boundaries that we place on gender as a society and how it's all quite silly."
Is diversity in drag something you're passionate about?
"Yes, absolutely. Hopefully next season we'll see trans or AFAB (assigned female at birth) queens. Or even hairier queens as well. I know so many women who work as drag queens who are so talented but we haven't seen that on the show yet. I would love to see more of that."
In this latest episode you said you felt like "an outcast" at school. How did that experience affect you growing up?
"I was totally ostracised as a teenager and I totally lost my way. It really impacted me growing up. Those kinds of experiences in your formative years really shape who you are. Society in general really punishes difference and otherness - and queer kids feel the brunt of that."
And don't forget to listen to the official Drag Race UK podcast hosted by Scarlett Moffatt and Baby Lame. This week's special guest will be comedian Catherine Bohart.
If you or someone you know is struggling with issues raised by this story, find support through the BBC Action Line.