N/A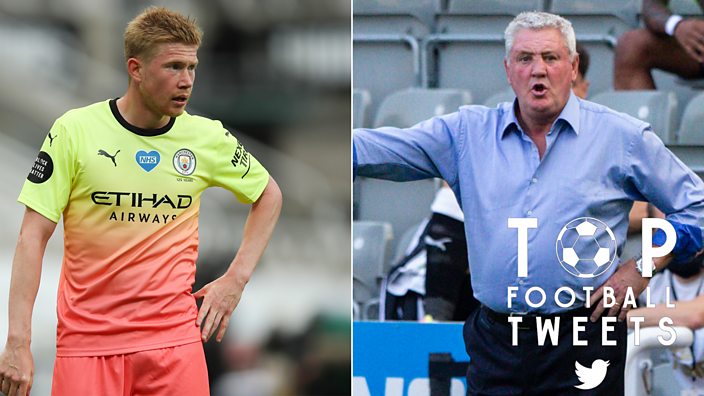 Gettyimages
Steve Bruce taps up Kevin de Bruyne
Plus Kieran Tierney carries his kit in a shopping bag, Liverpool continue to celebrate and Joe Exotic pops up in the Championship
Unless you are a Liverpool fan, you may have wanted to avoid Twitter this week.
Manchester City handed the title to Liverpool early after losing to Chelsea on Thursday and we're not sure that anyone in Merseyside of a red persuasion has been to bed yet. 
Aside from that though, there was still plenty to play for in the Premier League, plus the FA Cup quarter-finals.
As the news was confirmed that the Premier League title was on its way down the M62, these were the scenes from the team's hotel.
And it looks like one man is still celebrating...
Hold on James – you've got to be fit for that clash with Manchester City on Thursday.
2. The ultimate redemption
The collective sigh of relief coming out of Merseyside, as Liverpool finally managed to reach the title after so many disappointments, could probably have been heard in Yorkshire.
Of all the reds fans though, perhaps none was more relieved than this young man who, for so many years, was the go-to meme every time Liverpool slipped up.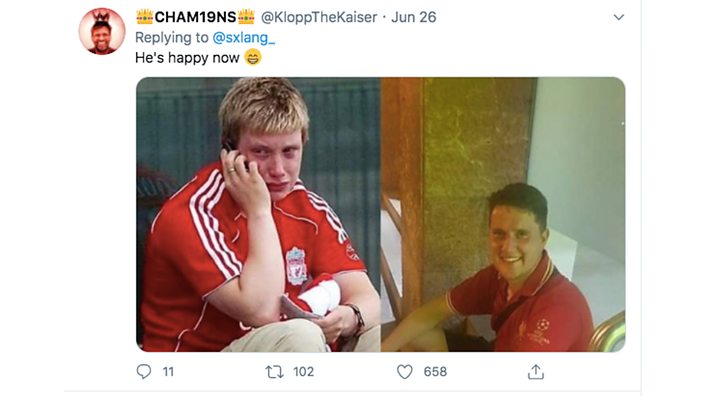 At least it was an opportunity for Steve Bruce to eye up some talent ahead of the transfer window.
The game wasn't a complete disaster for Newcastle. There was, at least, this moment, which we're sure will live on in the memory of the Toon faithful for years to come.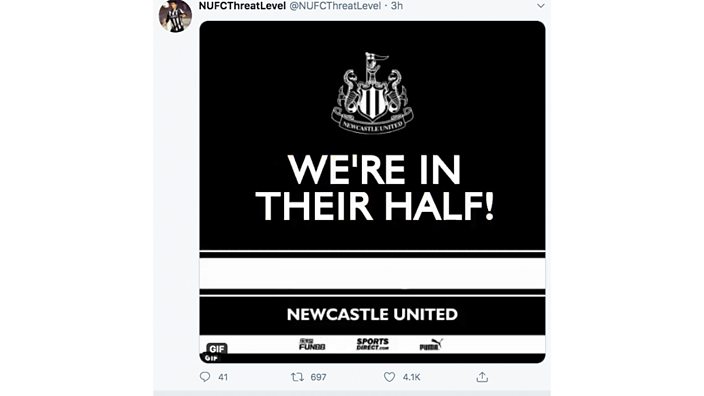 5. One for the shopping bag fans
Arsenal were also in action in the FA Cup this weekend against Sheffield United.
Elite footballers sometimes get criticised for being out of touch with reality. Scottish left-back Kieran Tierney is here to dispel that myth, seen at Wembley with his kit in a shopping bag.
We sincerely hope he's wearing odd shin-pads and had to borrow some shorts – just to complete the five-a-side vibe.
The lads have been swotting up.
Over in the States, the National Women's Soccer League returned and there were big statements made about racial injustice.
Chicago Red Star and Washington Spirit players took a knee during the National Anthem.
Chicago players Julie Ertz and Casey Short shared a tearful embrace.
8. Surely he's a Hull City fan
Leeds moved one step closer to Premier League promotion with a 3-0 win over Fulham on Saturday and there was a famous face there to watch them do it. 
This is obviously just a bit of fun, but the pedant in us can't help but suggest that should Mr Exotic choose a big Yorkshire club to follow, surely Hull City Tigers would be a more natural fit? Just saying. 
9. Harry Maguire and all his mates
The Manchester United centre-back finally ended Norwich City's FA Cup hopes with an extra-time winner. 
We're sure the Stretford End faithful would have loved that, Harry – even if they couldn't be there in person.
10. Well, you've piqued our interest Gerard 
Has Gerard Pique had some kind of epiphany here?
Is he relaying some coded communication to us? 
What does it all…*googles*…oh, they're the lyrics to an MGMT song. One for the heads. 
11. Just when you thought he was Gron for good 
The 36-year-old Dutchman announced his retirement in May 2019. He must have got bored of looking for a new hobby, because he's just signed a one-year contract with the club with whom he made his senior debut at 16 years old, before transferring to PSV Eindhoven, Chelsea, Real Madrid and Bayern Munich. 
Perhaps the most incredible detail about this story is that the club reportedly used clips of The Last Dance in their successful pitch to bring him home.