N/A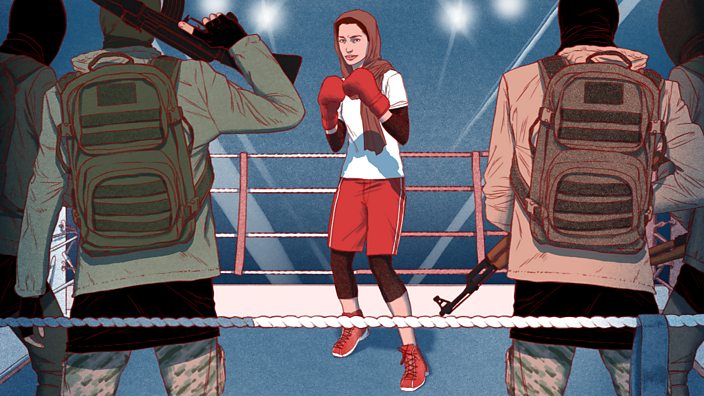 Sarah Maxwell - Folio Art
The girl who escaped Islamic State group and is fighting back with boxing
'It's difficult to stand in front of someone who's holding weapons, but I'm sure it would make a difference if we knew how to fight back'
This article contains adult themes.
Seventeen-year-old Hussna has always loved sport. Growing up, boxing was her favourite, and she idolised former heavyweight champion Wladimir Klitschko.
Life was simple in her small village in Sinjar, Iraq, 80 miles west of Mosul. She was studying in secondary school with hopes to one day become a doctor, but her dreams came to a halt one morning four years ago.
It was 7am when they arrived, armed with guns and explosives, wreaking havoc on the streets of her village. So-called Islamic State had begun their massacre.
It was just one of the numerous attacks that almost completely destroyed the north-western Sinjar region of Iraq in 2014. The local Yazidi population was specifically targeted by IS militants because of their religious beliefs - a 2016 report by the UN said that IS regarded Yazidis as devil-worshippers who were killed or enslaved with impunity. It was an attempt to erase their way of life.
Thousands of families were destroyed in the genocide. Men were executed, while women and girls as young as seven were abducted and used as sex-slaves, repeatedly raped and tortured by IS members.
Hussna was one of the girls that got caught up in these events, and she shared her story with us.
"We spent very horrible nights and days hearing sounds of shooting and bombs, but still not believing that Isis would attack and kill us," she recalls.
"There was talk that Isis would not do anything to hurt the Yazidi people, but we did not believe them. When they began to enter our village, my family decided to run away.
"We were very fortunate that we had a small car by which we could get away, but we saw many Yazidi people being killed and shot on the streets.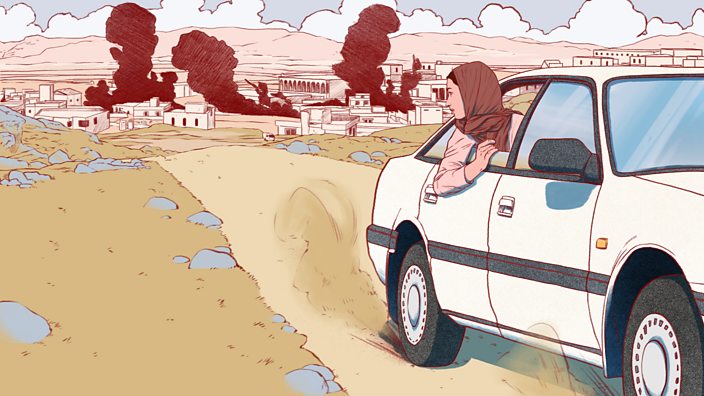 "No one knew what was happening or where they were going - the only thing we knew is that we needed to run away. We didn't know what this brutal group was doing and why they were killing innocent children, women and men.
"Everyone was running on their feet on the streets while Isis gangs were shooting. It was like a nightmare happening in reality."
Hussna and her family eventually managed to flee to the mountain ranges where thousands of other Yazidis were trapped, suffering from thirst and hunger for days.
"We stayed on the mountains for four days and nights without eating or drinking, except for a few drops of water and one piece of bread every day that we had with us and were sharing to survive."
Hussna eventually managed to escape the mountains and now lives in Qadia, an area of the Rwanga camp in Iraqi Kurdistan that shelters approximately 15,000 Yazidis, but she can never call it her home.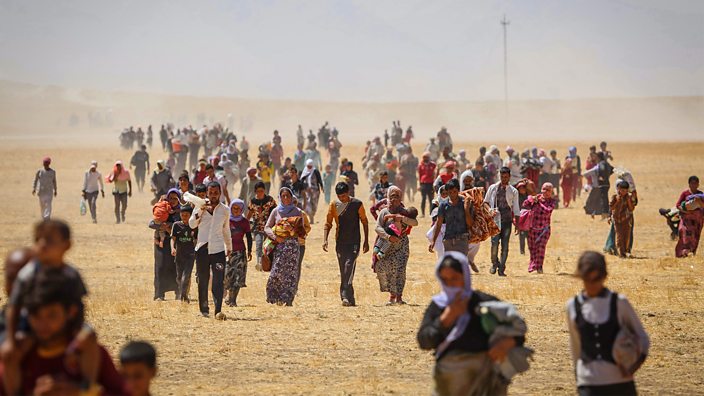 The aim of the Rwanga refugee camp is to provide a safe and supportive healing environment for those who survived the invasion of IS in 2014. Within the camp is the Lotus Flower Women's Centre, which runs 'Boxing Sisters', a programme that aims to combat trauma through boxing.
Hussna had always dreamed of participating in the sport, but opportunities were scarce in her village, and it was only after her escape through the mountains that an avenue to boxing presented itself.
"When Isis attacked us, this desire to learn boxing increased," she says. "I wanted to learn how to fight back."
"I know how it's difficult to stand in front of someone holding weapons, but I'm sure it would make a difference if we knew how to fight back when they attacked us."
Hussna now wraps her hands and puts on the gloves for an hour each day, hoping to release onto the punch-bags and boxing pads the trauma she still experiences.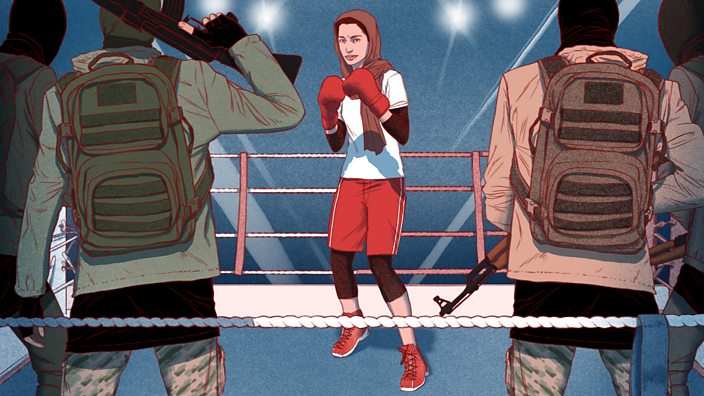 "We need to know how to fight back because this wasn't the first attack on Yazidi people and I'm sure it won't be the last," Hussna adds. "Women need to overcome their fear and shame."
'Boxing saved my mental health and empowered me'
Hussna's life may not ever be the same as it once was, but she has managed to find some solace alongside the other girls and women in her gym.
"Through this course, we are becoming like a small family and very close friends. It gives us the support and the safe space we really need to overcome our depression after the atrocities we suffered, especially losing many beloved friends and relatives."
One of the people helping the Yazidi women do this is Cathy Brown, who works with the Boxing Sisters programme.
As a former boxer herself, Cathy won the WBF European flyweight and the English bantamweight titles in her heyday, but now focuses on training women through 'boxology', a blend of combat techniques with cognitive behavioural therapy.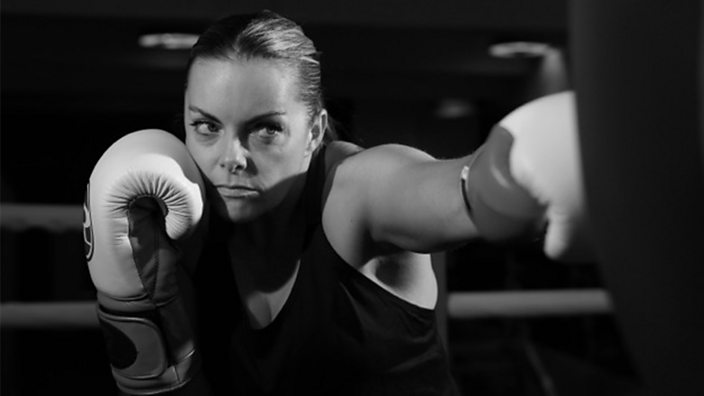 Her passion for boxing isn't the only thing that likens Cathy to the Yazidi girls though; she too suffered abuse when she was a teenager.
"I resonated so deeply with the trauma they must be going through and the long-term detrimental effects it has on confidence and self-esteem, as I was abused and raped at 16 years old," Cathy says.
"Boxing saved my mental health and hugely empowered me, not just to be able to learn a coping mechanism to deal with what happened, but it gave me a sense of belonging and self-worth, which is vital to develop inner strength.
"I have always said that people who have been through hardships in life make the best boxers, as they have more of an inner drive. A grit and determination."
Cathy's role is to teach the trainers, but she's excited to soon be travelling to Iraq to work directly with Yazidi women and girls.
"I know 100% that these women and children will feel stronger and empowered during and after boxing - not just physically but mentally," she says.
"The women will feel these benefits and the amazing effects of punching pads to release any anger and stress and how cathartic it is, and I think it's even more appealing as they will feel as though they are fighting back.
"I am hoping that my experience of abuse, the understanding of the positive effects of boxing on mental health, and knowledge of psychology grouped together, will have a powerful, promising effect on all of these women and children."
Taban Shoresh set up a non-profit, The Lotus Flower, in 2016, and Boxing Sisters launched in 2018. Taban understands better than most the trauma that the Yazidis faced when IS attacked Sinjar.
When she was just four years old in Iraqi Kurdistan, Saddam Hussein's military forces imprisoned Taban and her family for two weeks along with numerous other Kurds, and she recalls how they narrowly escaped being buried alive.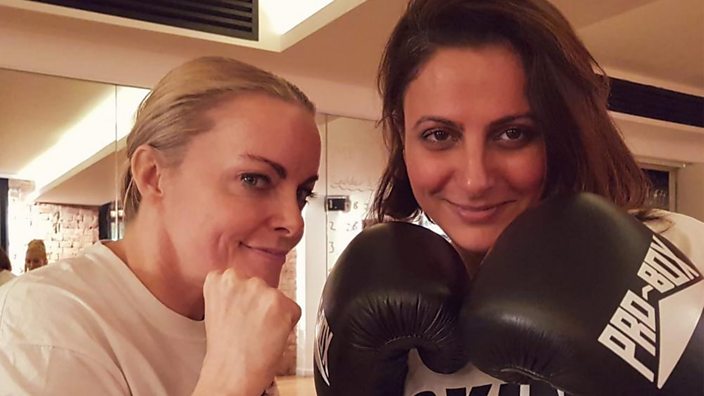 She and her family managed to flee the country in 1988 to make a new life in London, but she makes regular trips back to Kurdistan to offer aid through grassroots charities and projects she has set up.
"Our fundamental belief is that women and girls are powerful drivers of change," Taban tells us. "We strive for a world where they are safe, free to access education, and are empowered to participate in their communities to drive social and economic change from within."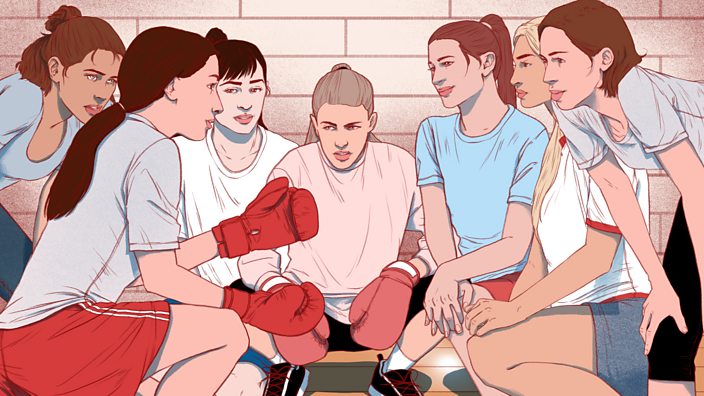 Taban has noticed the changes in the Yazidi community first-hand since starting the project, and she's seen women and girls begin to rebuild their lives through the belief that sport can be a vehicle for change.
"We've seen remarkable differences in some of the women and girls. Some had never stepped out of their cabins and were disengaged from their family and the community, but since starting with the project, not only have they engaged with other women and girls, but they've also gone back to school and made friends."
As for Hussna, she still has hopes to become a doctor one day, but now she also wants to become a boxing coach so that she can teach other girls to develop their strength and confidence.
"We are breaking the traditional norms that say women are only for baking and washing in the house. We need to be stronger and be confident. It's through boxing that this will be achieved."
This article was originally published on 15 January 2019.