N/A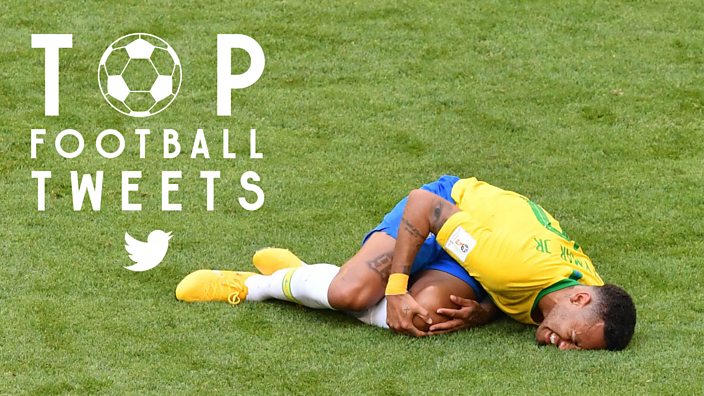 Getty Images
Neymar has apparently spent 14 MINUTES on the ground during the World Cup (so far)
He's officially grounded. Sorry.
Well, that's it. We are now down to eight teams and we're onto the quarter-finals. Whether your team made the cut or not, you can feel reassured that the last week has - at the very least - delivered some magnificent tweets. Whether it was Neymar confirming himself as this tournament's villain, or the Three Lions making history for 'not doing an England' when it came to penalties, here's the best of the bunch...
1) Stat of the week alert
Neymar. Because every World Cup needs a pantomime villain.
We should be used to it by now, but Neymar's theatrics against Mexico might have achieved the impossible: disliking Brazil at the World Cup.
Sweden have progressed without their big man and, honestly, it's very funny.
Perhaps - after their respective World Cup rollercoasters - it was appropriate that Ronaldo and Messi would be knocked out of the tournament on the very same day.
Kylian Mbappe, meanwhile, was making us all question if we were making the best of our time when we were 19.
5) The universal appeal of penalties
As Russia took the mighty Spain to spot-kicks, even the fairweather football (soccer) fans were out in force, and it was very charming.
That distracted us for a moment and then, when we recovered, Belgium were suddenly 3-2 up.
7) Meanwhile, in Washington DC...
Wayne Rooney has apparently signed a three-year deal to be the BBC's new North America correspondent.
8) The 2018 World Cup: A love affair
The best World Cup since [insert the World Cup you remember from your childhood]? Just maybe.
9) Football-related homecomingness update
Not quite, Cesc, but thanks anyway
10) And finally...any means necessary
When football comes home...and everyone has to watch through your window to see it. Marvellous.