N/A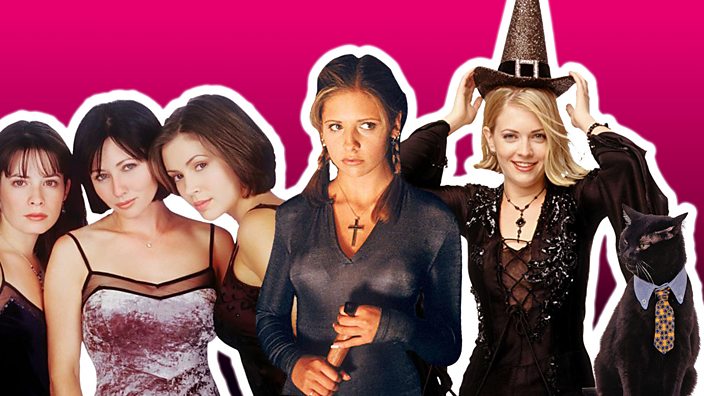 IMDB/BBC Three
All the '90s TV reboots we're deliriously excited for
But can we have more Salem the cat, please?
Remember that massive trend for all things weird and witchy that infected everyone's brains (and TVs) in the '90s?
Well, brace yourselves - it's making a comeback.
That's right. Some of our absolute favourite TV shows from the unique genre of 'slightly unsettling shows we loved as kids' are getting remade, and we honestly cannot wait.
Having said that, reboots are tricky. Get it right and you end up with something like Queer Eye (which has more than distinguished itself from the original early noughties show).
So fingers crossed these rebooted versions live up to their predecessors.
Without further ado, here are the shows we're most looking forward to binge-watching.
Sabrina the Teenage Witch
To this day we're disappointed we can't just point our finger at something and get whatever we want.
Although things didn't always go the way she planned, Sabrina had the best life ever. She had a cute boyfriend, she got to live with her pretty chilled aunts, and - best of all - she had a sassy black cat called Salem, whose sarcasm has provided us with a huge amount of meme material.
So you may be pleased to hear that the show's getting a second life, under the title Chilling Adventures of Sabrina.
Although, judging from the promo pictures, it's going to be quite... different.
According to Netflix, the new Sabrina (who will be played by Kiernan Shipka - aka Sally Draper from Mad Men) will be "a dark coming-of-age story that traffics in horror, the occult and, of course, witchcraft" - unlike the lighthearted teen comedy we remember from our youth. 
Here's hoping it'll still feature an acerbic talking cat.
The long-awaited Charmed reboot is finally coming out in October, and we're counting down the days.
The remake is going to be led by a mainly Latinx (Latino and Latina) cast, and its creators promise that it'll be going in a "different direction" to the original.
Yet the Charmed revival - which is being produced by the CW network in the US - is not without its controversies. The idea of the reboot started as far back as 2013. And, over the years - while they wish the new project well - some stars from the original show have criticised how the reboot has been produced and promoted. 
Fans of the original have also voiced their concerns with Sarah Jeffery (who will star in the reboot) feeling it necessary to respond to criticism.
CW boss Mark Pedowitz recently responded to all the drama, urging fans and the original cast to "give the show a shot". And the OG Charmed witches seem to be softening their positions of late, too - for instance, in May, McGowan tweeted that "I wish everyone the best. I have zero reboot issues. Fly, girls, fly."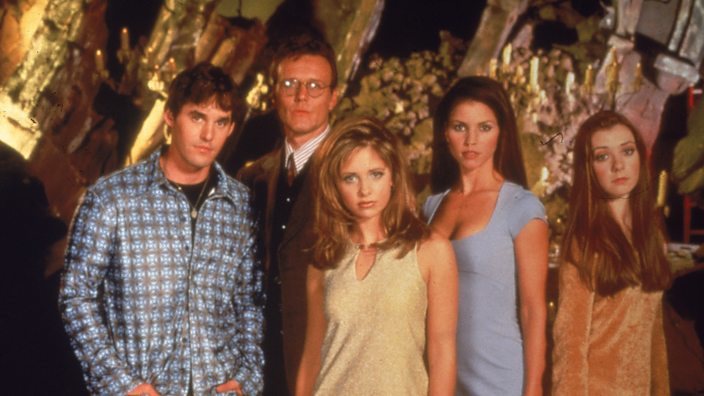 In case you didn't watch it, Buffy was an absolute badass who mercilessly killed monsters and demons, all while navigating regular teen issues like high school dramas, and relationships.
Plus, although it wasn't exactly the most diverse, it was one of the first shows to feature a lesbian love story, when [DISCLAIMER: SPOILER ALERT] Willow and Tara fell for each other and found acceptance among their peers.
The sequel doesn't have a release date, a cast, or even a script yet, but the hype is definitely building. Monica Owusu-Breen, who has previously worked on Marvel's Agents of S.H.I.E.L.D and Alias, has already been hired to write it.
The late nineties/early noughties alien show is getting remade - and it's going to be much more political. Instead of being set in a high school, like the original, the reboot - titled Roswell, New Mexico - is going to follow the love story between Liz, the Mexican-American daughter of undocumented migrants, and Max, a police officer (and secret alien).
The trailer mostly focuses on their relationship, but its creator, Carina Adly MacKenzie, apparently commented that the storyline was inspired by the election of US president Donald Trump.
Obviously, we can't wait - but sadly we'll have to. The show isn't premiering until 2019.
Okay, granted it wasn't really a witchy or supernatural show, but Clarissa Explains It All gave Melissa Joan Hart her big break - before she then went on to star in Sabrina the Teenage Witch. (Bit of a stretch, we know, but we're just so excited for this that we had to include it.)
Clarissa was Nickelodeon's first show to have a female lead, and boy was it good. She would basically break the fourth wall to talk us through the trials and tribulations of her teenage life - making it necessary viewing for any young girl at the time.
Now, Melissa is apparently coming back to reprise her role as Clarissa for the grown-up reboot - which is said to show her dealing with family life and motherhood.
They haven't announced when it will premiere, but the show is rumoured to be in the early stages of development. 
Originally published on 15 August 2018