N/A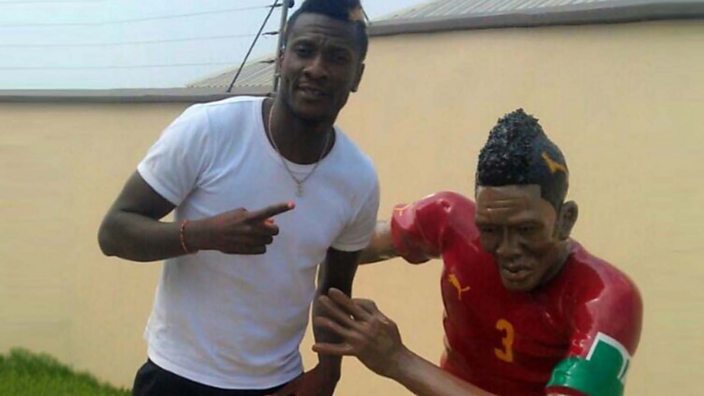 Twitter / @SaddickAdams
Michael Essien isn't the only Ghanaian footballer to be honoured with a weird statue
Monuments to Ghana's best footballers are popping up and they have a very distinctive style
So it turns Michael Essien isn't the only football player from Ghana to have had a slightly weird statue made in his honour.
Essien's former team-mate Asamoah Gyan has become the latest Black Stars player to have been immortalised, less than a week after the world bore witness to Michael Essien's effigy.
The former Sunderland striker who now plays for Turkish club Kayserispor has been spotted posing with the glossy statue, which features over-sized deltoids and legs bent into a painfully unnatural position.
The Gyan and Essien statues can be found in the Ghanaian city of Kumasi, and share striking similarities.
Gyan is Ghana's all-time top-goalscorer with 51 goals, and it could be argued that his statue is an improvement on the Essien figure across the city. After all, Gyan's eyes don't stare into the depths of your soul like the former Chelsea midfielder's sculpture does.
We're curious to see what other monuments might be in the pipeline. Perhaps we'll get an Andre Ayew or Tony Yeboah next week?
Until then, you can rest easy knowing that there's plenty more bizarre footballer statues around the world ranging from Ronaldo to Maradona.