N/A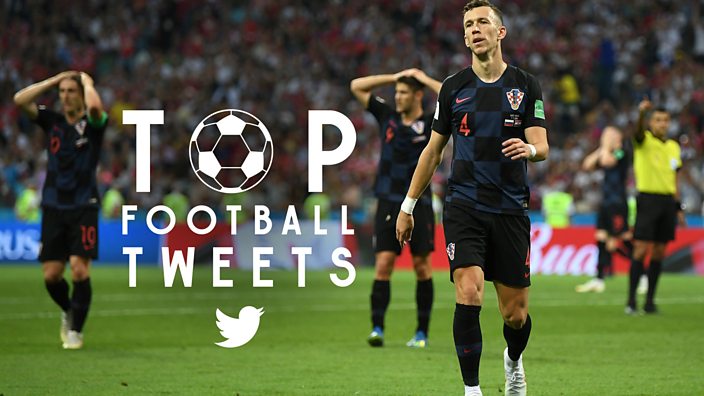 Getty Images
When Croatia's Ivan Perisic didn't score, one man saw £140,000 become £0
This is why gambling's not good for your soul
And so, 32 is now four. And England is one of the four. Who'd have seen that one coming? Well one man definitely has an eye for assessing exactly who will score and send their teams through. Well, until he didn't and missed out on a massive return on a one pound bet. Still who needs odds to help you predict who'll win when you can have conspiracy theories?
Here's the best tweets to come from the quarter-finals...
There have always been some far-fetched football conspiracy theories/secrets of the universe, but this feels like another level.
2) Infectious goalkeeping
Fernando Muslera's awful error for Uruguay against France suddenly reminded lots of people of a rather similar incident just a few weeks ago...
The lonely Luis Suarez, having to charge around in pursuit of the ball without his mate to help him.
So that's Brazil's World Cup weakness identified. A quick check of the world's flags has pinpointed their main threat in four years' time...
Right, that's enough. Alright, one more.
We love him, it seems, all 6ft 1in of him.
The real killer for Zlatan here is that he hasn't seen how much fish and chips cost on a matchday at Wembley yet...
8) Smoothness personified
Harry Maguire: defender, colossus, smooth-talker.
9) There's only two Gareth Southgates
Nobody remembers that Jamie Vardy lookalike, but the industry is getting a timely boost with this chap, who comes complete with accurate beard and waistcoat. He must be boiling.
10) So near, and yet so far
Ivan Perisic, you owe this man about £140,000.
11) Putting it into perspective
A lesson in life here, never compare yourself to high-achieving football captains.