N/A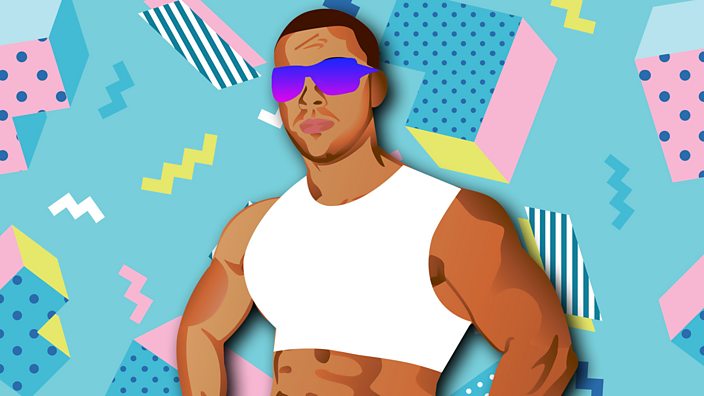 iStock / BBC Three
We talked to a 'crop top historian' about the comeback of the male crop top
Apparently "fragile masculinity" led to its demise in the '90s
Men's fashion can be limited in the warmer months. There are T-shirts, short-sleeved shirts and...well, that's about it. Unless you want to go shirtless - and why the hell not, #freethenipple and all that, eh? (Joke. Male nipples are already free. Bloody patriarchy). 
Anyway, if you're a gent who's been struggling to find an appropriate top for this weird hot-but-muggy period, there's a new trend in town (well, online) that's hitting that sweet spot between dressed and undressed. 

Drum roll please - the male crop top may FINALLY be making a comeback. 
An online retailer recently released a crop top for men that got the Twitterverse talking. The so-called 'extreme' crop top is one of a few cropped styles that can be picked up from the High Street, along with cropped hoodies and black mesh items. Could this '80s staple be making a return to the mainstream?
The male crop top had its heyday 30 years ago, after which it disappeared down a fashion black hole. There have been brief ripples signalling a return - back in 2014, Kid Cudi wore this breezy style to Coachella: 
And NFL star Ezekiel Elliott modelled a smarter crop top when he wore this to the NFL Draft's red carpet in 2016: 
But for years it seemed like male crop tops were the preserve of the rich, famous, and fashion-forward, and a mere dream for the rest of mankind.
Now, we're not saying it's all going to be smooth sailing. Some people find this look plainly absurd...
While others argue that it "feminises" men... 
"I don't know why people have a bad reaction to seeing a man in a crop top," says Steven, a New Jersey native who runs Twitter account @CropTopGuy.  
Steven calls himself a "sort of crop top historian". He explains: "I grew up in the original crop top fad of the 1980s, and I was sad to see it wane and eventually fall completely out of fashion."
At that time, everyone from Johnny Depp to Matt Dillon were seen flashing their torsos in the attire. Even Will Smith rocked the look on The Fresh Prince of Bel Air.
But the reactions on Twitter do not surprise him. "I have been seeing this negativity for 20 years now," he says. "Sometimes it is called 'fragile masculinity'. It is when the 'manly men' get embarrassed over trivial things, then put on a tough guy persona. These negative attitudes are exactly what killed off the original crop top movement.
"Something changed in society and popular culture in the late '90s, and suddenly the male crop top was taboo." 
He has been fighting these negative attitudes with his social media accounts. "I have been trying to resurrect the male crop top for over a decade now but it has been tough going," he says. "My strategy is just to retweet every time someone mentions something positive about men in crop tops."
He believes this latest crop top on sale is adding to a trend that has been building for a while. The hope is that eventually more retailers can be convinced to carry the item. 
Crop top tees for men come hot on the heels of another widely debated male fashion trend – short shorts. The rise of athleisure is credited with bringing this look back onto the fashion stage, as it hit the catwalks for Prada and Christopher Shannon, among others. 
A look that was also popular in the '80s, it has been seen on sportsmen including Cristiano Ronaldo and Mo Farrah. 
They may be here for this look, but we're not so sure. We're thinking of the chafe, ouch. 
And we're itching at the thought of these lace shorts.
Los Angeles-based brand Hologram City brought these see-through numbers out last year. They may be in pretty pastels, but not everyone was convinced. 
And then there was the male romper. 
The so-called 'RompHim' caused a stir, with many arguing that the romper is an item best-suited to women. 
But we don't see what the problem is. Wear what you want - YOLO and all that. 
And as for the cropped male tee, it's almost the end of summer, so you don't have long to get this look in before the rain returns. Though not everyone is convinced they can rock the look. 
If it's good enough for the Fresh Prince though, then it's good enough for us. Pass the scissors and an old white tee.