N/A
BBC Three / World of Wonder
RuPaul's Drag Race UK queens give makeovers to mums and sisters
Who won this week's RuPeter badge? What are the queens' families like? And find out who we think delivered the read of the week (and who was on the receiving end)
*WARNING: This article contains spoilers for episode seven of RuPaul's Drag Race UK*
Final four! Final four! Final four! Can you tell we're excited as we near the end of Drag Race UK?! This week, the queens had fun with puppets and gave drag makeovers to their nearest and dearest. Here are the most exciting moments and the best fan reactions.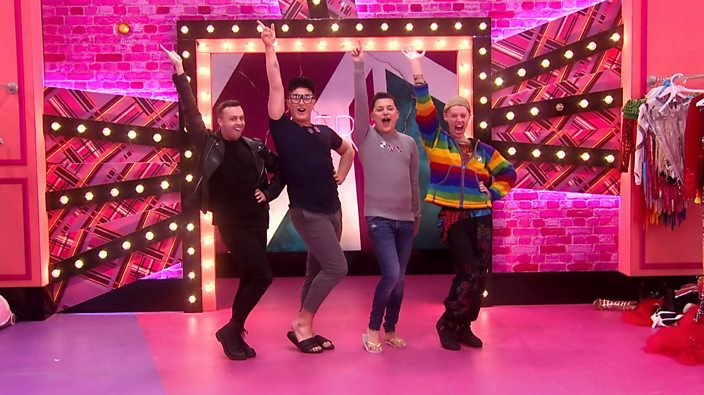 1. Everybody loves puppets!
Our remaining queens looked so proud to be in the semi-final - and they should be! They've all been genuinely amazing.
And, after working so hard, they got the chance to blow off some steam with a shady game of Punch and Judy using miniature versions of their rivals. There was a tense moment when The Vivienne did Divina, calling back to the infamous "red wig and a silver dress" argument. 
But in the end Divina (who did a pretty spot on Essex accent with her Cheryl Hole puppet) was crowned the mini challenge champ.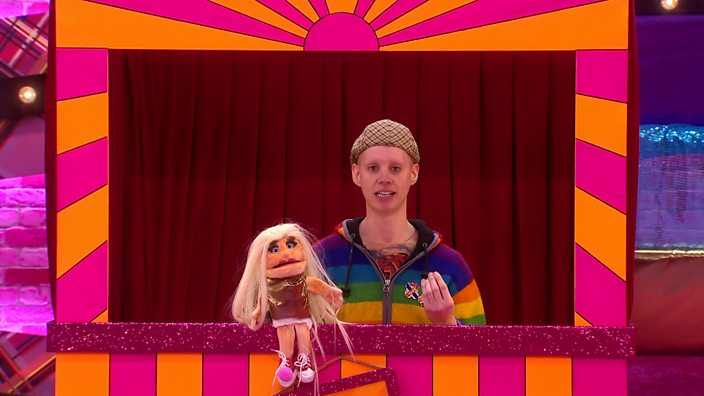 For the main challenge, the queens were joined by their mums and sisters and were asked to give them a sickening makeover. And it was genuinely touching to see our girls kiki-ing with their loved ones.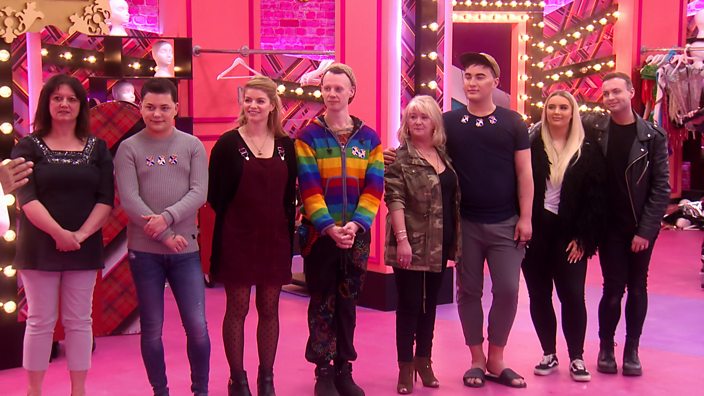 But it wasn't easy for everyone. Baga's mum looked nervous and Cheryl had a clothing emergency – aka zip-gate – when the fastener on her sister's dress broke off.
3. The drag baby (and Divina) wins!
On the runway, The Vivienne and Divina pulled off stunning family resemblance makeover looks. The panel was joined by guest judge Michaela Coel, the actress and writer of Chewing Gum. Divina, joined by her pregnant sister Delisha de Campo (aka Carys), won her third RuPeter badge!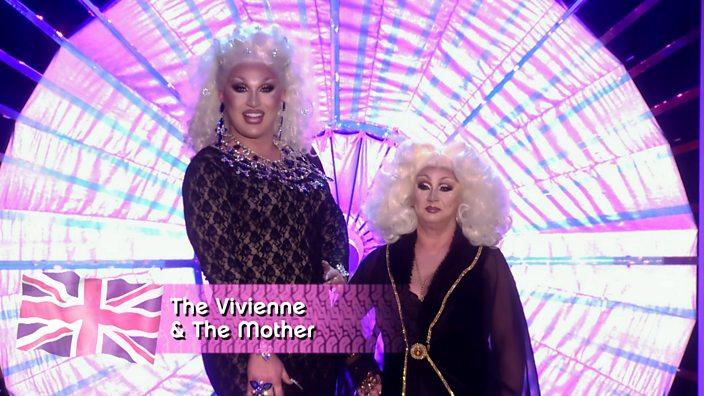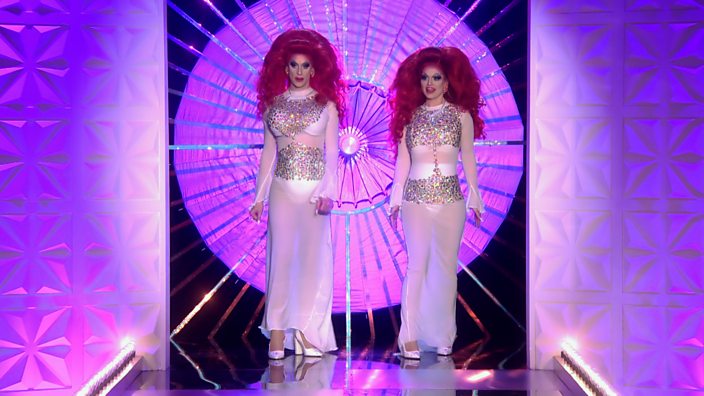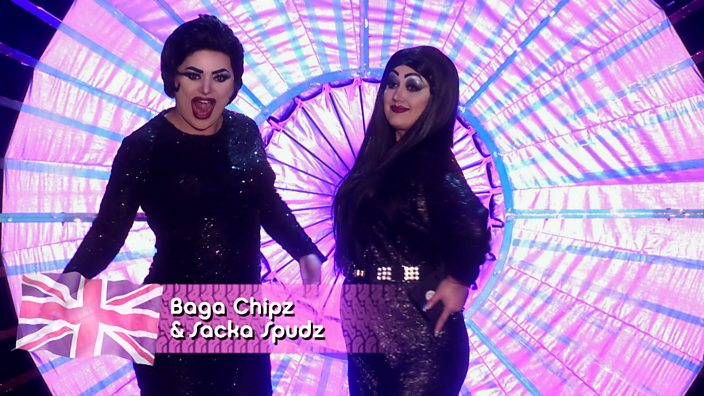 4. Tears Dry On Their Own
Cheryl (who was critiqued by Michelle for relying on body suits) and Baga faced off in the lip sync and, after a particularly passionate performance to Amy Winehouse's 2006 Tears Dry On Their Own, it was Cheryl who was asked to sashay away.
"Cheryl, my beautiful queen," said Ru. "You leave a big hole to fill."
We'll miss you, our Essex queen!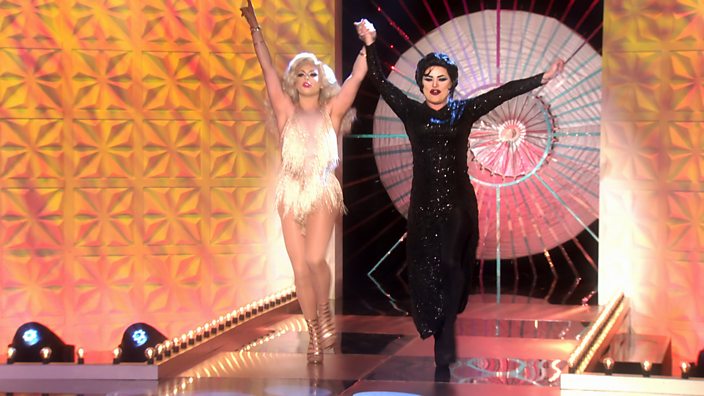 So now we know – our final three queens of the first ever season of RuPaul's Drag Race UK: Divina De Campo, Baga Chipz and The Vivienne! 
Alan Carr on Divina and sister Delisha De Campo:
"I love the slinky outfit and I love the big red hair. You look like two very sexy patio heaters."
Alan Carr, again, on Baga Chipz and mum Sacka Spudz:
"I would've liked your mum to have looked as sexy and sassy as you did. Because you look like you're going out to a posh lunch… whereas she looks like she's going out trick or treating."
The Sashay Away Interview
Essex queen Cheryl Hole speaks to BBC Three about her time on the show.
Congrats on making it to the final four! You must be so proud.
"I can't believe I made it to the top four - I definitely snuck my way up there somehow and the other girls didn't see it coming!"
Was there a real stand-out moment for you?
"I have two iconic moments from the show: in terms of my performance the girl band challenge was the stand out for me. That was the moment that I realised, 'I'm here in this competition. The girls see me as a threat and I'm doing what I do at my best.'
"And then, obviously, meeting Cheryl was iconic - and something I never thought would happen in my life."
And how did it feel to see your sister in this latest episode?
"When you're there, you are in this bubble and everybody talks about Drag Race. That's all you do every single day and you're surrounded by these people who are in the same world as you.
"Then your sister walks into the world that you've been living in for the last couple of weeks and it completely throws you. It's really nice to have that snap back to reality. It was such an amazing moment to have her there. She's gonna be doing her own gigs from now on anyway!"
What's been the reaction from fans - especially in Essex?
"Everybody that's interacted with me has been so lovely.
"And to have the amazing reaction from Essex and the cast of TOWIE has been great. A lot of people that I watched years ago like Amy Childs and Harry Derbidge and the GC herself have reached out so I'm glad I'm doing Essex proud. Gemma said she absolutely loved the Snatch Game and I was like, 'Thank god!'"
And don't forget to listen to the official Drag Race UK podcast hosted by Scarlett Moffatt and Baby Lame. This week's special guest will be Bake Off's Dr Tamal Ray.