N/A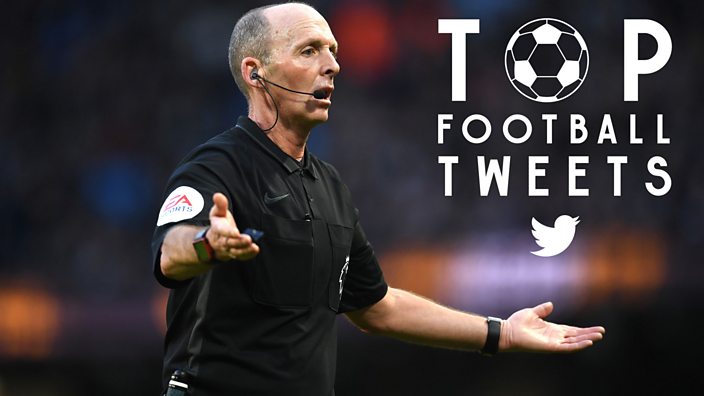 Getty Images
The most entertaining person in the Premier League is a referee
It was another incredible performance from 'main event' Mike Dean
We're heading into the business end of the season now, as teams know their fortunes will be decided by the next few weeks of football.
Once again this weekend we saw dramatic finishes and some old favourites get new life but there is one man in particular who made the headlines after putting in another top performance...
Manchester City sent a message to the rest of the league with a 6-0 thrashing of Chelsea on Sunday but it was referee Mike Dean who stole the show.
The 50-year-old proved - again - that he might be the best entertainer in the Premier League. Even with the score at 4-0, Dean gave it his all as he dramatically pointed to the spot to award City a penalty after Cesar Azpilicueta took down Raheem Sterling in the box.
And the performance didn't stop at the final whistle, as Dean tried to hide the ball from hat-trick hero Sergio Aguero by sticking it up the back of his shirt.
He's handed out 99 red cards in his Premier League career so there's been a lot of chatter about when he'll award his 100th but a good performer knows it's all about keeping your audience wanting more.
2) Manchester United fans' impossible choice
But Pep Guardiola's men have rediscovered their form and look like they're hitting a hot streak at the perfect time in the season.
With City still in all four competitions - including an upcoming EFL Cup final against Chelsea - a quadruple set of trophies remains on the cards, leaving an impossible question for Manchester United fans to answer.
Would the Old Trafford faithful rather see Liverpool win their first league title of the Premier League era or Man City win all four trophies? It's not as straightforward as you might think.
Which one would you pick?
Only last week we were praising the incredible goalscoring ability of Sergio Aguero  and this weekend he added another hat-trick in the win over Chelsea.
He will, no doubt, go down as one of the greatest Premier League players of all time and he is already out-performing entire teams in 2019, with the Argentinian scoring more goals than nearly half the sides in the Premier League.
4) He didn't see it coming
They've lost 15 games so far this season, so you can understand why Cardiff City fans enjoyed Saturday's win over Southampton so much this weekend - leapfrogging the Saints and climbing out of the relegation zone in the process.
Of course, goal celebrations don't always go to plan. Just ask Bluebirds' fan Noah Bushby:
But hey, big Sol Bamba was grateful for Noah's commitment to the cause.
Mrs Bamba wasn't so impressed by her husband's comments, however.
As the 29 March deadline for Brexit approaches, there's talk of people stockpiling supplies in case of a no-deal scenario which could see shortages of certain essentials coming into the country, raising their price in the process.
The irony, of course, is that Declan Rice and Danny Drinkwater are both homegrown.
Stranraer's Scottish League One clash with Arbroath was called off just 13 minutes into Saturday's game because of the weather.
Just how windy was it at Gayfield Park? Well...
Last week Punxsutawney Phil emerged and predicted an early spring but it still felt like Groundhog Day on Sunday as Celtic took on St Johnstone for the third time in the last week and a half.
With the last two meetings finishing 2-0 to the Bhoys, at least there was something to let us know we weren't just watching the same game again as Celtic ran out as 5-0 winners.
8) Teamwork makes the dream work
With just 17 points from 26 games this season, it's clear something isn't quite right at Fulham.
If they are to stay in the Premier League the Cottagers badly need to rediscover the team effort which sent them on a late-season run and earn promotion last season.
Only when everyone comes together and works as a team will Fulham dig themselves out of the relegation zone.
That's not quite what we meant.
Iconic films like Star Wars and the Big Lebowski are set to get new chapters in 2019, so why not add on to one of the most important footballing questions of the early 2000s?
There's a lot of talk about who really is the G.O.A.T. But then, an actual goat comes along. You might think 'same word, different conversation', but nope, the debate remains the same: who does the goat really play for? 
We're going to go out on a limb here to say Atletico Madrid were not happy with the performance of referee Javier Estrada Fernández during their 3-1 defeat to Real Madrid on Saturday.
After the final whistle, the club posted three images appearing to question the officials' decisions over some key moments in the game. The first picture raised the question over whether or not the foul which saw Real awarded a first-half penalty actually took place outside the box.
Next, they raised doubts over the decision to disallow Alvaro Morata's chipped goal for offside. Finally they wondered why they had not been awarded a penalty when Morata went down in the box under the challenge of Casemiro.
All three decisions went to VAR and all three went against Atletico, a fact which clearly left them unimpressed.
You've got to love a bit of Twitter-based pettiness from an official club account.