N/A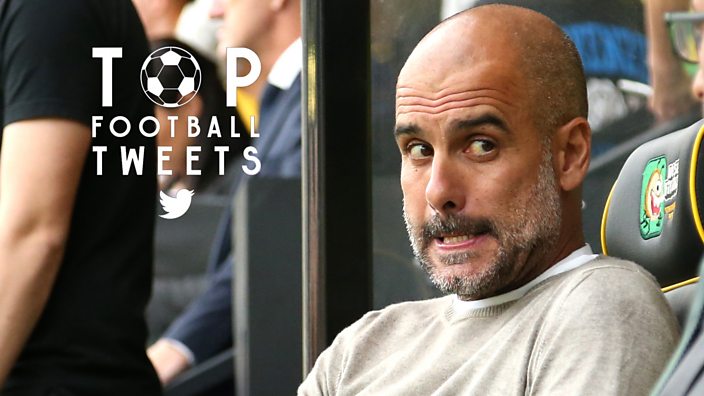 Gettyimages
Follow these three simple steps to beat Manchester City
Plus the Mohamed Salah-Sadio Mane friendship hits new heights
The international break is over and the Premier League is back, with a host of exciting games over the weekend. 
There were surprises up and down the country, but none more exciting than Manchester City's first defeat of the season.
Is there a partnership more fun to watch right now than Mohamed Salah and Sadio Mane?
The pair combined for three goals at the weekend, as Liverpool moved five points clear at the top of the table - and they looked like they were loving every second of it.
And why wouldn't they be happy? They're running away with things at the moment.
2) Arsenal go full Arsenal
Arsenal blew the chance to go level on points with Manchester City after throwing away a 2-0 lead over Watford on Sunday.
Two crucial mistakes - from Sokratis and then David Luiz - meant the Gunners walked away with just a point. It's an all-too-familiar story for their supporters.
Some are already starting to wonder whether Unai Emery is on borrowed time at the Emirates, as Arsenal's defensive issues only seem to be getting worse - with David Luiz becoming even more erratic than he was at Chelsea.
City are still many people's favourites to retain their Premier League crown, but Norwich set out the perfect formula to stop Pep Guardiola's men on Saturday, beating them 3-2. Surely everyone else will follow suit now?
But let's not forget about the veterans of the game too. 
Just because Wes Morgan is 35, that doesn't mean the former Premier League-winning captain doesn't still have some moves - even if he will only have a speed rating of 29 in the new Fifa game. 
6) Are you watching closely?
Referees get a lot of grief from football fans, but you've got to remember it's not an easy job. For instance, sometimes they have to keep paying attention while watching Scottish League One. 
7) A different type of winger
Michael Jordan tried to make it in baseball. New Zealand rugby international Sonny Bill Williams won the WBA International heavyweight title as a boxer. Could Adama Traore be the latest to cross the sporting divide?  
It's all fun and games until Sean Dyche replaces his centre-backs with a couple of rugby locks.
8) Dogs for all contract announcements now please
It should be official EFL policy that all new contract announcements must be made in the form of adorable dog gifs. Extra marks if they can be used to tell the story of the player's transfer saga over the past few months.
There had been plenty of talk of Bristol City's Callum O'Dowda moving to Fulham, or Leeds, but in the end, the 24-year-old midfielder stuck with his master.
It's been a tough few years for Joe Hart, with the former England number one now finding it hard to get a look-in at Burnley. 
The 32-year-old managed to get some game time under his belt as he lined out for Vincent Kompany's testimonial during the international break, but he wasn't quite looking himself... 
Huddersfield Town made potentially the move of the season when they appointed Danny Cowley as their new manager last week. 
The Terriers will be hoping that Cowley can recreate some of the magic which saw him take Lincoln City from non-league to League One, reaching the quarter-finals of the FA Cup and winning the EFL Trophy along the way.