N/A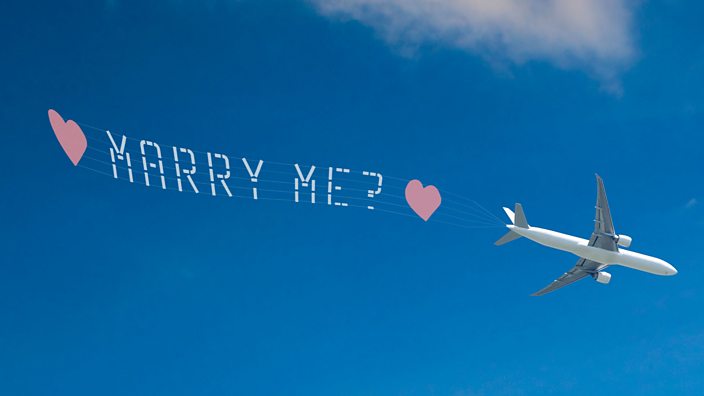 iStock
Public proposal: This Emmy winner put a ring on it live on telly
PDA haters, look away now
The perfect proposal can be hard to get right. 
You could follow Prince Harry's low-key approach and propose while you're roasting a chicken. Or you could go big. Really big...
Like, say, going full PDA and proposing live on stage at the Emmy Awards.
Director Glenn Weiss did just that in a show-stealing performance to rival all winners at this year's ceremony. The director was accepting an award for his work on the live Oscars show, when he suddenly diverted from his acceptance speech... 
"You are the sunshine in my life," he said addressing girlfriend Jan Svendsen, from the winner's stand. 
"You wonder why I don't like to call you my girlfriend?" he continued. "Because I want to call you my wife."
Jan, still sitting in the audience, was speechless.
Public proposals are risky business though. On the one hand, the receiver could feel pressured to say yes and on the other, a no would be mortifying for everyone involved.
But Jan didn't leave us waiting long. After a nail-biting few seconds, she mouthed "yes" at her boyfriend. Approximately 11.5 million people watching at home breathed a collective sigh of relief. She then joined him on stage as he got down on one knee to formally pop the question.
Naturally, the internet loved it.
After all, it's not every day a proposal gets a standing ovation from the likes of Benedict Cumberbatch.
And if it's good enough for the Queen to shed a tear, then who are we to argue?
Not everyone was so sure about the very public nature of the proposal:
One thing's for sure, Glenn Weiss has raised the bar for grand romantic gestures so high, it may well now be out of reach:
But while not everyone has the chance to hijack a live awards ceremony with their declaration of love, we can all take some inspo from this man, who used his plough to pop the question. 
Agricultural engineer Tom Plume, 39, was not known to those close to him as a romantic type. But when he decided to pop the question to his 37-year-old girlfriend, Jenna Stimpson, he decided to go big.
Tom put two key questions to his future father-in-law. One: can I propose to your daughter? Two: can I destroy your field where she grew up by ploughing my proposal into it?
Permission secured, he drove his girlfriend down a country track with her eyes closed, leading her to worry he might have bought some livestock.
Fortunately, Tom was just proposing using massive letters ploughed into the earth. Jenna was left "speechless" but luckily managed to string together an answer with three letters, not two.
And if that's not enough to restore your faith in romantic heroics, then how about this custom-made boyband video from Australian guy Dean, proposing to Texan girlfriend Lauren?
Knowing his girlfriend had a soft spot for boyband heart-throbs, Dean pulled in favours from a number of mates to make a track entitled Abacus, a ballad – of sorts – dedicated to Lauren.
Choice lines from the song include, "I like to compare you to an abacus/Cos I can count on you when I'm feeling tested", and "You're exactly like an iPad too/Because there really isn't anything that you can't do".
The big screen has come in handy for other creative proposals.
Like this guy's fourth-wall-breaking bit of home cinema, screened to his unsuspecting girlfriend at an actual cinema.
In 2011, Ginny Joiner, from Atlanta, in the US, was taken to the cinema by her brother to see Fast Five while her boyfriend, Matt Still, was meant to be at work.
Following a trailer for The Hangover 2, a decidedly lower budget trailer came onto the screen, which gradually revealed Matt talking to Ginny's dad about asking her to marry him.
The film then took an action-packed turn, with Matt racing to the cinema, epic music as a soundtrack, and Matt finally emerging into the auditorium in real life to put the question to Ginny.
The proposal has had more than 30 million views on YouTube.
But others have swapped the big screen for the very small screen.
Like when Shane Birkinbine proposed to girlfriend Pam Edwards by hacking Super Mario Maker, writing 'Pam, Will You Marry Me?' into the background of one of the game's levels.
After much trial and error, the contraption pulled through on the actual day, topped off with the Rocky theme song.
But finally, for our favourite proposal, we come back to the UK.
In 2011, Adam King devised a musical extravaganza for his proposal to Lucy Rogers, involving his choir serenading the couple on the 19.57 Euston to Watford Overground service.
Footage of the event shows a lone man softly beginning to sing Bill Withers' song Lovely Day. The singer is gradually joined by more and more voices until finally the carriage is filled with people in full song while a few unknowing commuters look on in amazement.
How's that for a performance? Whether you want to etch your proposal on a field or put a ring on it live on stage, the jury's still out to see who the winner of the best (and wackiest) proposal will be.
Originally published 27 November 2017