N/A
BBC Three
Why everyone's talking about this teen drama with a political twist
'I'm not trying to infect young people's minds'
I'm late to meet Jess Brittain. The 30-year-old writer is holed up in a post-production suite in Soho, putting the final touches to the new series of her BBC Three drama, Clique. As I bluster into the building, making my excuses, I'm struck by her composure. The meeting rooms are all taken, so we perch on a table in the communal area - our conversation echoing around the well-lit space. Occasionally, the coffee machine drowns us, prompting her to apologise, unnecessarily, for our lack of privacy.
Jess seems remarkably laid back for someone on the brink of a big career moment. But, as we chat, it becomes clear that, rather like in her seductive student thriller where nothing is quite as it seems, first impressions can be deceiving.
The first series of Clique - which is best described as a grown-up hybrid of Skins and Gossip Girl - was a critical success for BBC Three when it first moved online. Previously, Jess was best known for her work as a writer on, yes, Skins - the influential teen series created by her dad and brother, the writers Bryan Elsley and Jamie Brittain. Clique's success won her recognition as a serious talent in her own right and this new series, which tackles thorny issues like toxic masculinity, sexual assault and the rise of the alt-right, looks set to provoke some serious debate.
Whereas series one was a tale of female friendships gone sour, set against a beguiling backdrop of corporate corruption, this time it's all about the boys. Jess has rebooted the show, retaining some of its most intriguing characters and bringing in some exciting new talent. The main protagonist, Holly (mesmerisingly played by Synnøve Karlsen) returns, as does her murderous BFF Rachel (Rachel Hurd-Wood). But in series two, the clique causing trouble are a band of libertarian bros, waging war on their lefty counterparts (sidenote: they also happen to all be absurdly good-looking).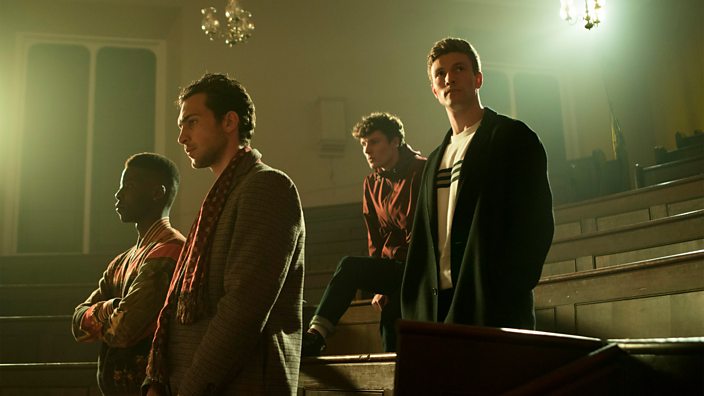 Watching as Holly finds herself intrigued by this charismatic quartet, against her better judgement, makes for deliciously unsettling viewing.
"I'm reticent to say that men's stories aren't being told but I do think there is some truth in that," says Jess, squirming slightly. "It wasn't as simple as okay, I've done the ladies, now I'll do the men. It was more seeing what was going on around me. I know men who are left-leaning and progressive, not scary Trumpian right-wingers, who feel frustrated and anxious about the narrative that has emerged as women push for change.
"There's one side of me that feels like telling them to shut up and get over themselves - that this is a side effect of something good happening. But another side of me feels like we should look at where some of these attitudes are coming from."
The political dividing lines are drawn early on with the boys stirring things up on campus. In one scene they shower 'snowflake' activists with fake snow; in another they shoot a slick video taking a swipe at 'outrage culture'. They all seem to work in some capacity for 'Twitcher', a fictional website with alt-right leanings, and have as their leader a charismatic, academic type called Ben (comedian Richard Gadd).
Tensions between the campus tribes soon come to a head when a female student, who happens to run a popular feminist group, makes a claim that sparks an uncomfortable reaction in Holly.
While the writing, the acting and the slick, Insta-inspired production are all on point, Jess must be aware she could face a backlash because of the show's political undertones? Especially at a moment when the world is looking back on a year of #MeToo and the memory of the Brett Kavanaugh case is still fresh in everyone's minds.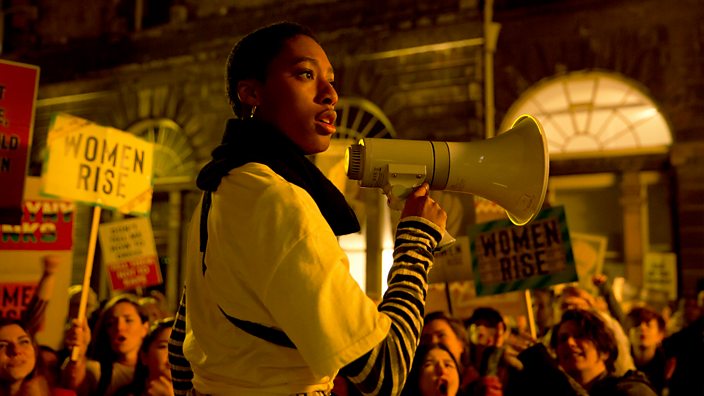 "Absolutely," she says. "It is worrying putting all that out there. But I sort of feel like drama is supposed to do that. Holly is the prism through which we unpack some of these more uncomfortable issues. There's so much that goes on in our heads that we feel we shouldn't ever say out loud.
"The fact that both men and women disbelieve women who come forward, that is a real thing. The show seeks to show the reality and grossness and complexity of it. It would be very easy for me to put forward a correct feminist version of this story, but Clique is a thriller. Through Holly, it shows what happens if you give in and follow your grosser inner voice."
During our chat, Jess is keen to stress that, despite going a bit "off-message", Clique is still a feminist show. What she's trying to do through her writing is push back against the idea that there is one collective feminist experience that all women have to subscribe to or risk being cast out of the social media flock.
It's the "Catch 22" of women's current position, she says. "We're gaining real traction and forcing change which is cool - it's becoming much safer to be a woman in the creative industries for example - but it's meant we feel we have to all stick to the same message in case we somehow put that change at risk."
She's got a point. All too often I think of a response to something in my head, only to shy away from sharing it on social media for fear of being seen as a "bad feminist". Speaking to Jess, and watching Clique, makes me realise how important it is to challenge these everyday orthodoxies.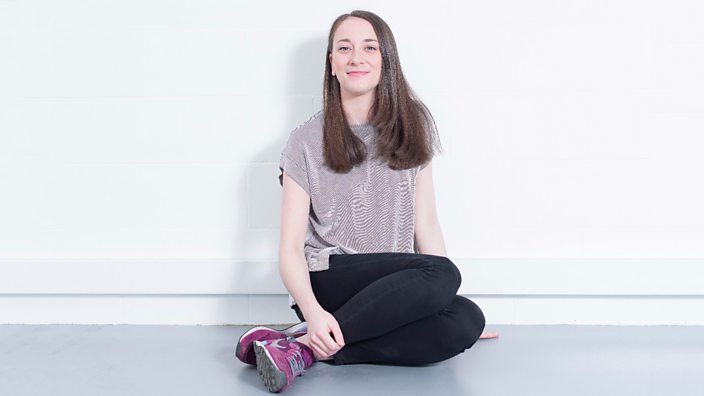 What else does she want audiences to take away from watching the show, and has writing it helped her unpick her own confusion over what it actually means to be a feminist in today's social media age? "I'm not suggesting any solutions," she says quickly. "I'm just trying to write something which is relatable and topical but is still a thriller."
And there we could have left it except her nervous energy, which had been bubbling under for most of the interview, suddenly seeps out. The idea that she could be accused of, in her words, "infecting the minds of young people" seems to frustrate her.
"Not to pull the woman card," she says, pausing before she does just that, "but because I'm a woman I'm expected to write more autobiographically and expose more of myself in a way that men, not always, but sometimes, aren't. So I feel like I'm held more accountable for the ideas suggested in the show. Obviously, some people struggle to make the disconnect between things I might be intrigued by and want to explore in the drama, with things I personally believe," she says, her eyes flashing.
There's a silence. Then the moment passes and she's breezy and business-like once more. Our time is up and we say our goodbyes. As I wander back to work through Soho, I'm struck by how talented, brave and bold Jess Brittain is. And how important it is to have writers like her who deviate from the correct, feminist script, and whose characters wander off down dark, disturbing paths. It might be uncomfortable to watch at points, but it certainly makes you think.
This article was originally published on 12 November 2018.