N/A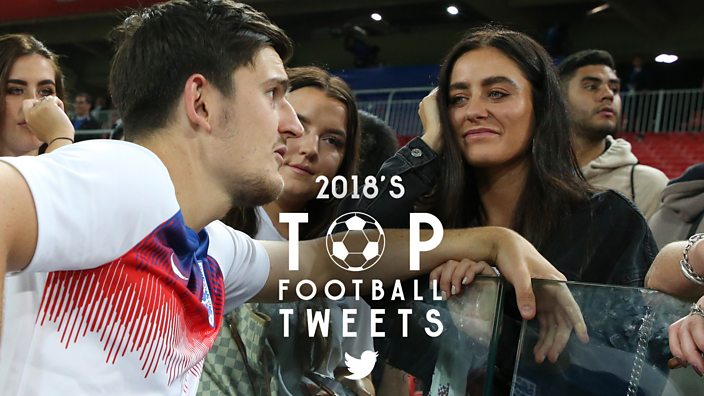 Getty
The best football tweets of 2018
Memes. So many memes.
Ah 2018, what a footballing year it has been.
We were treated to a Pep Guardiola masterclass as Manchester City claimed the Premier League crown with 100 points, Mo Salah was amazing as he he scored 32 goals in 36 games to win the Premier League's Golden Boot and Harry Kane won the same gong at the World Cup.
Oh yeah, there was a World Cup and it wasn't actually a tremendous let-down for England fans?
But of course, what's important here is not the actual events themselves but how the beautiful game was documented on Twitter. 
In case you missed these gems on social media the first time, here's your round up of the best football tweets from 2018.
And the pass of the year goes to…
Remember when Storm Eleanor and Storm Doris caused havoc around the UK and Europe at the start of the year?
Well, this footie fan took advantage of the weather - which at one stage saw the UK battered with 100mph winds - to give himself a fancy assist.
Worthy of any highlight reel.
Back in May, West Brom were relegated and dropped from the Premier League to the Championship. There's no denying it was a bad time to be a Baggies fan.
But by August, a jubilant crowd was celebrating once again at The Hawthorns. It was of course the first game of the new season, and while the team didn't win, fans got a chance to cheer on their brand new signing, Boiler Man. 
Let the world rejoice at the Greatest Mascot In The History of the Universe, (validation pending).
Back in July 2013, a Twitter account simply called 'Boring James Milner' emerged. So successful, it has continued for five years with such classics as...
So what could beat the appeal of a James Milner parody account? James Milner setting up his own actual Twitter account where he could parody the erm, parody.  
Here's how he kicked things off...
He's kept it up throughout the year too.
Yes, here he is spreading awareness of the hoop, loop and swoop double-knot here.
The 2018 World Cup was not only a success for England fans but memorable for those who like to complain that modern technology is killing football. Yes, VAR was used. 
Order us a coke whilst your there, mate.
But in this scenario who's Rick and who's Neegan?  
Forget the VIP executive box - these guys took luxury to a whole new level.
May have been a bit chilly on the way out though.
Would there even have been a 2018 if there hadn't been a joke involving Peter Crouch?
Luckily, the big man didn't seem too offended by the rather morbid tweet. 
Guess that makes it OK, right?
Harry Maguire is cool as a cucumber
Remember that time when it was coming home and everyone turned a picture of Harry Maguire into a meme?
And then Harry Maguire got in on the act? 
There's a 100% chance Senegal warming up will cheer you up
Proving that adding a cartoon theme tune to an already brilliant video will make it even better.
Gleaming smiles, catchy dance moves and the theme song to Duck Tales. What's not to like?
This was the ultimate away trip: 12-and-a-half hours by Aeroflot, or five-and-a-half days by car, to cover 25% of the earth's circumference.
It'd be a shame if the game ended in a goalless draw…. Oh wait.
Zlatan out-Zlatan'ed himself when he signed for LA Galaxy. 
Yes you really are looking at a full-page ad in the LA Times that was taken out by Zlatan to express how lucky the city's residents were that he had arrived. And he manages to achieve this just with five little words. Did you expect anything less?
Ever wondered why Guardiola always wins?
The secret to his success is there for all to see. 
The joys of amateur football
Good to know that today's youth are getting stuck in to their literature.
And now to our US correspondent
Whilst all eyes were on England in the World Cup, former country captain Wayne Rooney was out exploring the US of A ahead of his move to DC United. 
Good to know that when he decides to hang-up his boots there's a ready-made career waiting for him.