N/A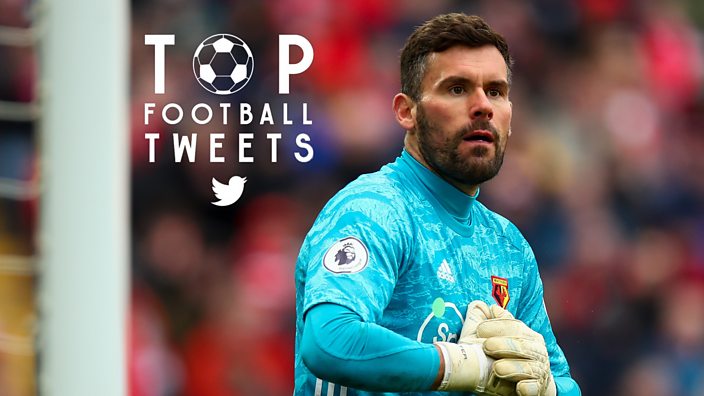 Getty
Ben Foster shows he's one of football's good guys
Elsewhere, we get a lesson in Scottish Christmas decorations
It's mid December but the cold weather isn't slowing down the football season with things really starting to heat up on the fixture list.
The games are coming thick and fast now so let's take a look at what had people talking from this weekend's action.
It's the season for giving and while Watford may be struggling at the bottom of the Premier League table, this story from Barrow striker Dior Angus shows Hornets 'keeper Ben Foster is still thinking of others.
Liverpool weren't quite so kind to Watford, however, as they condemned the Hornets to their 10th defeat of the season.
Mohamed Salah's outrageous flick for the Reds' second goal was the highlight of the game, though not everyone was able to enjoy it.
There is a special kind of pain that only fantasy football managers will know that comes from the unique feeling you get when someone on your bench scores a goal.
The initial celebration suddenly turns to fear and then anger as you realise you won't actually be getting any points.
Last week we talked about Scottish Highland side Fort William stopping their training because some curious stags had wandered onto the pitch.
Maybe they missed a trick by not inviting them to play up top.
There's no rule that says a bunch of deer can't play football.
5) It's their season: part 17
Liverpool have been pretty good this season. In fact, they've been really good as they sit on 49 points less than halfway through the season, dropping just two along the way.
After last season's slip up, Leeds know that they need to keep their concentration all season long if they are to earn promotion back to the Premier League. No matter how comfortable things seem, they know they can't take their foot off the pedal for even a second.
Unless, of course, they find themselves 3-0 up against a mid-table Cardiff City side, in which case they will allow the Bluebirds to come back and earn a draw despite being reduced to 10 men along the way.
Still, it's important to not get too carried away as Marcelo Bielsa's side are still on a very good run.
There's just one more weekend of action until Christmas and for Sunday league footballers all over the country, that can only mean one thing: waiting for that fateful text about whether or not your game is going ahead despite the awful weather.
8) Glory to the newborn Kingsley
Speaking of Christmas, what do you put on the top of your tree? Is it an angel? Or maybe it's a star?
For Partick Thistle fans, the answer is somewhat of a hybrid.
Yes, Kingsley is an angel and we refuse to hear any different.
Man City recorded a straightforward 3-0 win over Arsenal on Sunday but their title challenge looks like it could already be over before Christmas, with the champions showing inconsistency in everything from their performances to their own names this season.
10) The A to Z of gif-making
Look, we know those ridiculous celebratory gifs aren't everyone's cup of tea but if you're going to be in one, you could at least pretend to enjoy it.
Especially if you're going to use it to celebrate a 90th-minute winner over the champions to draw level with them in the table.
After 20 months without a goal for Sheffield Wednesday, Jordan Rhodes ended his scoring drought with a perfect hat-trick - including an overhead kick - against Nottingham Forest.
And his team-mates were clearly delighted that the 29-year-old has found his shooting boots once more.
12) Premier League poetry corner
Wolves fell to their first league defeat in three months thanks to Jan Vertonghen's stoppage time winner.
The result was no doubt disappointing but sometimes the greatest heartbreaks inspire the greatest art.