N/A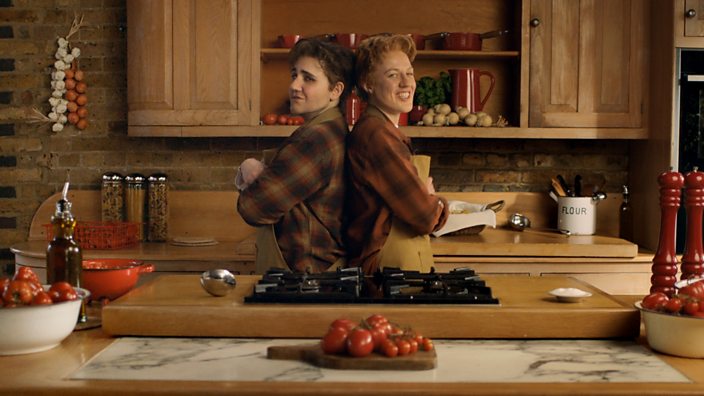 BBC/Nit Television
Ellie and Natasia: What is the history behind sketch comedy?
The BBC Three programme is the comedy duo's first sketch show together. But how has sketch evolved over time? Experts say it has long been used by comedians to tackle politics, sexism and racism - and it's found a new audience thanks to TikTok
Sketch comedy has been a staple in British culture for decades, but experts say the rise of bitesize comedy on TikTok and viral social media clips has proven audiences still love it.
The BBC Three show, Ellie and Natasia, features "coffee spotters" (people who passionately record strangers' coffee orders), strippers who celebrate a birthday by hiring a man with a normal job to perform for them, and the Brothers Pomodoro, a posh cooking duo who can only cook one type of pasta sauce and violently oversexualise it in the process.
Sketch comedy, made up from a series of short funny scenes, has roots in theatre, says Brett Mills, honorary professor at the University of East Anglia and expert in popular TV.
Nowadays, sketch is often used in variety and comedy talk shows. A well-known example of this would be the Saturday Night Live, the American late-night live television show created by Lorne Michaels and developed by Dick Ebersol, whose sketches feature comedians and famous celebrities from Drake to Reece Witherspoon.
What is the story behind Ellie and Natasia?
"When we both separately started doing live comedy, we both used characters," says Ellie White. "And when we formed a double act, I wouldn't say we necessarily did sketch, but we used to go on stage in wigs and stupid costumes, and just do characters to the audience for 10 minutes.
"And so it kind of felt like a natural progression, when BBC Three offered us a TV pilot. We thought: 'We have all these characters, we don't want to pick one and make a narrative from it, we want to make it diverse.'"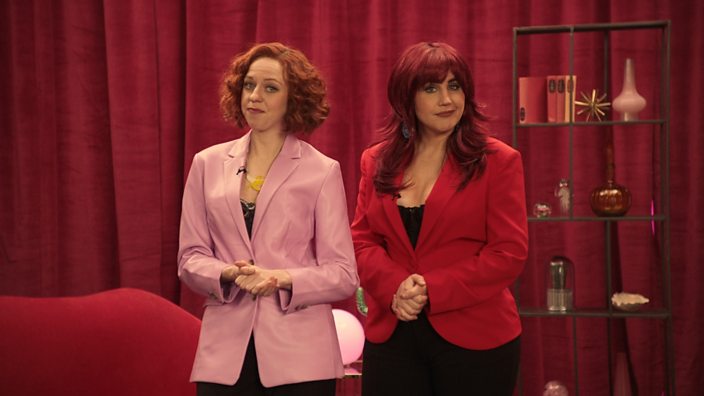 This was helped by the fact the pair are huge sketch fans already. "Like me, Tash loved French and Saunders (starring Dawn French and Jennifer Saunders) and Vic and Bob (with Vic Reeves and Bob Mortimer). I loved Smack the Pony (featuring Fiona Allen, Doon Mackichan and Sally Phillips) and they all felt multi-character and really exciting."
She particularly loved the way you jumped from one of the worlds presented straight to another within minutes. "It just felt kind of inevitable that if we wanted to make something, it would be something like that."
The inspiration for their own offering is mixed but often comes from unexpected places. "Sometimes it'll just be someone that I've seen on the Tube, for example who has a funny haircut, and then sometimes it'll just be a funny object that will inspire a character, like a pair of shoes."
Their street style sketch came from a YouTube video Ellie saw where random people were questioned on their outfits. "I'm fascinated by it because I like fashion but if someone asked me what I was wearing, I have no idea what I'd say. I love the aesthetic of it and without wanting to be too judgmental: it's quite pretentious." There was lots of fun to be had tinkering with that format, she says.
Another of their sketches, The Pomodoro Brothers, which features Hugo and Barnosh, "two cheeky lads with a lot of disposable family coin" who play fight as they cook, came from the pair spotting an emerging trend of "posh boys making really simple British food on YouTube or setting up restaurants. "Like it's not an easy thing to do, but it's really easy for them [to set up a restaurant]," she says.
While the pair have been told their comedy is surreal in reviews, that isn't intentional, she says. "But what is purposeful is that we always try and make the sketches feel like they have an accessibility point like, that people can go like, 'I know that person.' I think it's a good way of getting people and then you can pull the rug out and do whatever you want with it."
What is the history of sketch comedy in the UK?
"Since the 1950s, there's been sort of two strands of the British sketch show," says Dr Laura Minor, a film and TV researcher and lecturer at Leeds University. Early comedies from the 1950s were heavily influenced by musical and variety shows, she explains. An example of this was The Benny Hill Show, first broadcast on BBC in 1955 and starring Benny Hill. The show featured lots of slapstick, mime, parody and double entendre.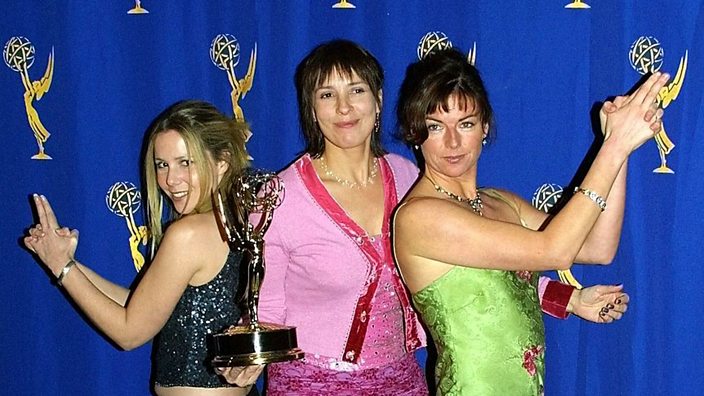 "And then from the 1980s onwards, we had series such as A Bit of Fry and Laurie, and anything with Dawn French and Jennifer Saunders." Both shows, broadcast on the BBC, featured comedy duos, much like Ellie and Natasia.
"It wasn't really until the 90s where we really started getting different representation and people of colour performing and writing their own sketch shows," Dr Minor says. The BBC's The Real McCoy, first broadcast in 1991, was one of the earliest examples of this and featured an array of black and Asian comedy stars. The series has been credited for bringing the black British perspective to TV and starred Felix Dexter, Llewella Gideon and Curtis Walker.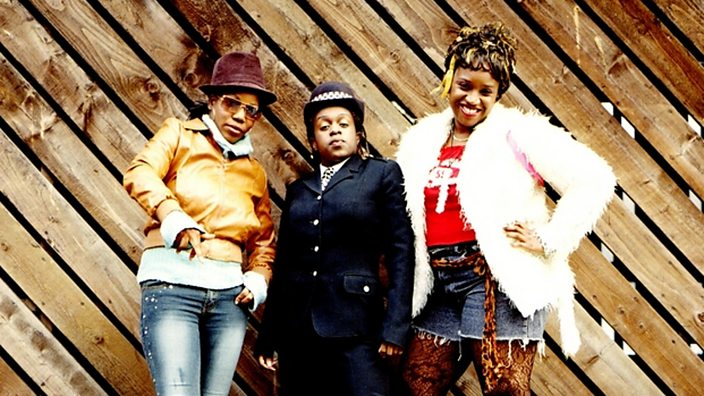 Then, from 1998 to 2001, was the well-loved Goodness Gracious Me, on BBC Two, created by Sanjeev Bhaskar, Meera Syal and Anil Gupta, which explored the racist stereotypes British Asians faced in the UK. In 2003, 3 Non-Blondes - one of the first UK sketch shows to feature all-black female comedians - on BBC Three featured Ninia Benjamin, Tameka Empson and Jocelyn Jee Esien.
Popular sketches in the 2000s were very white and would often punch down i.e. make jokes on marginalised communities rather than groups considered more powerful in society, Dr Minor says. "But in recent years things are starting to change - there's always an ebb and flow with this kind of thing." BBC Three's Famalam, which helped launch the careers of Gbemisola Ikumelo, Samson Kayo and Akemnji Ndifornyen among others. The mainly black cast takes on topics like Nollywood, a misunderstood superhero and Croydon's leading witch-doctor and use humour to challenge racial stereotypes.
"Channels like BBC Three are significant here because their younger audiences want much more inclusive culture and sketch comedy is a great way to give new writers a chance", says Dr Mills.
Both experts argue TikTok and social media has breathed fresh life into sketch, as people love short viral clips of people in character. From everyday people pretending to be politicians to the way users re-share snippets of comedy shows they love, there's a ready audience for sketch.
"If you go back every decade, everybody says, 'The sketch show has died' but I'm also always nervous about people talking about genres disappearing and coming back because that's just the history of broadcasting," says Dr Mills.
"The sketch show is really interesting, because it takes an internal logic to the absurd and grotesque extreme. They're often silly, and it allows people to use silliness to sort of deconstruct and de-normalise the peculiarities of the everyday. We rarely get the chance to see people of colour being silly on TV too," says Dr Minor.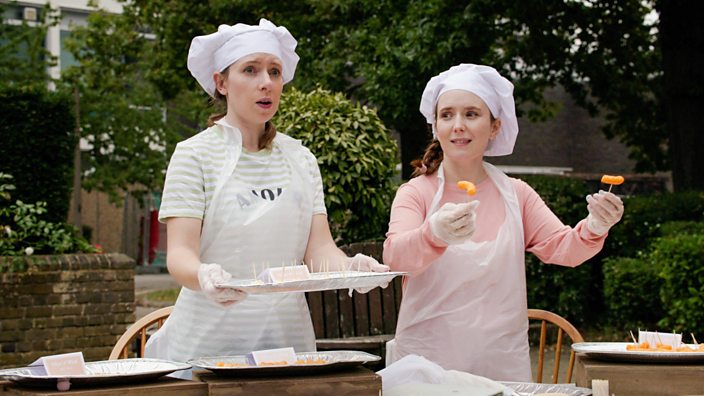 But for all the differences, there are also some huge and important similarities with sketches from two decades ago. Ellie and Natasia, like BBC Three's Lazy Susan, starring Freya Parker and Celeste Dring, and French and Saunders all deconstruct ideas of femininity, and what it is to be a woman. In many ways these newer sketches are "just updating it for a contemporary audience", says Dr Minor.
"We definitely never went out saying: We're making a feminist political sketch," says Ellie. "I think being a woman and drawing on experiences and things you've observed means it has that undercurrent."
She says being funny is the thing that comes first for the pair. "The thing that we want to do is promote more women being clownish and stupid and not having to talk about things that are like traumatic or scary."
You can catch Ellie and Natasia on BBC Three and BBC iPlayer