N/A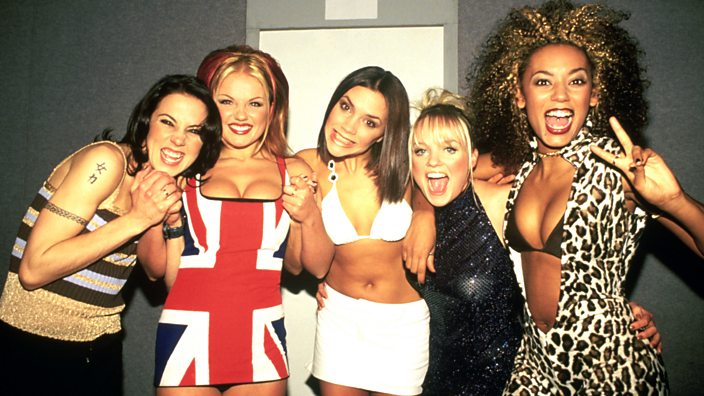 Getty Images
Sorry everyone, you've been mishearing this Spice Girls lyric for 21 years
They're not actually singing "Hi, see ya! Hold tight!"
Nothing brings back childhood memories faster than belting out "Spice Up Your Life" at karaoke (or alone in your bedroom, whatever). It takes us back to a time (21 years to be precise) before we had cares. Before we had responsibilities and, admittedly, before we fully realised how problematic it was that the only black woman in the group was called Scary. Sigh.
But what if we told you the lyrics you'd been singing this whole time, the ones embedded in your brain more thoroughly than the seven times table, were wrong?
Uh-huh, at the end of the chorus to Spice Up Your Life, there's a bit that sounds something like: "Hi, see ya! Hold tight!"
Yeah, it doesn't really make much sense but lyrics never really made that much sense in the late 90's. One of the most popular Spice Girls' refrains was "zigazigah!", after all - so no one ever questioned it.
That is until Geri Horner (aka Geri Halliwell, aka Ginger Spice) tweeted this about their upcoming reunion tour:
Um, yeah, that's not what any of us have been singing.
It does make a lot more sense, though. It means "Yes yes yes! Hold tight!" with yes in three different languages - Japanese, Spanish and German.
Clearly, we're not the only ones shocked by this.
And while we do like the new lyrics...
Some people are struggling to cope with the revelation.
We don't blame you, Joe Gunn. It's a lot to take in. This is even worse than that time we found out we were using cheese graters incorrectly.
Still, with the Spice Girls getting ready to reunite (minus Victoria Beckham, boo!), we'd better brush up on all the classics. Wannabe, Stop, Two Become One - we need to know them all off by heart.
Of course, this isn't the only time we've misheard lyrics.
For example, we bet you thought Stefflon Don was singing "Breakfast in bed darling, I'll make you bacon," in Hurtin' Me?
Yeah, no. Nothing to do with bacon - she's actually singing "I'll make you beg for it".
More recently, Ariana Grande's new single, Thank U, Next, left people speculating about who her new love was… because it kind of sounds like she sings: "I met someone new… her name is Aubrey."
But no, to our knowledge, Ariana's not in a new relationship with a woman named Aubrey - she actually said "Ari", meaning herself.
And then there's this classic misheard lyric from Nirvana's 1991 hit Lithium which, well...
Just so you know, he's singing "my will is good". Gutter brains.
Clearly, misheard lyrics can lead to a lot of misunderstandings.
So if you need us, we'll be re-reading the lyrics in old Spice Girls CD sleeves. We've kept them for this exact occasion.