N/A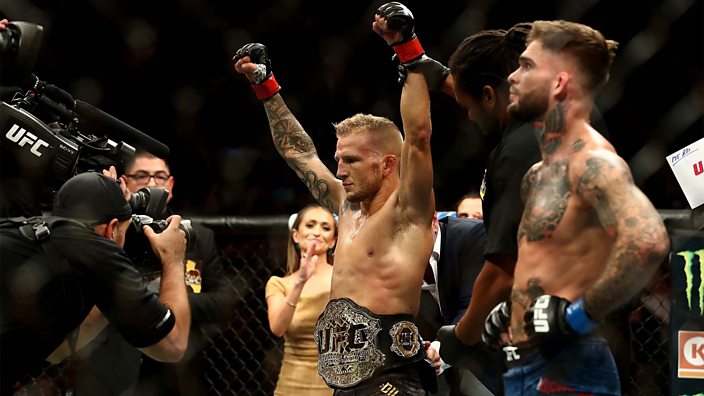 Getty Images
UFC 227: TJ Dillashaw stuns Cody Garbrandt once again to retain bantamweight title
Dillashaw's dominance should put the bantamweight beef to bed while flyweight legend 'Mighty Mouse' finally tastes defeat
TJ Dillashaw doubled down on his dominance over former team-mate and heated rival Cody Garbrandt with an even faster finish than he managed in their first encounter and declared: "I'm the best bantamweight of all time!"
The pair met in the main event of UFC 227 in Los Angeles in a hotly-anticipated rematch for the bantamweight title, and once again it was Dillashaw whose power and composure held sway in another wild fight.
After a feeling-out period in the opening portion of the round, Garbrandt stung Dillashaw, and the pair met in the centre of the octagon and began trading huge shots.
But the crucial difference was clear to see as Dillashaw kept his defences tight, while Garbrandt left his chin wide open, and the defending champ dropped him with a huge shot.
Sensing victory was near, Dillashaw closed in for the finish, hitting Garbrandt with multiple shots up against the cage before landing with a huge knee that convinced referee Herb Dean to step in and wave off the contest at the 4:17 mark of the opening round.
It gave Dillashaw his second-straight stoppage win over Garbrandt after taking the belt from his rival with a second-round finish at UFC 217 last November in a fight that saw Dillashaw dropped early but bounced back to win by KO.
After Saturday night's win in Los Angeles, Dillashaw erased any lingering doubts over which of the pair was the better man, thanks to an even more decisive performance.
And guess who predicted it?
Cejudo makes UFC history, then calls for title number two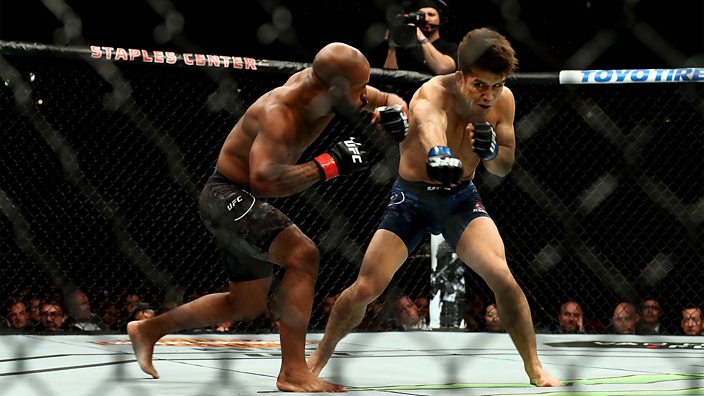 The co-main event of the evening saw 2008 Olympic freestyle wrestling champion Henry Cejudo halt Demetrious 'Mighty Mouse' Johnson's reign of dominance to capture the UFC flyweight title.
Johnson was the only man in UFC history to hold the undisputed UFC flyweight title, and in his last fight surpassed Anderson Silva to become the man with the most title defences in UFC history with his 11th successful defence.
But Cejudo, who was stopped in decisive fashion by Johnson in their first meeting at UFC 197 in April 2016, showed huge improvement as he overcame a first-round issue with the nerves in his ankle to defeat Johnson via split decision.
Cejudo's 48-47, 47-48, 48-47 win over Johnson not only made him only the second man in history to hold the UFC flyweight title, it also meant he became the first athlete to hold an Olympic gold medal and a UFC world title.
After his historic flyweight title win, Cejudo said he wanted a crack at the bantamweight title next, and a shot at the night's main event winner.
"America is all about winners," he said. "And the winner of this next bout, I wanna fight that guy. I wanna fight the winner at 135 pounds. I deserve it.
"Olympic champion, now UFC champion. Now give me the best at 135 pounds. Demetrious Johnson didn't go up (to bantamweight). They don't have to come down (to flyweight). I'm going up. I want that belt, too!"
And after Dillashaw stopped Garbrandt in the main event to cement his position as the UFC's bantamweight world champion, UFC analyst Joe Rogan put Cejudo's challenge to him, and received an emphatic answer.
Dillashaw said: "Bring it, baby. Let's do this!"
Johns loses out after gritty display
Welsh bantamweight Brett Johns ended up on the wrong side of the scores after his back-and-forth battle with Brazilian Pedro Munhoz went the distance in the night's featured preliminary bout.
Munhoz's leg kicks started to mount up and cause major issues for the Welshman as the bout progressed, and the Brazilian also landed a big body kick that forced Johns to the mat.
But despite facing the real possibility of being finished for the first time in his MMA career, Johns battled back superbly and remained in the contest all the way to the final buzzer.