N/A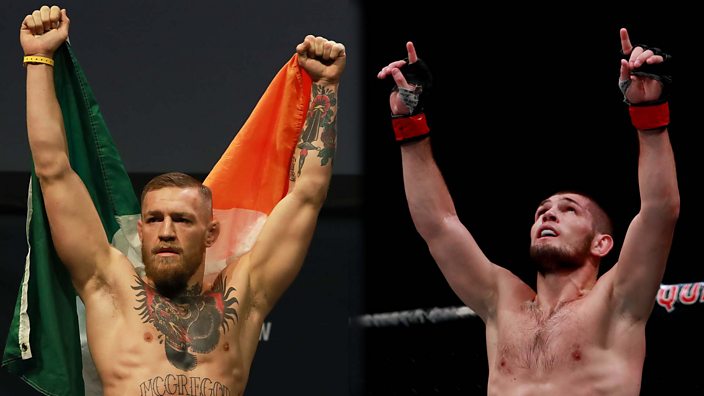 Getty Images
BBC MMA Show: Why is the Conor McGregor v Khabib Nurmagomedov fight so soon?
Conor McGregor taking on Khabib Nurmagomedov at UFC 229 has got everyone talking, but why is it coming around so soon?
If you haven't heard already, where have you been? Conor McGregor is fighting once again in the UFC.
The former two-weight world champion - who was stripped of both of his titles after failing to defend either belt - will face the man who succeeded him as UFC lightweight champion, undefeated Russian Khabib Nurmagomedov, at UFC 229 in Las Vegas on 6 October.
The bout brings to a head a rivalry that boiled over at UFC 223, when McGregor and members of his entourage attacked a bus containing Khabib and other UFC fighters following media day in Brooklyn.
So we're getting the fight so many people wanted, but why is it happening so soon, on just two months' notice, without the McGregor and UFC hype machines getting the chance to get into full swing?
The BBC MMA Show's Nick Peet and Dan Hardy chew over some potential reasons why.
"This is absolutely the biggest fight of all time", says Dan. "Khabib has become a massive star because he's so ferocious and so dominant, and Conor is the biggest star we've ever had in the sport. Fortunately they're both in the same weight class.
"They're very different in terms of character, but also very different in terms of fighting style. It's a great match and it could go either way, that's what makes it so exciting."
Dan describes Khabib Nurmagomedov as a "terrifying" opponent. "He's a Dagestan wrestler with unorthodox striking, but he has a lot of great coaching around him at AKA (American Kickboxing Academy), with Daniel Cormier and Cain Velasquez.
"It'll be interesting to see how Conor approaches this, but he is supremely confident, which is a part of the reason he wins a lot of his fights before they even start."
But McGregor has not fought in the octagon since he beat Eddie Alvarez at UFC 205 nearly two years ago to become the UFC's first double-weight champion. How will he fare after two years off?
"We don't know what Conor's been with his time off," says Dan. "He's got plenty of money sitting in his account, he can do what he wants, but he is a student of mixed martial arts. We don't know what he's been working on, what he's been improving. That's what makes it so exciting for me, because McGregor is coming into this fight as an unknown quantity."
And Nick doesn't believe McGregor's millions will have hampered his drive as a competitor.
"You've got 100 million in the bank when five years ago when you were on the dole," Nick says. "You might think he'd get to this point in life and think, 'I've won at life', but that's not the case with Conor McGregor. He's got work to do, he still wants to prove himself as the greatest mixed martial artists the world has ever seen.
"Just by taking the fight with Khabib at 60 days notice, that is such big statement to make. A win here, and suddenly Conor is back at the top of everybody's pound-for-pound lists."
The Irishman used his two-year hiatus to take on legendary boxer Floyd Mayweather in a mega-money boxing bout, where the McGregor hype circus was in full force, and both Dan and Nick were surprised the UFC didn't allow time to build the hype for this fight.
"The last couple of fights Conor has had, there have been world tours involved," says Nick. "McGregor generates so many headlines that you thought they might give themselves six months of build up, but they've decided to turn it around in 60 days.
"Conor has come back on his terms. He's the biggest brand in MMA, bigger than the UFC in many ways. So you have to ask yourself: 'Why are we getting this fight so quickly?'"
Nick thinks it might be because McGregor sees no value in trying to start mind games with the lightweight champion.
"Conor has used previous press events to get into his opponents heads, he did it to Jose Aldo so effectively on the world tour, forcing Aldo onto him before knocking him out at UFC 194," he says.
"But maybe he doesn't want to do another world tour, maybe he thinks he can't get into Khabib's head. Khabib isn't going to change his game plan. Maybe we're getting it so soon because Conor just wants to get in there and get it done."
Dan wonders if there might be another strategy at play to bring the fight on early.
"The quick turnaround of this fight tells me that Conor McGregor is trying to get Khabib to focus on his weight cut for the fight," he says.
"Khabib does struggle to make 155lbs sometimes. Conor is coming up from featherweight. Conor might be banking on the fact that if he can turn the fight around around quicker, then Khabib might have to cut weight more quickly and then tire later in the fight.
"If Khabib has to focus too much on his weight cut, get over-confident to do what he always does, then Conor can predict what Khabib is going to do when he gets in there and set him up."
And while the Conor McGregor show might seem chaotic, Nick thinks this is all part of McGregor's masterplan.
"Conor knows what he's doing," says Nick. "Everything is thought out. He's a very intelligent man. He gets credit for what he does inside the octagon, but outside of it as well he's shrewd as anything.
"He's chosen Khabib, he's chosen the date. He knows something we don't."