N/A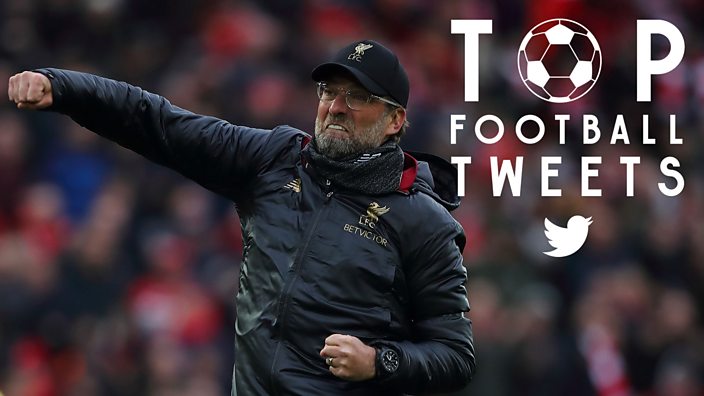 Getty Images
Jurgen Klopp's gone a bit Rocky Balboa
In other news, we hope you didn't double-captain Shane Duffy in your fantasy football league team
The weekend's action certainly had a late-season feel in the best kind of way as the pressure continues to mount at both ends of each table. For some teams, that pressure was too much as their drop down to another league was confirmed, while at the top of League Two we saw the first promotion confirmed in the EFL this season.
The fight goes on for the rest, but what's more important than all of that is how everything that happened impacted your fantasy team this week...
With some very serious bragging rights on the line and little time to make up any deficits, people are starting to take some questionable risks in their fantasy football leagues. With Cardiff and Brighton facing off on Tuesday, both teams have a double gameweek - a fact that means everyone was sticking Shane Duffy in as their captain. So how did that work out?
Talking of which, did Shane Duffy actually do the same thing? 
Is that actually real? Well, regardless, at least there's one man you can rely on to get the job done, no matter what.
2) Has anyone got the Rocky soundtrack please? 
Klopp needs it pronto. If you weren't counting, there were three fist pumps there. But just in case he needs bringing down from Liverpool's 2-0 victory against Chelsea, here's a miserable hypothetical situation for him to consider: 
It's been almost a month but Scottish football fans are still reeling from their 3-0 defeat by Kazakhstan in the Euro 2020 qualifiers. Hell, even the advertisers are taking it hard as the Scottish FA attempted to push tickets for June's clash with Cyprus.
If we've said it once, we've said it a million times: the referees of the Scottish Junior Football Association West Region Premiership don't mess about.
It seems that there was some confusion as to what was wrong with his under garments. 
So was it the colour or the type? Nope, no idea either. 
It was a case of no Harry Kane, no problem for Spurs at the weekend as they continued to look right at home in their new stadium with a 4-0 win over Huddersfield Town.
Lincoln City's rise up the football pyramid continued at the weekend as they secured promotion back to League One thanks to some favourable results.
Just two years ago they became the first non-league side to make an FA Cup quarter-final in over 100 years and now they are getting ready to play in the third tier once more.
7) Playing them at their own game
The simulation was glitching somewhat as Rotherham United came from 2-0 down to force a 2-2 draw with Stoke thanks to some familiar names. We know they say it's a copycat league but this might be a bit much.
Forget David Beckham. Atlanta United's Ezequiel Barco is the new king of the curve thanks to this peach of a strike against New England Revolution.
9) Ole's at the wheel (but he can't park the car)
It seems that not even Ole Gunnar Solskjaer can believe that he is Manchester United manager, despite the club making his role permanent at the end of last month.
There's only one place to go for football supporters who are also fans of 1980s ska bands.
Thankfully this is one club that has not been closed down.
Spare a thought for Ruaridh Donaldson, who appeared to come down with a serious case of "Monday brain" while playing for Stenhousemuir against Airdrieonians despite the game taking place on a Saturday.