N/A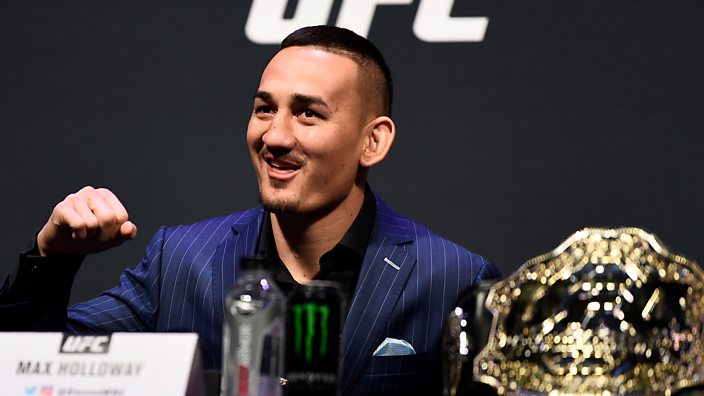 Getty
UFC 223: Max Holloway steps in to face Nurmagomedov after Ferguson injury
Injury to Tony Ferguson means his bout with Khabib Nurmagomedov has been scrapped for a fourth time
Unbelievably, it's happened again.
On Sunday night, it was announced that interim UFC lightweight champion Tony Ferguson had injured his knee and was ruled out of his UFC 223 main event bout with Khabib Nurmagomedov.
"Tony Ferguson hurt himself. He tore his LCL," UFC president Dana White told ESPN as he confirmed the news.
"Apparently it's an injury you don't need surgery on, but he actually tore it off the bone. He's going to need surgery on his knee."
Sadly, it wasn't a April Fool's Day joke. The news has robbed UFC fans of one of the most compelling UFC match-ups - for the fourth time.
Ferguson and Nurmagomedov were originally set to face each other at The Ultimate Fighter 22 Finale in December 2015, but a rib injury to the Russian forced him out of the contest.
The UFC rebooked the pair four months later at UFC on FOX 19, but on that occasion it was an injured Ferguson who was ruled out of the bout.
The pair were then matched to meet in an interim lightweight title clash at UFC 209 in Las Vegas, but Nurmagomedov suffered health issues during his weight cut and was pulled from the fight on medical grounds.
Now, with the news that the UFC's fourth attempt ended in another injury withdrawal, fans are beginning to wonder if the Ferguson-Nurmagomedov match-up is cursed.
Holloway steps up, and steps in
However, all is not lost, as the UFC's undisputed featherweight champion Max Holloway has gamely agreed to step up a weight class on just six days' notice and take on the undefeated Nurmagomedov for lightweight gold.
The video below includes hard-hitting footage from the octagon.
The Hawaiian is riding a 12-fight win streak, including back-to-back TKO finishes of Brazilian star Jose Aldo as he captured the UFC's 145lb title.
Now the popular 26-year-old is stepping up to lightweight for the first time in his career to face the 25-0 phenom Nurmagomedov, who has torn through the UFC's lightweight division since his arrival, winning all nine of his bouts inside the octagon.
And White confirmed that the winner of the bout would walk away as the undisputed UFC lightweight champion, with the title departing the waist of two-weight champ Conor McGregor in the process.
"As soon as these guys step in the ring and throw a punch, it's on for the title," he confirmed to ESPN.
"And whoever wins, wins the title and we'll see what happens with Conor over the next several months. I know he had expressed some interest in fighting in September."
Now UFC fans around the world will be crossing fingers and toes that both Holloway and Nurmagomedov both make weight, then make it to the octagon in one piece.